Click here to get this post in PDF
SEO is getting harder and harder with each year that passes. This is simply due to that fact that more websites are going live and trying to rank in Google for competitive keywords and search phrases. The more content being produced, the more competition there is for site owners, brands and bloggers looking to rank as well.
With Google now often listing less than ten organic rankings on each page of the search results, and placing ads at the top and bottom, SEO is nowhere near as simple as it was in previous years.
In order to rank a site today, you must have a quality site with real content and lots of backlinks and social media shares. And even with all of that in place, it can still be extremely tough to rank for your most sought after keywords.
However, this process can be made a whole lot easier and more effective when using a keyword and competitor research tool. One that I've been using a lot lately is Ubersuggest, which I first came across when reading Neil Patel's blog.
I've actually enjoyed the tool and platform so much that I decided to do a short writeup and review on it for you today.

My Ubersuggest Review and Experience
As mentioned, Ubersuggest is an all-in-one SEO research tool and analysis platform. The platform was created by Neil Patel a couple years back and has grown into much more as of lately–not only offering free and low cost usage, but also coming out with new features and tracking solutions all the time.
What immediately made the solution stand out to me was that I was able to try it out for free and didn't need to sign up for a free trial or submit my credit card. Usage was limited, but then I was able to create a free account as well, so I could come back daily and run a few reports.
The platform is also built to cater to the needs of site owners and brands of all sizes, without over complicating the process with too much data or heavy reports. I've tried other solutions like Ahrefs and SEMRush, but only used a handful of the tools they offered. They were great for analyzing keywords, but it often left me feeling like I was paying too much for what I was actually using.
After using Ubersuggest for a few days and seeing that it had all of the research tools I needed, I decided it was worth the low $29 a month membership fee to unlock all features and fully track my sites and keywords. That might not seem like a lot of money, but for site owners on a budget, it goes a long way.
Ubersuggest Features and Tools
As a site owner with multiple sites and blogs, it can be a complete headache to try and rank your sites for relevant keywords and search phrases. Early on, I would just focus on creating content and publishing it in hopes it would rank.
After reading through various articles on Neil's blog, I realized it was more about the keyword research process and not just pushing new content out. This was now easier than ever with my site connected to my Ubersuggest account.
With all of this in place, there are some of my favorite tools available through Ubersuggest.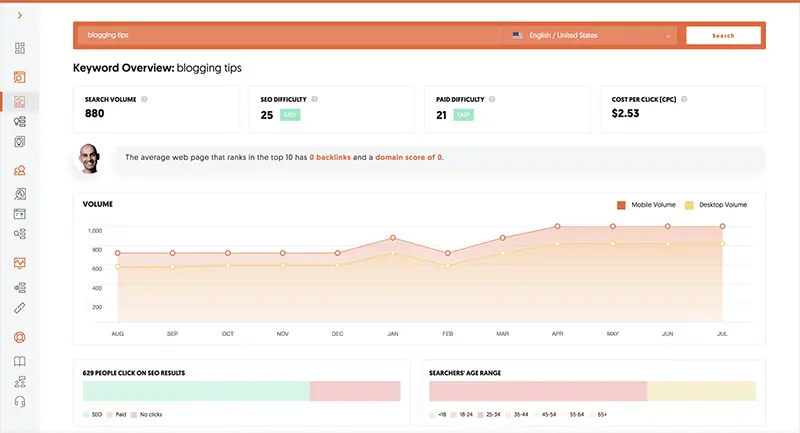 Keyword Research Tool
The easiest and most straightforward tool on the site is the Keyword Research tool. Right when you visit Ubersuggest, you can type in your choice keyword or search phrase. Ubersuggest will then provide you with a detailed report showing search volume, keyword difficulty, traffic trends and top rankings sites. This is more than enough to get you started on your SEO research and analysis journey.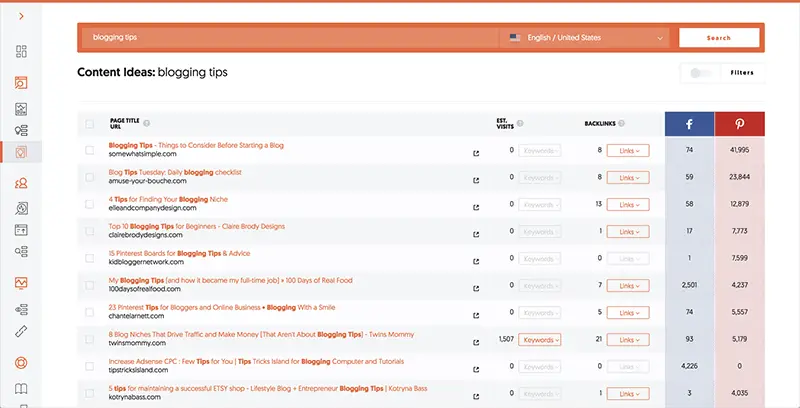 Content Ideas
As a blogger and content creator myself, coming up with new content all the time is a burden of its own. Gone are the days when I'm writing content and just publishing it. Now I'm putting in the time and effort to research all topics and keywords before I start writing a word. The Content Ideas feature on Ubersuggest is great for this, as it quickly gives me a lot of new ideas for how to create better titles and refocus my content to different audiences and keywords that might be easier to rank for.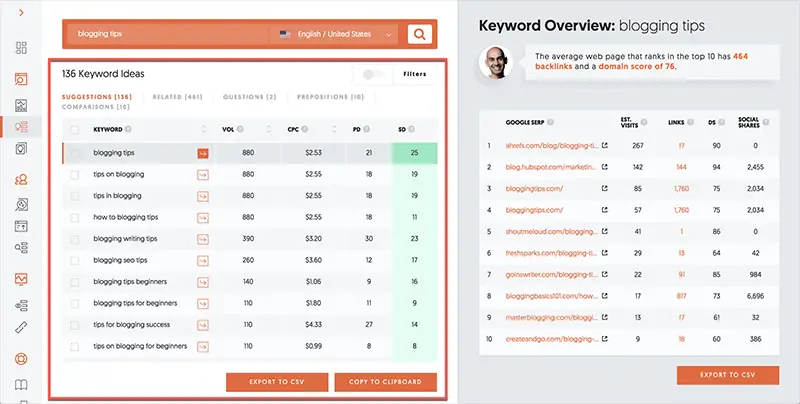 Keyword Difficulty
With content creation and ultimately ranking in Google for the selected terms always in mind, one of my favorite built-in features on Ubersuggest is the keyword difficulty score. When doing any research with the tool, I can quickly see what keywords are easier/harder to rank for, while also seeing search volume and sites that are already ranking for these terms. This is great because I can shift focus if I see the keyword or phrase is too far out of reach.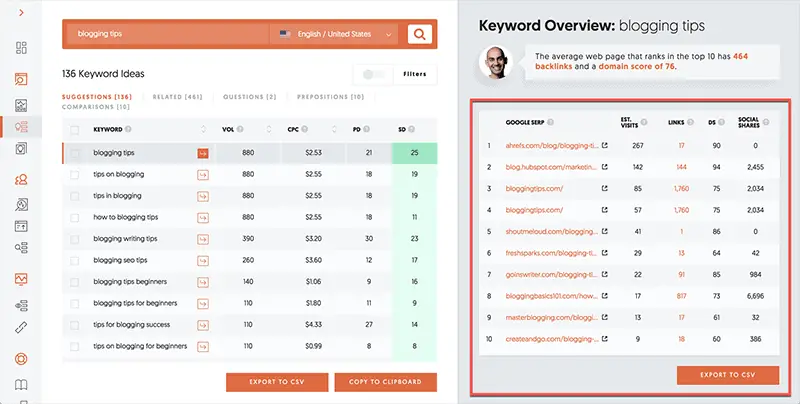 Competitor Analysis
The competitor analysis tool is a really cool one and I love how it's built right into the keyword ideas and search reports. It's one thing to know what keywords you want to go after and how much volume they have, and it's another to know their difficulty score. However, when you start diving into the stats and analytics of your competitors, then you can really start to understand why some sites and content rank when others don't. To view this, all you need to do is click on any of the keywords you are already searching on, or type in the domain name of your competitor sites and you will see a report like the one above. Note how Neil's face is at the top and also lets you know an average of how many backlinks each of the sites has, along with their respective domain score.

Course Videos and Training Material
In addition to the many tools and advanced reporting I highlighted above, there are many other benefits to adding a solution like Ubersuggest to your online tool chest. As a member of the site, you will also gain access to online course videos, Q&A sessions from their team, member support and downloadable worksheets and templates for improved keyword reports and management. Having already been an active reader of Neil's blog, it was nice to see these bonus courses and training material offered to members of Ubersuggest as well.
Ubersuggest Summary and Takeaways
As many of us are site owners ourselves, ranking in Google and getting organic traffic is of the utmost importance. With so many different tools and applications out there to help in managing every aspect of our sites and getting traffic to it, it's important to know which work best and how.
With the industry changing all the time and just seemingly getting harder for sites to rank and get traffic from Google, I hope this Ubersuggest review has shown you that using a tool like this is simply one of the best ways to level the playing field and get the upper hand. Throw in the added bonus and training materials and it just makes sense.
If you haven't already, be sure to check it out and see how you can start improving your own search ranking in the process.
You may also like: Small Business SEO Tips to Improve Your Search Rankings Today