Click here to get this post in PDF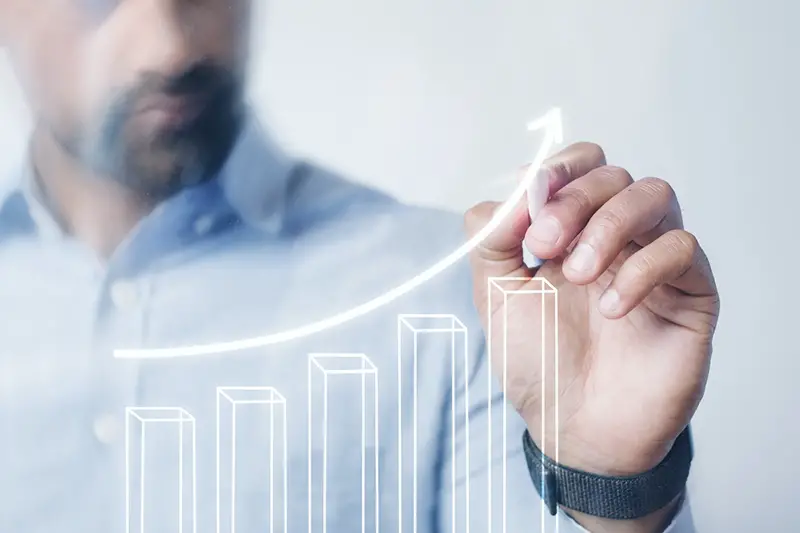 Businesses all across the country are looking for that edge to bring them back into competitive territory after months of depressed sales and lackluster production. The Coronavirus has shocked American business to its core and many industries are showing signs of a long term downturn that will last long beyond the recovery that mass vaccination efforts will bring.
Even with the changeover in the national political discussion and a new batch of medical remedies that are showing signs of hope against the continued spread of Covid-19, we are in for a long winter and a dim spring. But beyond these dismal months ahead lies corporate salvation, as consumers slowly trickle back into the open and business returns to its former boom. Getting ahead of this recovery within your own enterprise is the best way to chart the path ahead. Finding successes now will project strength in the months to come and create an opportunity to seize industry leadership over the long term. Utilizing development and growth tactics in the short term will help you to create this new future of glowing success.
Start with a solid framework for goal setting and tracking.
Following along with an OKR podcast is a great way to engage with the best practices for goal setting and gain some insight into creating goals that enhance productivity and motivation among your team as a whole. OKRs are an excellent resource for creating and tracking goals and productivity across large expanses of time. Using an OKR software for your corporate goals is a great way to combat the depressed market resulting from Covid-19 lockdowns across the country and in your local area.
OKRs (or Objectives and Key Results) provide a framework for creating and tracking your business imperatives. The primary advantage here is in the goal setting phase. During the initial usage of this framework your leadership team will be forced to confront your current landscape of strengths and weaknesses. This results in a candid discussion about the challenges that face your company in both the short and long term, and ways in which your team can overcome them.
By utilizing the OKR framework, a structure made famous by John Doerr and Google, you can hone in on the primary threats to your business' expansion into new product ranges or physical territory and create milestones that will help you achieve successes against these stacked odds. Once you've created a set of overarching objectives for your team, you can identify five to six milestones on the road to success: these are your key results. They are typically formatted so that success is measurable at a moment's notice in the notation of a percentage – i.e., you might be 83% of the way to achieving the goal of adding 100 new subscribers this quarter. At any given moment, your leadership team can evaluate the performance of the company in pursuit of these goals and reevaluate the direction, if necessary. Mid-stream adjustments are a hallmark of the OKR model and make for a robust decision-making paradigm that allows for flexibility and constant control over the process.
Implement new processes to streamline business practices.
Utilizing new and improved software and hardware solutions throughout your business is a great way to increase the level of excitement about the corporate mission throughout your team. Implementations like barcode asset tracking software can go a long way to helping your team focus on the big picture while keeping your physical assets in good shape and tracked, wherever they go. Asset tracking is a simple solution to a major problem that large and small teams alike face at one point or another.
Whether you are working on new businesses to open in a small town or act as the store room manager for a large corporate location in a big city, asset tracking is a lifesaver. The easy to use software allows you to easily check in or out equipment for jobs on the go. Also, it's easy to log damages or malfunctions within the platform so that maintenance and IT staff can remedy any issues with the equipment before it goes out with the next user.
Remember to control your financial flow in this tricky time.
Finally, it's important to remember not to overextend your business' capacities during this precarious time. With the pandemic still spreading in full force among the global population, businesses have made the decision to cut back on their staff hires, office spaces, and new equipment purchases. Many businesses have moved into distance work and digital offerings to clients as the sole model for growth in the short term, and there is no reason to suspect that this may change in the near future. Keeping a close eye on your business' finances is essential to staying in the black as you navigate the months to come.
Whether your employees and accounts are in needs of crucial tax and financial information like the TFSA limit 2020 or the status of employee write-offs for 2020, staying on top of each new piece of information about your personal and business finances is essential to surviving the current climate and emerging stronger than ever.
As you transition back into the full swing of business, utilizing the new pathways to client brand recognition through digital media will become an essential tool for growth. Make sure you get started on these branding missions today in order to enjoy maximum growth as restrictions and the threat of infection and illness recede. Don't take branding lightly—brand recognition can drive one-time customers to return to your site time and time again. Reliable, returning customers are the backbone of any successful business.
Growth takes research and long vision. Make sure that you are doing everything in your power to set your company up for future success today. Utilize goal-setting frameworks and new software packages to streamline your business processes and instill a renewed sense of energy among your loyal team in order to enter into the new field of competition ahead of the pack.
You may also like: The importance of technology in business growth
Image source: Rawpixel.com