Click here to get this post in PDF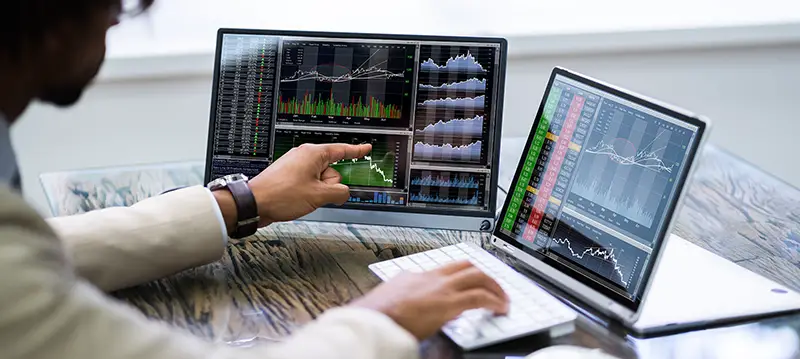 Inflation is running rampant across the globe and is creating an economic instability that we have not experienced for years. Prices for food, fuel, and electricity are skyrocketing in Europe and the United States, and people are starting to worry about their future.
In addition, inflation has already negatively impacted financial markets, pushing stock prices and the cryptocurrency market to record lows. In turn, this is creating turmoil in the investment and trading community, and people have started panic selling assets all over.
We're here to advise you not to panic and to focus on keeping your head cool. Even though the markets are looking extremely bleak at the moment, there will come a time when it bounces back. And in the following guide, we have outlined our best tips for acting smart during these uncertain times.
Focus On Your Long-Term Goals
The number one thing to remember during times like this is your long-term investment goals. As an investor, you did not buy stocks or cryptocurrencies to make quick gains but to make a profit in years to come. Therefore, you need to stop looking at the day-to-day developments on the market and keep your eyes on the market potential down the road.
Even though prices are falling at the moment, they will bounce back sooner or later, and your goal at the moment is to stay calm and collected.
Don't Panic Sell
The worst thing you can do right now is to start panic-selling your assets. Firstly, the risk is high that you will make losses by selling without a strategy. Secondly, panic selling has a negative effect on the markets, making the problem even bigger.
A better strategy is to re-evaluate your investments, make new analyses, and find new ways to invest with less risk. For example, many professional stock investors move their stock investments to gold and other more stable instruments in times like this.
Avoid Constantly Checking How the Market Develops
We know it's easy to constantly check in on your investments to ensure and pray that the market will turn bullish soon. Additionally, you can even say a prayer for financial blessing. This is not recommended since it will only fuel your anxiety and make the situation even more unbearable.
Therefore, we strongly advise you to only check your investments and the market development every now and then. Of course, for some people, once a day is more than enough, but if you have long-term goals, a couple of times a week should be sufficient.
Try To Make Use of the Bear Market
Last but not least, instead of looking at the current situation with dismay and anxiety, try to see it as a possibility. There are many ways to make a profit from a bearish market and rampant inflation.
For example, consider short-selling the markets that are struggling at the moment. You can check out this list of the best stock brokers in the UK to find reliable options where you can short trade stocks and other assets. Also, consider investing in still strong markets, such as the oil and energy industry.
And don't forget that a bearish market means you can strike deals that you otherwise couldn't. By buying stocks and other instruments now when they are on "sale", you can reap massive benefits in the future when the market starts to turn.
Summary
All things considered, your main objective at the moment is to try and stay calm. Our economic system is designed in a way that forces it to dip every once in a while, and there is nothing you can do to stop it. So instead of panicking, re-evaluate your strategy.
You may also like: Ghana Looks to Right the Economic Ship as Inflation Creeps Higher
Image source: Shutterstock.com