Click here to get this post in PDF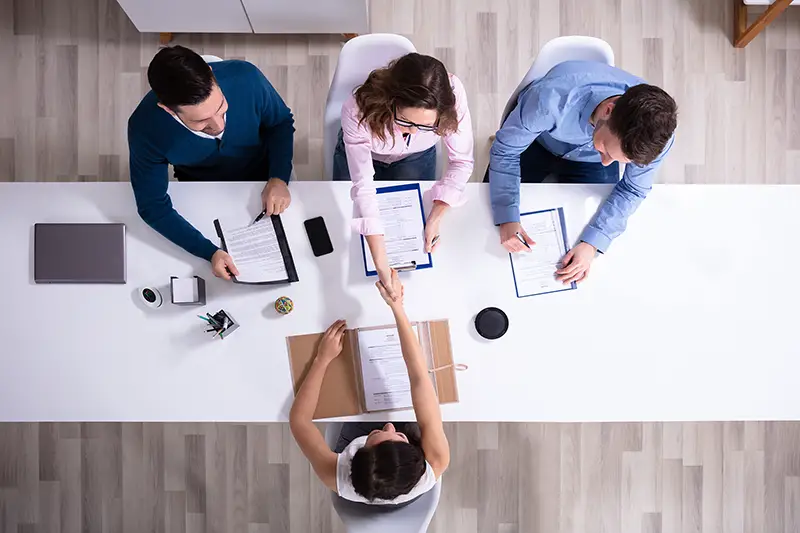 If you've just secured a longed-for interview at a company you've wanted to work at for some time, you may now be feeling very excited. However, that excitement will usually come with a side order of nerves. If this interview means a lot to you, you'll want to get it right to secure the position. The pressure this brings can create a lot of anxiety, but fear not – we asked experts Agile Recruit for their ten best tips for making the best impression at your interview and getting that all-important offer.
Read over your CV – If you've tailored your CV to fit the position, remind yourself of the qualities you have that fit the role. This will help you talk more confidently about the benefits you bring. It will also help you answer the interviewer's questions about your suitability. Take a copy of your CV with you if possible, in case the interviewer doesn't have one to hand.
Dress appropriately – Clean clothing, hair and nails matter. If it's a corporate position, dress smartly. If you are unsure how to dress, it might be worth researching the company to establish its dress code.
Be prepared for questions. It's a good idea to research the company itself and some common interview questions you may be asked. Practising these with a friend could help you feel more confident too.
Use small talk appropriately. It might be great to discuss if you can pick out a few interesting points about yourself. However, it's wise to avoid discussing past relationships or giving too much detail about your personal life. Instead, stick to non-controversial topics wherever possible.
Ask some questions yourself. Write down a few questions about the company and the role and take a notebook with these in. It's common for questions to go out of people's heads within the interview environment. Having a few notes helps. You could even ask to take notes relating to the answers, indicating that you're interested in what the interviewer says.
Consider the interview a conversation between two professionals with something to offer. If they have selected you for an interview, they see something worth discussing. Be confident in this.
Avoid making negative comments about your past employer. By all means, explain why the role no longer suits you or why you need to move on, but be aware that too much criticism can leave you labelled as a negative person.
Ask about other employees. That way, the interviewer will get the impression you're keen to meet a new team and to work with them. During the job interview, it's important to show that you have the necessary skills and experience and that you're a team player and have a positive attitude. These qualities can make a significant impact on the hiring manager's decision to hire employees who will fit well within the company culture
Ask about career progression if appropriate. If you make it clear that your relationship with the employer is long-term, this could help your chances.
Finally, one of the most important points is to follow up after your interview. Get in touch via email if you can, thank the interviewer for their time, and if you have any questions about the role you didn't ask during the interview, feel free to ask them.
While the actions you take before and during the interview may vary depending on the position you're going for. Whether it is part of your career progression or a temporary stopgap, the above tips give you the best chance of impressing your interviewer and securing the position you're longing for.
You may also like: Top HR Interview Questions and Answers
Image source: Shutterstock.com