Click here to get this post in PDF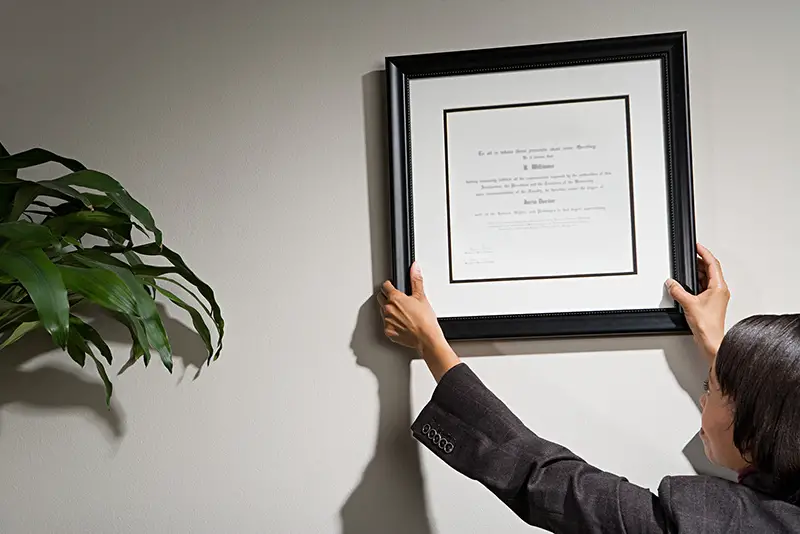 Business awards are a recognition for a job well done. They boost company morale and can serve to motivate both teams and individuals. They are a valuable tool when it comes to ensuring that the efforts of those teams or that individual contributes in a meaningful way towards the achievement of the company strategy. 
They can also be used to reward individuals for achievements that reflect a commitment to both personal and professional growth. In short – company awards are an important tool. 
However, company awards need to be framed with some important considerations in mind. 
Here are some great tips to ensure that those company business awards really contribute to the success of the company by boosting the performance of individuals and teams.
1. Placement is Important
Awards for personal effort and commitment are perhaps best framed in order to make placement on a desk easier. This allows the recipient to be motivated by its presence on a regular basis while they are working toward achieving their set goals. 
However, should the award be for team performance, then the company should consider a wall hanging award. (1) Such awards can be placed in individual departments – but it is worth considering placing team awards in high traffic areas where they can serve as motivation for diverse teams in different departments.
2. Material Considerations
There are two classic materials that are usually used to frame business awards – metal and wood. Each of these has its pros and cons – and each is available in a number of finishes that will enhance the appearance of both the award and the office as a whole. Wood frames lend the office an air of warmth and are ideal for awards that feature classic designs. 
Metal frames may be more suitable for the modern office. However, as mentioned, each is available in a number of finishes and types of material. It is worth noting that both wood and metal frames are available as self-assembly sets – but it may be preferable to enlist the help of a professional framing company to get that perfect finish and effect. 
3. Quality Counts
You could source a frame from a Big Box store or another retail chain establishment, but the truth of the matter is that those frames are simply never going to look as good as the frames supplied by a professional store. Professional frame suppliers use the best materials and have access to the latest designs – something that those retailers who buy in bulk often do not. Additionally, some awards aren't standard sized and therefore require custom options. (2) 
They will sacrifice quality for bulk and low cost. A company will want the certificate and business awards that they grant employees to be a reflection of their professionalism and commitment to quality – mass-produced frames often lack those qualities.
4. Aesthetics are Important
The decor of a modern office is a reflection of both brand and values. There is nothing more jarring than walking into the office of an organization and seeing something that is out of place – something that simply doesn't tie in with the brand. Make sure that the frame that your organization is purchasing is a reflection of the office aesthetic. 
A professional frame company can advise an organization on materials, design, and suitability. Many senior management are out of their depth when it comes to office interior design – leave it up to the professionals to come up with a suitable solution. 
5. Make the Award a Focus
A business award provides a focal point and motivation for each employee – and it is a human resource asset that will deliver in the short, medium, and long term. A great example is the 'employee of the month' award. It shows that a certain goal is achievable and demonstrates the companies commitment to recognizing both short-term achievement and a commitment by the employee over the longer term. 
These types of awards are visible during all operational hours, be they 9 – 5 or 24 hours a day. So ensure that they are visible – and that they represent a commitment to quality, including how they are framed.
The framing of business awards is an important contributing factor to their attractiveness, visibility, and effectiveness as a human resources tool. Consult the professionals and make sure that both award and frame deliver.
Resources:
https://homeguides.sfgate.com/display-plaques-awards-wall-31137.html (1)
https://www.framedestination.com/custom-frames.html (2)
You may also like: Why Rewarding Staff is Key for Business Success
Image source: Shutterstock.com