Click here to get this post in PDF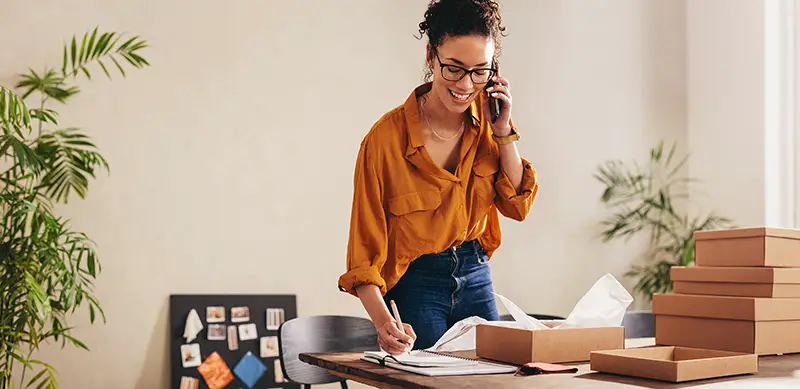 Millennials and Gen-Z have become more business-minded than ever. They are constantly changing areas like tech, eCommerce, gaming, and more. Owning your own business as an entrepreneur is great if you consider long-term benefits. For starters, you can be the boss and make your own decisions. You also have the potential to make a lot of money and create something impactful and long-lasting.
If you're thinking about becoming an entrepreneur, you should keep a few things in mind. First, it's crucial to have a clear and well-defined idea. It would be best to articulate your business and what it does. Additionally, it would help if you had a solid plan for how you're going to make your business successful.
Being an entrepreneur takes a lot of hard work and dedication. But suppose you're passionate about your idea and willing to put in the time and effort. In that case, you can be successful.
So, if you're thinking about starting your own business, here are a few tips to help you get started:
1. Do your research: 
Before starting any business, it's essential to do your research and understand the industry. It means studying your competition, learning about the market, and understanding the risks involved. It would help if you also had a clear idea of your target market and what you're offering them. You can also learn a lot by trial and error, so don't be afraid to make mistakes. However, don't let your research consume you. At some point, you need to take action and get started.
2. Create a business plan:
Once you've done your research, it's time to start putting together a business plan. This document will serve as a roadmap for your business and help you stay on track. It should include a description of your business, marketing strategy, financial projections, etc. You can also learn to write a business plan by taking an online course or workshop. However, suppose you already have a bachelor's degree under your belt. In that case, you should explore AACSB accredited MBA programs that offer business plan development as part of the curriculum.
3. Find the right team:
No business can succeed without a great team. So when you're first starting, it's essential to surround yourself with people who share your vision and who can help you turn your dream into a reality. Then, as your business grows, you can add on different team members, such as accountants, web designers, and marketing professionals. But make sure you take the time to find the right people—don't just hire anyone available. 
4. Get funding:
One of the most challenging aspects of starting a business is finding the funding to get it off the ground. There are several ways to finance your business, such as taking out loans, crowdfunding, or finding investors. But it's essential to understand the different options and choose the one that's right for you. There are plenty of ways to get started with a limited budget. However, don't let the lack of funding stop you from starting your business.
5. Promote your business:
Once you have everything up and running, it's time to promote your business. You can do this through various marketing channels, such as social media, email marketing, content marketing, and search engine optimization. Again, it's essential to experiment with different tracks and see what works best for your business. And don't forget to measure your results so you can set objectives.
6. Stay motivated: 
Starting a business is not easy. It will take a lot of hard work and dedication, and you will face challenges. But it's essential to stay motivated and keep your eye on the prize. Remember why you started your business in the first place, and don't give up. You must also be prepared to make sacrifices, such as working long hours and letting go of your vacations. Of course, not every business will succeed. But suppose you have a great idea, a solid business plan, and the determination to see it through. In that case, you have a much better chance of making your dream a reality. So don't hesitate—start your own business today!
7. Be patient: 
When you're starting a business, it's essential to be patient. It may take some time for your business to take off, so don't get discouraged if you don't see results right away. Rome wasn't built in a day, and your business won't be either. Just keep working hard and stay positive, and you'll eventually see the fruits of your labor. However, don't let your business become stagnant. Always be looking for ways to improve and grow, and you'll increase your chances of success.
8. Persevere: 
Starting a business isn't a walk in the park, but it's worth it. So don't give up if things get tough, persevere, and don't give up. Remember, the most successful businesses are the ones that have faced and overcome adversity. So keep your head up and keep moving forward, and you'll eventually achieve your goals. 
9. Take risks: 
Starting a business is a risky endeavor, but it's essential to take risks if you want to succeed. If you're not willing to take risks, you're not going to get very far. Of course, you don't want to take unnecessary risks, but you must be willing to take some risks if you want your business to succeed. After all, the only way to achieve something great is to take some risks.
10. Have faith in yourself: 
Last but not least, you must have faith in yourself. If you don't believe in yourself, then no one else will. So have confidence in your abilities and your vision, and don't give up no matter what. Remember, you're the only one who can make your dream a reality, so go out there and do it! Lastly, don't forget to enjoy the process. Starting a business is hard work, but it should also be fun and exciting. So have some fun and enjoy the journey, because it will be a wild ride!
The Bottom Line:
So there you have it—10 essential tips for aspiring entrepreneurs. Follow these tips, and you'll be on your way to starting a successful business. Starting a business is not easy, but you can make your dream a reality with hard work and dedication. As an entrepreneur, you need to be on the top of your game, learn to manage stress, and always keep striving for more. Remember to have faith in yourself, stay positive, and eventually achieve your goals.
You may also like: How to Become an Entrepreneur
Image source: Shutterstock.com