Click here to get this post in PDF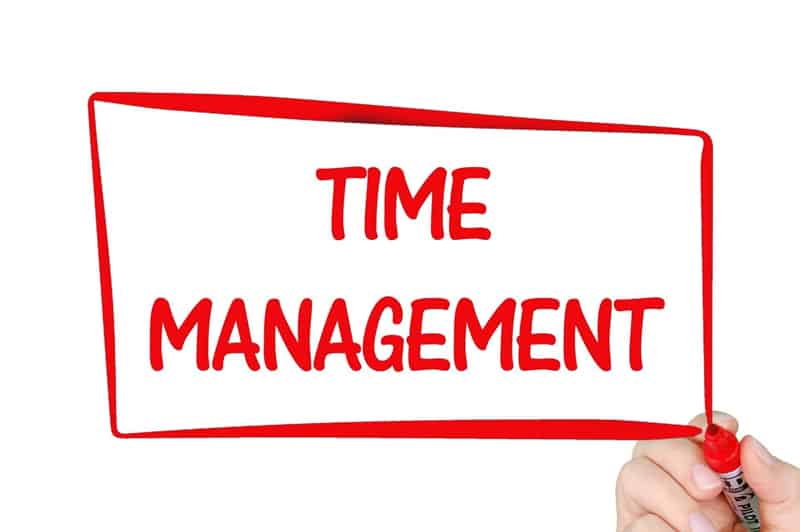 Running your own business is hard, and as a small business owner, you're probably all too familiar with the feeling of overload that comes from trying to juggle endless tasks. Between staff meetings, client deadlines, keeping track of payments, marketing, managing your online presence and trying to please everyone, it feels like you barely have enough time to do the work you started your business for.
If you're reading this article, you've probably reached the point where you realized time management is one of the most important skills you can learn as an entrepreneur. But what is time management? Chances are that at some point in your life (most likely at several points in your life) you've decided to take time management seriously so maybe you took a couple of classes, read a few books, tried a few techniques, and thinking of getting started with Monday time management. Maybe it worked for a while but then you slowly shifted back into unproductive overload. Why is that? It's because time management isn't about scheduling every minute of your day and writing endless to-do lists while you're pumping yourself up with caffeine and motivational quotes. 
You need a few basic principles. Of course, you can still read about tips and strategies, but they have to work for you. You're always going to be busy; the goal is to thrive despite it. Let's look at some of the most effective time-management tips you can start with. 
Don't Improvise – Plan Ahead
One of the most unproductive things you can do is to try to go through the day without at least a rough idea of what you want to accomplish. You're practically showing up at the office with one goal: work. That's too vague and not terribly appealing. If you have a few tasks you want to get through, it gives you a sense of purpose and keeps you motivated. An added benefit: less chaos means less stress. 
To perfect the art of scheduling takes a lot of practice, but you can begin with things that have to happen at a specific hour like client meetings. It's usually frowned upon to cancel and reschedule those, so jot them down and plan around them. As we mentioned, you'll want to avoid planning every minute of the day. Leave some room for flexibility. Take a look at your to-do list and pick a few tasks according to importance and urgency. Don't be too optimistic about how long it will take. It's better to schedule in more time than necessary. If you finish early, you can move on to the next task or work on something else from your list. 
You'll also want to consider your energy levels throughout the day. Maybe you feel more energetic in the morning, and that's when you can work on more complex tasks and leave the easier ones for later when you get tired. 
Embrace Technology 
Technology offers the modern business owner many more opportunities to streamline some processes and make life easier. When you have countless programs, apps and online services at your disposal, why not look for ways to use them to your advantage? 
Since we're on time management, let's take timesheet software as an example. While this was traditionally done on sheets of paper, nowadays you can a great UK software application to help you get a clear overview of the duration and complexity of various tasks throughout a project. With a timesheet app, you can use this information for better tracking and estimates in the future. You can also combine several tools and automate client billing and payroll. 
What about appointments? There's online software for that as well. You can sync it to your Google calendar and access it from anywhere. You can set notifications, so you never miss an important meeting, and it's a huge time saver.  
Even your smartphone can be turned into the ultimate small business tool. You have a myriad of apps you can choose from that will help you plan your schedule and keep track of how much time you spend on each task.
Cut Back on Meetings
One of the main benefits of tracking your time is that it allows you to see where you're wasting it. We wouldn't say that meetings are a complete waste of time. Sometimes they're necessary, just don't overdo it. If you're holding a meeting to discuss every little thing with your staff, considering you also have to meet with clients, you may end up spending more than half of your working day in meetings. That's absurd. When it hits this level, it's no longer productive, it's interfering with work. Some things can be sorted out more efficiently through emails, phone calls or Slack threads. Since we discussed how technology helps you run your business, you can find project management software to keep track of your team's progress. 
While we're on the subject of employees, they can also take up too much of your time if you're not careful. Maybe you have an "open door" policy so they can feel free to come to speak to you whenever they need to. This sounds nice in theory, but in practice, it will result in a lot of distraction and make it very hard to go through your to-do list. The "open door" policy appeals most to two types of employees: the ones that always have a problem and want to complain and the ones that want to see you because they had a "brilliant" idea to increase productivity and maybe get a promotion. If you hired the right people and provided them with the required training, you should be able to close the door and focus on your own work. 
Learn When to Delegate
Employees can take up your time unnecessarily, but they can also help you out if you learn how to delegate. In the beginning, as a small business owner, it's not unusual to do anything and everything related to running your company. By now, you're probably used to learning skills you didn't even know existed. Still, as your business grows, there are more things to do, and your time becomes more precious. 
Some business owners resist delegating as much as possible because they either want to hold on to that sense of control, or they think it helps them save money. Here are just a few of the areas where you could delegate: data entry, accounting, tech and IT support, website design and maintenance, marketing and customer service. You might think you're saving money by not hiring more staff, but if it's causing productivity issues, you can lose important clients and damage your reputation. Keep in mind that you can also hire part-time or delegate to freelancers. 
---
Simple Ways to Save Time & Money: 4 Office Management Hacks for Small Business
---
Image source: Pixabay.com