Click here to get this post in PDF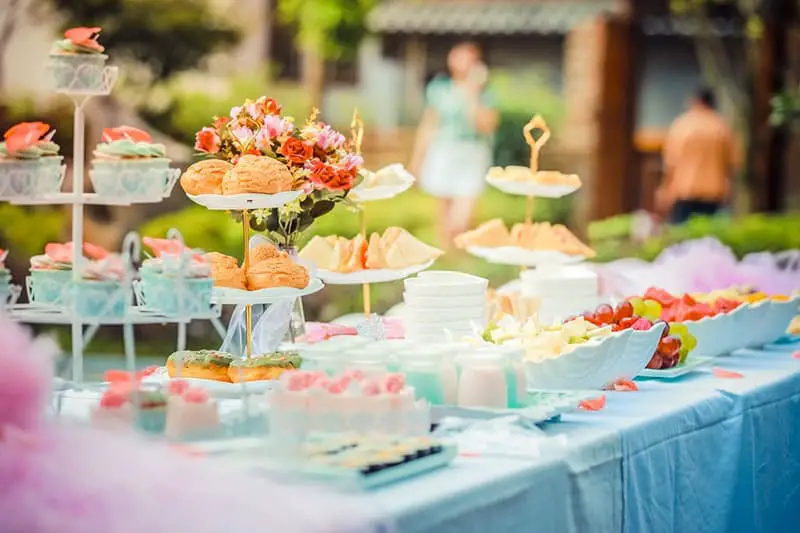 Do you love organizing birthday parties and events? Have people always told you that you're a wonderful cook and host? If the answer is yes and you also have a bit of an entrepreneurial spirit to start a catering business, we suggest you go for it!
Businesses providing catering services are doing very well for themselves. They are profitable, enjoyable and very fulfilling ventures for anyone who has a strong passion for food. You get the freedom and flexibility to work the way you want and also get to attend great events and parties in the process. From top companies and celebrities to world-class event organizers, there are so many people who need quality caterers.
However, being a great cook is not the only thing you need to make it to the top in the catering business. Not only do you have to put out great food every single time but also be organized, creative, fun and consistent. It's a lot of pressure to take on but if this excites you instead of scaring you away then this might just be your calling.
But how do you actually start a catering business? Here's a list of things you should know before you jump on the catering bandwagon:
1. Researching the marketplace
The first step before starting any business is to do market research to know your target audience better. You need to check out your area and visit the restaurants and catering services near you. You can check out their menu or even avail of their services to identify what they do best and the things you didn't appreciate as a customer so you can omit those from your own services. Moreover, you can visit their website and assess their online presence, in an attempt to find each of their unique selling points.
You'd be surprised to know that many caterers are famous for the experience they offer. You can get great food from anywhere, but the way you present it, the service you offer, and your customer dealing are what will set you apart. People want more than 'just food'. To really be at the top of your game, you'll have to provide great food and exceptional customer service, at a competitive price.
2. Identifying and studying your target audience
As part of your market research, you should reach out to your customers directly to find out their needs and preferences. Get in touch with people you know who regularly host parties at their place and get their feedback. You can make a questionnaire or survey and ask a few questions to get an idea of what people expect from a catering service.
Additionally, you can reach out to your friends or acquaintances in the corporate sector and ask them about the catering services they use for their business events. If you don't really know anyone who uses catering services, you can still get in touch with a few of your potential customers and politely ask if you could collect some information as a person who is thinking of launching their catering business.
This conversation will prove to be very fruitful because not only will you understand what potential customers usually want or expect when they hire a catering service (e.g reasonable price, presentation, set-up services) but it will be a step forward in building positive relationships with your target audience. This can very handy once you open your business as it will take you less time to put your name out there.
3. Deciding on your niche
Once you have gathered the necessary information about the market and your customers, it is time to decide how you will position your business in the market. You have to decide your unique selling point (i.e. what will make you stand out from the rest of your competitors), the products and services to offer and the marketing techniques you will use to attract customers.
You have to focus all your efforts on meeting the needs of your specific target audience. For instance, you could choose to cover family events or kid's birthday parties. Alternatively, there are caterers who just serve corporate clients or provide their services for major festivals or concerts. You could also focus on a particular kind of cuisine to serve e.g Chinese or Italian. Choosing one segment of the market is essential – if you try to provide all sorts of services in a new startup, you might not be able to deliver what you promise.
It is important to remember that building a brand is a process. You should start slow with the things you do best, and then aim for the bigger objectives. Once you've made a name for your business in the market, you can take your business to the next level and serve several different market segments.  
4. Staying ahead of financial management
Unless you have a couple of million dollars just lying around, it's good to be aware of how much capital you will need to start your business and how much you can expect to earn from it. Think about how big you wish to start. Will you start from home with one or two helpers or have a full-fledged set-up? On average, catering businesses need $10,000-$50,000 in start-up costs and can earn an annual income of $30,000-$80,000, once they are successful.
You also have to consider the 'what ifs' in a business and plan ahead for tough times. What if your business makes no solid profit in the first year? How long will you keep it going and how will you manage your personal finances in the meanwhile? This exercise will ensure the business has a clear emergency plan of action if things don't go as well as expected.
5. Fulfilling legal requirements
There are a lot of things you need to take care of way before you officially open up. If you wish to start at home, you will have to check with your health department whether this is permissible. You will also be required to get a service license and fulfill certain legal requirements related to your business set-up. Some states have a rule that requires you to do a course in food health and safety before you can start a catering business.
It is also essential to get liability insurance when working in the food business so that you can protect yourself from any claims of people falling sick as a result of consuming your food.
Conclusion
Although there is no defined recipe for success when it comes to running a catering business, great culinary skills combined with sound planning, time management, and organization skills are some of the qualities you will need in order to do well in the market. If you think you possess all of these, a catering business could be the best option for you.  
You may also like: How to Break into the Catering Industry