Click here to get this post in PDF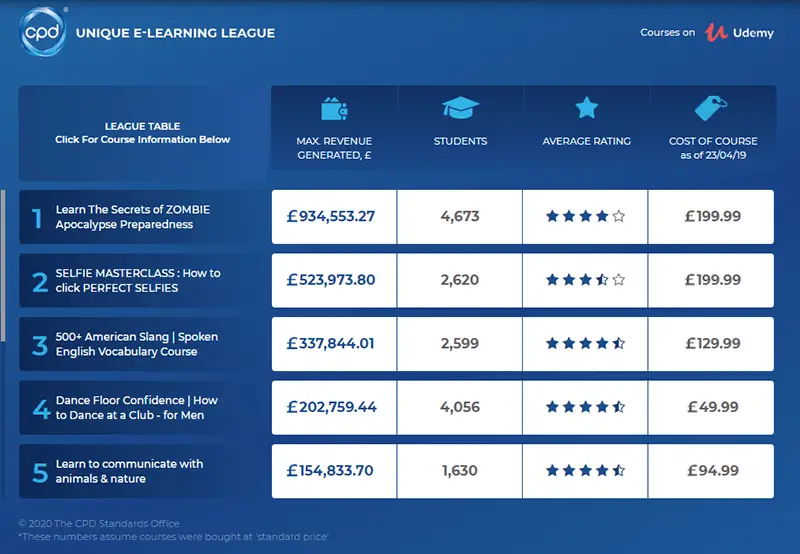 With most of us stuck indoors, waiting for 'normal' to return, we finally have that opportunity to learn new skills, strengthen our current knowledge and even improve on our current careers.
However, conventional learning methods aren't for everyone. Online learning has swiftly become popular throughout the world and The CPD Standards Office, a cpd accreditation firm, has collated a list of some of the most unusually packaged courses available.
Not only do these courses come with CPD accreditation, but they also cater to those looking for a more creative way of learning while making great use of the extra free time to educate themselves.
These courses may seem trivial at first glance, but they actually contain valuable content for those looking to learn within certain, non-academic subjects. There are currently a large portion of the public who are not working due to the pandemic and seeking career changes and this is a great place to start.
How To Build A Rocket
This course won't land you a job with NASA anytime soon, but it will provide you with a fun learning experience without having to leave your own home.
The course teaches how to build several types of rockets, most with items you would already have at home already.
It also gives a background into the science behind how each one works, something that can be applied to other experiments.
This course is proving particularly useful for parents having to home school children, not only is it a hands-on, unique science lesson but also teams maths skills.
It can even be an art lesson too, with the option to decorate these rockets accurately to the models they are based on or through the blueprints out the window and go crazy with your imagination, we assume a lot of glitter has been present during this.
Learn To Communicate With Animals & Nature
After being confined indoors for so long, a popular choice for a career change is to find a role outdoors and within nature.
This course can help you get ahead of the game, as these roles can be highly competitive. The course gives a step-by-step guide on how to communicate with nature.
It also provides an insight into how to connect closer with family pets, all using relaxation and mediation techniques. If there's one thing we all need during these times, it's ways to destress and reduce anxiety levels.
Dance Floor Confidence
Although this course can guarantee you will be the best dancer at the next Christmas party, it provides something even more valuable, confidence.
This course is aimed towards those who may be too shy or lack the confidence to really let themselves go and have fun.
Confidence building is a skill that can help in every element of our lives, from family, friends and work. Considering throwing your moves on the dancefloor can be one of the most daunting things, imagine how confident you'll be elsewhere if you nail this course.
Master American Slang
While this may seem like a course to help older generations 'get down with the kids' it actually provides so much more.
For those who are not native English speakers, it can be a struggle to keep up with all the slang that isn't taught in textbooks, especially with so many varying colloquialisms between different English speaking countries and even between states in the USA.
Now that remote working has proven effective within so many sectors, companies are able to hire staff from anywhere in the world, non-native speakers can really benefit from this course.
Selfie Masterclass
This isn't just for social-media obsessed teens, this class can provide some useful knowledge for anyone with an interest in photography.
While budding photographers may invest in DSLR cameras, this isn't always within everyone's budget.
This unique course teaches how to make the most out of a smartphone camera, including positioning, lighting and setting.
It even provides hints and tips on how to get the most engagement on social media, perfect for those working within the marketing sector or with small businesses trying to promote their brand.
How To Be A Tour Guide In Your Hometown
Vacation abroad isn't on the cars right now and more people are choosing staycation this year. It's time to cash in on this and learn how to earn money providing tours of your home town.
This is a great way to get outdoors, spread your knowledge of where you live and with enough hard work, you could even turn this into a full-time career and leave that stuffy office for good!
How To Add More Excitement To Your Life
This is something we could all have some help with right now. As so many of our favourite hobbies are unavailable, we need to get creative to help with our mental wellbeing.
The course helps you boost productivity and put a stop to excuses while addressing common mistakes that can impact your happiness.
It gives guidance on how to take control of your own life and start to find your real purpose.
---
How can one begin his/her own Online Academy?
---
Survive A Zombie Apocalypse
Packaged with this interesting title, this course actually focuses on basic survival skills.
Hopefully, this won't have to be used anytime soon by force, but it can be applied voluntarily. Learn how to build a basic shelter and the best position to do so.
Forage for food and learn what is safe to eat and the nutritional value they provide.
For those looking for an exciting replacement for the summer holiday, perhaps a survival camping weekend can provide the next best thing.
With supermarkets struggling to keep shelves stocked, maybe learning to be as self-sufficient as possible could really help right now.
So why not take this time to learn something new while taking part in these fun courses. From just killing time to changing careers, there certainly is something for everyone.