Click here to get this post in PDF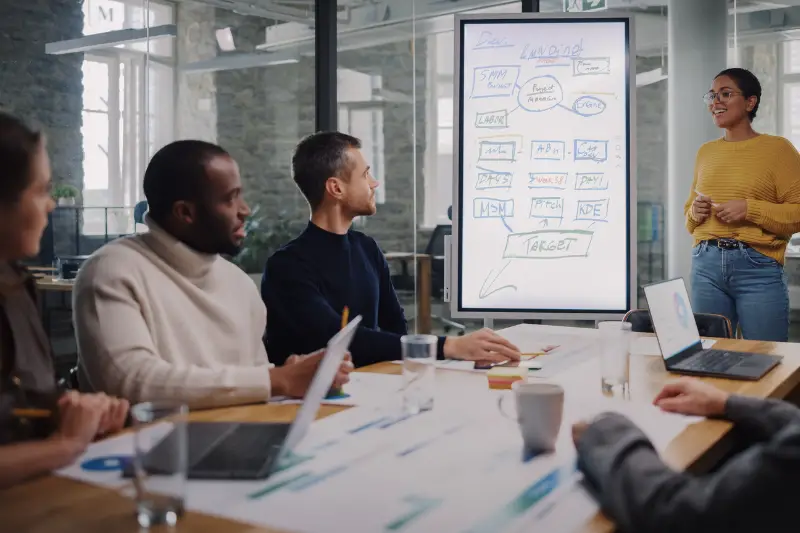 The role of a project manager is simple: to foresee as many problems and obstacles in advance as possible. They have the overall responsibility for the successful initiation, planning, design, execution, monitoring, controlling, and closure of a project. Becoming a good project manager, however, is not simple.
To be able to organise and control so many different aspects of a project takes skill and careful attention to detail. These traits will be drawn from two sources: experience and training. When it comes to making better managers, no experience can be taught. Training, on the other hand, can be provided and is a useful tool for increasing the quality of your project managers. Something as simple as Prince2 certification – a project management system in extensive use in the UK government – can produce noticeable results from your projects.
How Project Management Training Helps Companies
Project management training provides many benefits to a company, regardless of its size. Investing in proper training can have a return far greater than the input. Benefits include:
Increased communication in the workplace. Project managers who have gone through training are effective at instigating open channels of communication in a project. This same practice can be brought over to the everyday workplace, improving general company communications and increasing turnaround and response times.
Developing existing skills. A project manager may already be a planning guru or a rock when it comes to stress, but the tools and techniques acquired through proper training will enhance their already-capable qualities.
A better understanding of the relationship between technology and business. ITIL certification will allow a project manager to better understand how the role technology can and does play in a particular project or within a business. This helps avoid the incorrect selection of technologies and their applications.
Gaining leadership qualities. One of the biggest challenges when trying to manage a project is effectively leading a team. Knowing about the scope of the project doesn't give you leadership; that comes from the person. Project management courses train individuals in leadership skills, making it easier to manage and direct their team.
Avoid hidden costs. Many project managers gained their skills the hard way – through trial and error. This approach can cost a business dearly in wasted effort and money, poor customer service, poor deadline management, and stressed employees. By investing some money into project management training, this wastage can be avoided.
How to Become a Project Management Professional
Project Management Professionals – known as PMPs – lead projects in nearly every country and business sector or industry you could imagine. Being a PMP is not a job title; rather, it is a certification earned through project management training. PMP certification involves learning the plethora of different project management styles and techniques to be able to successfully apply the appropriate style to the project at hand.
Once PMP certified, a project manager will be able to deliver above industry standard results when leading projects. PMP certification is a mark of distinction in project management – it highlights individuals who have spent large amounts of time both studying project management and leading projects in businesses.
Because of this, PMP certification is a difficult thing to acquire. The pre-requisites to apply for the certification are:
Secondary degree (high school diploma or equivalent)
Minimum 5 years unique, non-overlapping professional experience during which at least 7,500 hours were spent leading and directing the project.
35 contact hours of project management training
OR
Four-year degree (bachelor's degree or global equivalent)
Minimum 3 years unique, non-overlapping professional experience during which at least 4,500 hours were spent leading and directing the project.
35 contact hours of formal training
Once these pre-requisites are met aspiring PMPs-to-be must submit audit material confirming they have achieved them all for review by the applications committee. After eligibility has been confirmed, applicants will sit the PMP exam. If successful in the passing exam, the certification cycle then begins.
The certification cycle is a system set up to ensure that all PMPs are always up to date with the latest project management theory and practice. Once the PMP exam has been passed, PMPs have three years to achieve and report 60 professional development units (PDUs). Once achieved, PMPs can pay the renewal fee and submit their PDUs to restart the 3-year certification cycle. Failure to complete submit the renewal application by a PMP will put a PMP certification into suspension for one year. This allows for one more year to achieve the necessary PDUs but does not apply PMP certification to an applicant during this time. If, after the suspension year, the applicant fails to earn the necessary PDUs, the PMP credential will expire.
You can find various software options for startups to help you on softwareforprojects.com.
About the Author
Tom Wishart is a Glasgow-based freelance writer. Tom is educated in Chemical Engineering and experienced in what hell will most likely be like from 8 years in the hospitality and customer service industries. His areas of writing cover all forms of digital marketing – in particular, social media marketing –, ecommerce, business management, and emergent technologies in the energy and electronic fields.
Twitter – @wishartwritings