Click here to get this post in PDF
Are you ready to advertise your business wherever your fleet of cars or trucks travel? Here's the complete guide to vinyl wrapping your car or truck in 2020.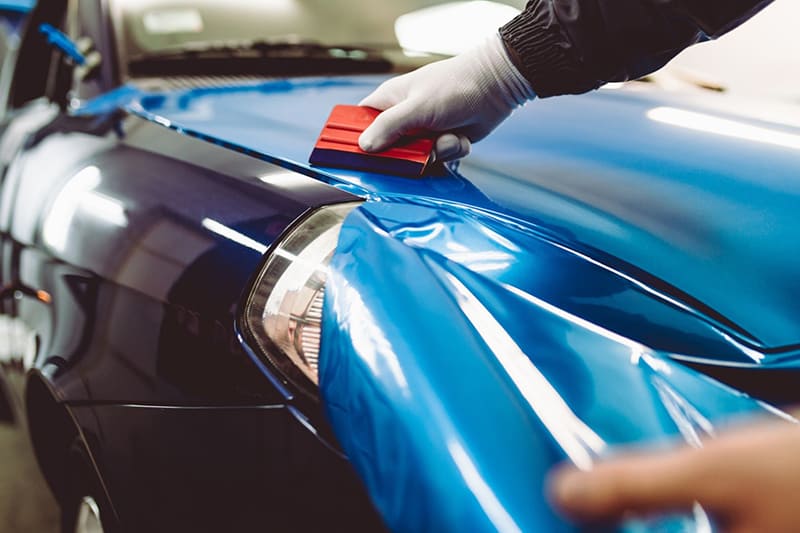 When it comes to business, you know you have to pull out all of the stunts to bring out your brand and showcase what your company is made of. That means you've probably already covered everything from billboards to ads to commercials, and everything in-between.
That being said, there may be one thing that you haven't considered yet: wrapping your car or truck. And no, we don't mean wrapping up a vehicle for a Christmas present. We're talking about using decorative design to showcase your business on the road.
Sounds like something you'd be interested in? The process is actually pretty easy to understand, and in the hands of the right professionals, you can take any car and turn it into a beautiful billboard on wheels.
This article goes in-depth with what to know about vinyl wrapping your vehicle to show off what you're made of. Keep reading to learn more about it!
Vinyl Wrapping Your Car: What Is It, Exactly?
Before you can wrap up your car, you need to know what you're getting into first. Simply put, getting your car wrapped in vinyl looks similar to a paint job, but does it without any actual paint. Think of it as getting a big sticker for your vehicle.
When your car is wrapped, you get a vinyl coating placed over the actual body of the vehicle (don't worry, it doesn't do any damage to the vehicle itself). The vinyl needed for the job is premeasured to exact dimensions so it fits better than a glove.
Not feeling the thought of having your whole care wrapped? Even though the vinyl wrapping (and by extent, the advertising) works best on a fully covered car, you can still choose to only cover portions of the vehicle instead and still show off your business.
As you ride around in your region, your advertisement will be seen everywhere that you drive. This means plenty of viewers, which could then translate into loads of potential customers. And the best part is, you didn't have to lift a finger to put in the effort!
Is Vinyl Wrapping Durable?
Many worried customers ask if the vinyl wrapping is durable. After all, it's just a simple sticker held on with a bit of adhesive, right?
You couldn't be further from the truth. Vinyl wrapping on your vehicle will not only last a long time, but it's also going to look good doing it.
Most companies who work on vinyl wrapping (or "wrap paint" as it's sometimes referred to) use what's called cast vinyl, the highest tier of vinyl on the wrapping market. These vinyl cuts are designed to last for years at a time.
In fact, with the proper application for the wrapping and care taken on the maintenance of the vehicle, your wrappings will last for the greater part of a decade before they start to show any signs of fading, discoloring, or general wear.
Will My Paint Job Be Okay?
Of course, after you've finished using the wrapping to advertise for your business (or if you want to add a new wrap on the vehicle), you're going to most likely want to remove it from the car. That said, the last thing that you want to do is ruin your car's original paint job.
Well, here's some good news for you: you won't ruin a thing. The adhesive used to place the wrapping on your vehicle is strong enough to hold the wrapping in place without any trouble, but gentle enough to protect your car's original sheen.
The only time that you need to be worried about your paint job is if the paint itself is extremely oxidized or really worn out, and even then the chances of paint damage happen is very slim you should be good to go with preserving the paint job.
Do I Get to See the Wrap Before It's Printed?
Of course! The last thing that you deserve is to have everything hidden from you while we go to work on your vehicle.
There are countless different designs that you get to choose from. Some will go just fine with your vehicle and your branding, and others may not. You'll want to check them all out before it's printed.
You'll also get expert guidance as to which wrapping designs look better on particular vehicles, as well as which designs to choose that would best catch the eye of the potential clients you're looking to reel in, all before the printing process occurs.
How Much Will I Pay for the Job?
Prices do vary based on each situation, so there is no set price for how much you'll be paying. That said, wrapping a vehicle generally tends to be less expensive than getting an actual paint job for the car.
The pricing comes down to multiple factors such as the model of your vehicle, the complexity of the design, and whether you want to have a full wrap, partial wrap, or just some vinyl lettering on the side of the car or truck, all of which could be easily calculated on-site.
Does wrapping up your car or truck sound like a great idea to you? If so, make sure to find out more about what you'll need to do to get your vehicle wrapped for the job. Time to get started on the branding!
Stay up With Your Business
You know all about vinyl wrapping your car, so now all you need to do is find the right design and head over to the professionals to get the job done. However, that's only the start of what you need to do to promote your business and reach success.
At Business Partner Magazine, we have all of the information you need to help you reach new company heights. Our website covers all aspects of business, from securing funding, to shaping up your brand, to handling credit, to dominating the industry, and more.
Ready to find out more? Simply click on any of the tabs or articles on our website to begin. We're sure that you're going to like what you see.
You may also like: 5 Ways Car Wraps Give Businesses a Strong Marketing Edge