Click here to get this post in PDF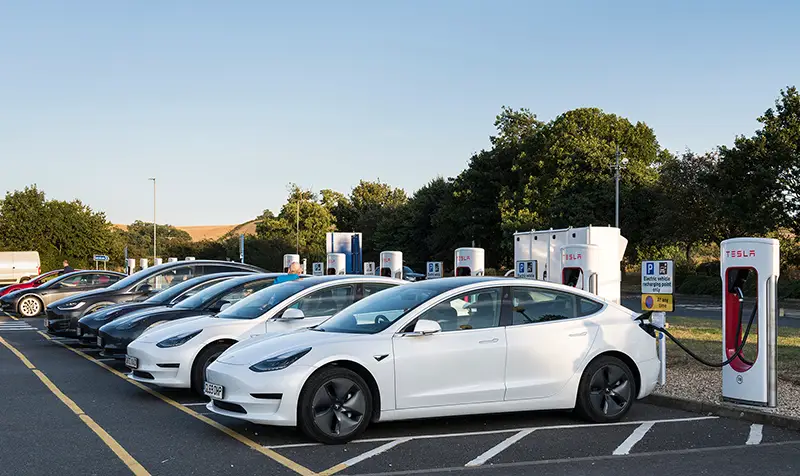 As of March 22nd, Berlin is home to Giga Berlin – a new Tesla production factory that will produce 500,000 electric vehicles a year as well as electric car batteries. It is an exciting time for both Tesla and the city of Berlin, with Elon Musk and German Chancellor Olaf Scholz attending the opening of the factory. It is hoped that the new plant will help Tesla to manage demand and reduce waiting times for Model 3s as a result of production delays.
A Two-Year Project
The massive factory took just two years to build, but Musk felt that it should have been built even faster, and it was a result of German red tape that the Giga factory did not open sooner. The Shanghai Tesla factory took just 15 months to complete and is around the same size as Giga Berlin. Musk hopes to ramp up the production in the second half of 2022 with an eventual goal of half a million cars per year.
Delays to Production 
Tesla has been catching some criticism in recent times, with motorists experiencing lengthy delays for the highly anticipated Model 3. Tesla is not alone in this, though, as the global chip shortage has hampered production across the board and is predicted to be an issue into 2023 and potentially even longer. The wait time in the UK has been around 14 to 20 weeks, which is a cause of frustration for motorists eager to get behind the wheel of one of the most advanced and impressive vehicles ever produced. As a result, many motorists are looking to lease a Tesla instead of buying brand new and this could bring a range of benefits as well as make it much quicker and easier to get behind the wheel.
Strategic Value
Giga Berlin is of huge strategic importance for Musk and should help Tesla to dominate in the electric car market, which is gathering pace all around the world. Giga Berlin now means that Tesla has plants on three different continents (Shanghai and Austin, Texas), which will allow the manufacturer to significantly ramp up production and compete with the biggest producers in the world. It is thought that Tesla will be able to manufacture 1.3 million units in 2023, which would allow Musk to compete with the likes of the Volkswagen Skoda and brands like Volvo.
It is an exciting time for Musk and Tesla with the opening of Giga Berlin, which will allow the company to ramp up their production of the incredible Tesla Model 3 and help them to capitalize on the electric car revolution. It should also help Tesla to overcome its production issues, but it is likely that the chip shortage will continue to hamper Tesla and other manufacturers for a while to come.
You may also like: An Introduction To Electric Cars For Businesses
Image source: Shutterstock.com