Click here to get this post in PDF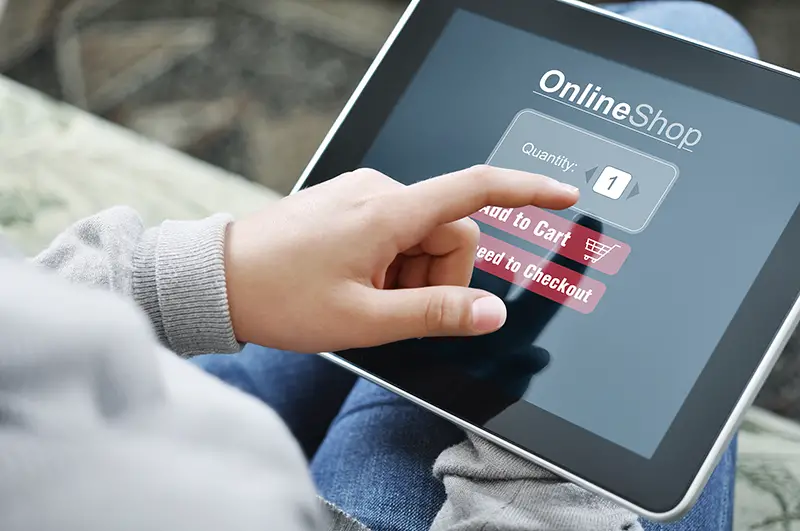 Tough competition from online giants like Amazon, AliExpress, and Ebay makes it difficult for small businesses to gain a foothold in the e-commerce scene. Therefore, it is all the more essential to plan online shop projects well and stand out from the competition. In the following, we present ten tips on how to get your e-commerce project off to a successful start.
Analyze target group and competition
Before you can set up an online shop, extensive planning is required. Part of this planning is to analyze the target group as well as the competition. Online shop operators must be aware of which target group they want to reach, what distinguishes them, and what is important to them. Aspects such as age, gender, and occupation can have a powerful impact on purchasing behavior.
Furthermore, it would be best if you analyzed the competition in detail. It is essential to know who the main competitors are, what they are offering and their prices, and what shop system they are using. Also what offers they have on their online products.
Last but not least, it must be ensured whether there is any demand for the products (i.e treadmill has more demand nowadays). If nobody is interested in the products, it will be challenging to sell them! It would be necessary to research the market before starting selling any product.
Choosing the right shop system
The competition analysis already provides initial information about which shop systems are sound and which are not. What works well with the competition is often also a good choice for your online shop.
In principle, you can choose between open-source, commercial software, SaaS solutions, and CMS extensions. Overall, the different shop systems are relatively similar in terms of their range of services, but they work with various special functions. To find out which shop system is the right one, you have to think about the requirements you have on the system beforehand.
In any case, it is vital that the shop is professionally designed and does not appear amateurish. Switching to a different shop system later is often rather complex and usually involves the online shop being down for a certain period.
Set up easy navigation
For the e-commerce project to be successful, the customer has to find his way around the shop quickly, find the products he is looking for, and complete the purchase process. If this process becomes unnecessarily complicated or protracted, buyers lose interest.
To ensure good navigation, products should be sensibly categorized and embedded in a user-friendly navigation structure. The search function is an absolute must-have. It makes it possible to search for specific products and quickly localize them in the shop.
It is crucial to implement a fault-tolerant search so that users can find your products even if they make a mistake. The search function also needs a filter option. If it does not, the customer can be provided with pages of search results, through which he has to fight his way laboriously. This even takes away the desire to buy something for shopping enthusiasts.
Present products in an appealing way
It is stipulated by law that all the essential characteristics of a product must be presented online. There are precise requirements for this depending on the industry. In order to increase customer satisfaction, the products should be delivered in an appealing and detailed manner. Customers are dependent on the product descriptions and pictures because they cannot touch and look at the products themselves.
At best, product descriptions are based on a buyer persona. They provide detailed and understandable information about the products. Spelling and grammatical errors appear highly unprofessional and should therefore be avoided at all costs.
Good product descriptions are characterized by the following properties, among others:
Short paragraphs
Headings & subheadings
Fonts that are easy to read
They arouse the reader's interest
Professional product photos have priority! Images are relatively unimportant for search engines, but they are all the more critical for customers. They are usually noticed first and get the most attention. It is best to show the product from many angles and make any details visible with close-ups. It is also advisable to show the product in use within a photo or video so that the user can get a better picture of it.
Provide customer ratings and test results
Customer ratings and test results increase the trustworthiness of your online shop. Many buy products only after asking other buyers what they think. If online shop operators provide these opinions in their shop, most users appreciate it very much. The same goes for test results. These testify to the product's high quality and help users locate the products on the market.
Incidentally, negative reviews are usually not a problem as long as they do not occur more often. However, it is always important to respond to negative reviews as quickly as possible and endeavor to fix them. That shows competence and professionalism.
Offer different payment methods
A large part of the purchase process is canceled because the desired payment method is not available. Various aspects must be taken into account in order to offer the correct payment methods. Classics such as payment by direct debit or credit card and on account should not be missing in any online shop. PayPal is very user-friendly and is therefore enjoying increasing popularity.
If you want to put together suitable payment methods for the e-commerce project, there are always two things to consider:
Which payment methods do customers prefer?
What are the technical, time, and financial challenges associated with these payment methods?
If the target group consists of younger customers, there is no way around paying with PayPal or credit card. If you mainly expect older customers, PayPal tends to take a back seat, but payment on account, direct debit, or cash on delivery is all the more important.
E-commerce operators should try to keep the technical, time, and financial expenditure of the payment methods as low as possible. You also have to consider the risk of default. This is exceptionally high when buying on the account. But that does not mean that you should omit this payment option. Risk reviews analyze addresses in real-time and reduce payment defaults through preventive measures.
Optimize shipping
If the customer has found his way around the online shop and bought a product, all that is missing is shipping. Essential aspects are shipping costs, speed of delivery, shipping options, and different parcel services. The faster the parcels arrive, the happier the customer is. But that's not all!
It is crucial to calculate shipping costs appropriately and make customers aware of how high they are in good time. Nobody likes to search in vain for shipping costs, only to be confronted with overpriced expenses in the end. An extensive selection of shipping options and parcel services enables customers to tailor shipping to their individual needs.
Tracking systems are prevalent. Buyers are happy to be kept informed of the current status of their delivery. If an online shop has such a tracking system, it has a plus point with the users!
Take Mobile First into account.
Nowadays, more and more people are also using smartphones for online shopping. With mobile devices, it is much more important to implement transparent and easily understandable navigation. Space-saving navigation elements such as the hamburger menu are particularly popular.
E-commerce operators have three different ways of making their shop accessible for smartphones:
Mobile website: This is a specially programmed website for mobile devices. This is often very different from the desktop version but has the advantage that the content is specially adapted to smartphones and the like.
Responsive design: The trend is clearly in responsive design, as this variant involves the least effort. The page automatically adapts to the respective end device and gives users a feeling of familiarity, as the design always remains the same.
App: Developing a good app is time-consuming and costly. It should, therefore, only be attempted if it offers any additional features such as push notifications for sending or use in offline mode.
Use marketing strategies
A well-structured marketing strategy is part of every successful e-commerce project. Social media marketing, newsletter marketing, and blogs are particularly popular.
Social media platforms such as Facebook, Instagram, and Co. offer the opportunity to get in direct contact with customers. Online shop operators have the opportunity to post information on promotions, new products, or interactive content such as competitions and thus strengthen customer loyalty.
While newsletters serve the purpose of contacting customers and drawing them to their attention, again and again, blogs are intended to offer users real added value with additional information. The aim is to use the blog posts to inform and entertain users at the same time. It is important here to rely on keyword-optimized texts to increase the traffic of the site and thus automatically draw the attention of potential new customers. 
You can also offer coupons to increase your conversions because nowadays people are more towards saving. 
Perform success analysis
The work is far from over with the launch of the online shop. It is important to regularly measure the success of the e-commerce project using tools such as Google Analytics. These tools provide information about buying behavior and help to understand customers better. Based on the results, online shop operators can optimize their shop in a targeted manner.
Conclusion
Don't let the stiff competition discourage you, and plan your e-commerce project carefully. Launching an online shop is not an easy undertaking, but it can be managed well with the essential tips and tricks.
Here are the most essential tips again in checklist format:
Analyze the target audience and the competition.
Select the appropriate shop system.
Make the ordering process easier for your customers with a simple navigation and search function.
Present your products with the help of detailed product descriptions and professional photos.
Give users authentic insights into what other customers think.
Offer appropriate payment methods to the target group.
Optimize the shipping process.
Align your online shop with mobile devices.
Use targeted marketing strategies to increase your reach.
Carry out regular success checks and optimize the shop if necessary.
About the Author
Selena is a blogger and a guest contributor for a well-known brand that includes MESHEBLE & INTHEMARKET. In her leisure time, she plays tennis.
You may also like: E-Commerce Has Taken The World By Storm
Image source: Shutterstock.com