Click here to get this post in PDF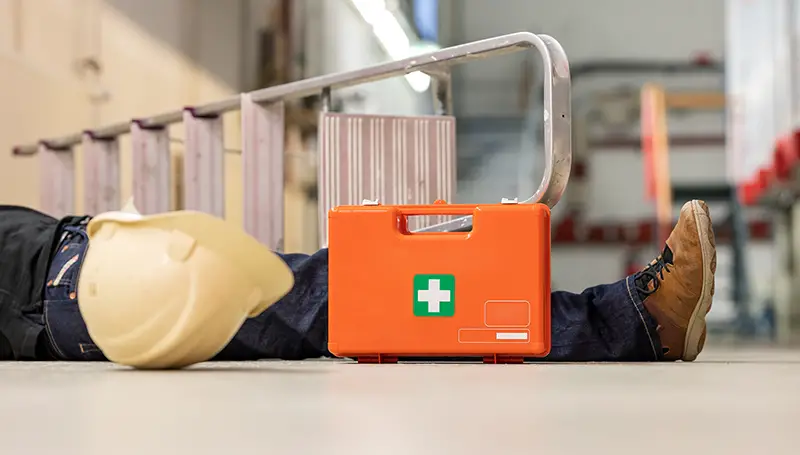 When you go to work each day, you don't think about the possibility of getting injured on the job. However, workplace accidents happen every day, and many of them are pretty common occurrences.
These types of situations can have a devastating effect not only on the person who was hurt but also on their family, friends, and co-workers. Expenses can quickly mount up, from healthcare to help in the home and lost wages. So, where the employer is to blame for the accident, claiming compensation through companies such as Claims Action can be the only way to ensure financial safety.
While every workplace is different and accidents can happen in a variety of ways, there are some that occur more frequently than others. Here are ten of the most common workplace accidents:
1. Slip and fall accidents
These often happen due to slippery surfaces, cluttered walkways, or spills that haven't been cleaned up. It's important to remember that it's not just the management team's responsibility to maintain a safe environment – employees need to do their part by reporting any potential hazards.
2. Carpal tunnel syndrome
This repetitive stress injury is caused by typing or using a mouse for long periods of time. If you start to experience pain, tingling, or numbness in your hands, wrists, or arms, it's essential to take a break and stretch your muscles.
3. Back injuries
These can be caused by lifting heavy objects improperly, sitting in an awkward position for too long, or even just slouching at your desk. To avoid hurting your back, always lift with your knees and make sure you have good posture. Employers should ensure that all staff attend training on lifting objects safely.
4. Falling objects
If items are not correctly stored away or secured, they can fall and hit employees, causing severe injuries. To avoid this, always be aware of your surroundings and ensure any loose items are put away safely.
5. Chemical burns
These can occur if you come into contact with cleaning products, acids, or other chemicals without proper protection. Always follow the safety instructions when using or handling dangerous substances. Employers should have procedures in place for the use of any potentially hazardous substances and restrict access to them where possible.
6. Machinery accidents
These can happen if you are not adequately trained on using a machine or if safety guards are not in place. If you are ever unsure about how to operate something, ask a supervisor for help.
7. Falls to a Lower Level
These accidents commonly occur when an employee slips or trips and falls down a flight of stairs, off a ladder, or from a height. Risk assessments must be carried out to identify potential hazards and provide employees with the correct safety equipment where necessary.
8. Repetitive strain injuries
These occur when you perform the same motion repeatedly, causing strain on your muscles, tendons, or joints. They can be prevented by taking breaks often and stretching your muscles regularly.
9. Electrical accidents
These can happen if you come into contact with exposed electrical wires or faulty equipment. Always report any damaged or dangerous electrical equipment to a supervisor immediately.
10. Stress
While not technically an accident, stress is a significant health hazard in the workplace. It can lead to mental health issues, absenteeism, and decreased productivity. Employers should provide support to employees who are experiencing
What to Do If you Have an Accident at Work
If you have an accident at work, it's essential to report it to your supervisor or safety representative immediately. They will need to fill out an accident report and may also need to investigate the incident. You should also seek medical attention if necessary.
Because you may need to make a compensation claim, it's important to keep all documentation related to the accident, including medical reports and bills, as well as any correspondence with your employer.
Can I Claim Compensation against my Employer?
If you have been injured in an accident at work, you may be able to claim compensation from your employer. This will depend on whether they were at fault for the accident.
For example, if your employer failed to provide a safe working environment or did not properly train you on how to use machinery, you may be able to hold them responsible.
You will need to speak to a personal injury lawyer to find out if you have a case against your employer. They will be able to advise you on the best course of action and help you gather the evidence you need to make a successful claim.
But, If I Make a Claim, Can my Boss Fire Me?
It is illegal for an employer to fire you simply because you have made a claim against them. If they do, you may be able to file a wrongful dismissal lawsuit against them.
However, if your employer has valid grounds for firing you, such as poor performance or misconduct, they can do so regardless of whether you have made a claim against them.
You may also like: 7 Forklift Safety Tips to Prevent Accidents in the Workplace
Image source: Shutterstock.com