Click here to get this post in PDF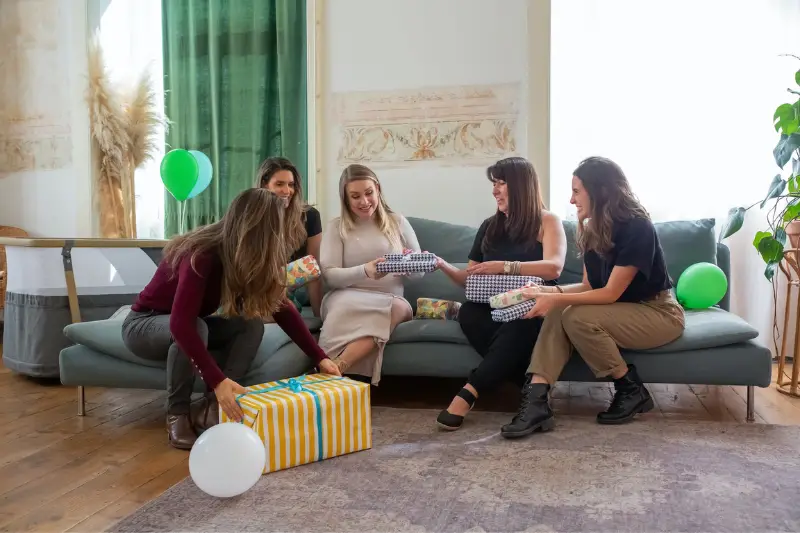 The pros of group gifting make it the go-to option whenever office birthdays, baby showers, or teacher appreciation weeks roll around. After all, when participants pool resources, group gifting empowers the purchase of more substantial gifts. Instead of coming away from baby showers with a load of onesies, teething rings, and washcloths, new parents have a shot at the luxury jogging stroller or convertible car seat they registered for.
However, group gifting comes with a considerable set of cons as well. No one enjoys asking for contributions, tracking down procrastinators, and facilitating consensus on the group's gift — in fact, according to a recent poll, around 7 in 10 people feel anxious about gift-giving. 
"For the person in charge, organizing a group gift is a headache that often turns into a nightmare," says Eshed Doni, Founder and CEO of GiftCrowd. "Collecting contributions, keeping records, shopping, and getting everyone to scribble something meaningful on the card turn the great idea of group gifting into a hassle."
A group gifting platform that takes the stress out of the gifting process
As a veteran entrepreneur, Doni specializes in solving real-world problems with technology. Most recently, he took on the challenge of group gifting.
Doni's online platform makes group gifting a breeze, just in time for the winter holiday season. "Today's online technology enables us to enjoy a much improved, hassle-free group gifting experience," he says. "GiftCrowd streamlines the process of giving group presents by offering an intuitive digital dashboard. It maximizes the advantages of group gifting, while doing away with the disadvantages that often make it so stressful."
Gone are the days of approaching contributors and tracking down contributions in person. Organizing a group gift through GiftCrowd's digital dashboard makes it quick and easy to send invitations to join, and everyone who participates can contribute by using their preferred online payment method.
"The platform manages every step of the gift-giving process," Doni says. "Once a gifting campaign is underway, GiftCrowd takes care of collecting and tracking contributions, organizing a card, and delivering the gift. Best of all, use of the platform is entirely free for everyone involved."
Users get the ball rolling by creating a free GiftCrowd account. After they specify the gift recipient and the deadline for contributions, the platform generates a link that allows others to contribute. Once the link is shared, the organizer's work is done. Each participant contributes online directly through GiftCrowd and writes their own heartfelt message on a digital greeting card.
People love gifting through GiftCrowd because the digital platform finally brings inclusivity to the group gifting process. The platform's user-friendly dashboard tracks contributions without revealing to others how much individual givers contribute, so no one feels forced to give more than they can afford.
"The conventional method of group gifting can be expensive and awkward," warns Doni. "When people are asked time and time again for contributions that go over their budget, it puts them in a difficult financial position. GiftCrowd allows everyone to participate and share in the joy of the recipient with a manageable contribution."
GiftCrowd guarantees each recipient receives the ideal gift
"The stress of trying to find the ideal gift for acquaintances and colleagues is a challenge, especially if you don't know them well," remarks Doni. "When you feel responsible for the entire group's gift, you're likely to feel stress before shopping and second-guess your purchase afterward."
GiftCrowd features products from over 450 of the most popular brands and allows recipients to take their time picking items that truly speak to them. By putting the decision in the hands of the receiver, GiftCrowd ensures all recipients are always satisfied with their gifts. Whether gift-givers need gifts for teachers, coworkers, supervisors, family members, or friends, the platform offers something everyone would be ecstatic to unwrap. 
"With GiftCrowd's stress-free digital platform, organizers and gift-givers avoid the hassle, and recipients choose the presents they really want, saving everyone time, energy, and money," Doni concludes. "There's no feeling in the world like being confident that someone will treasure and value the gift you give them. GiftCrowd ensures recipients are pleased and allows organizers and gift-givers to take on the process worry-free."
You may also like: Why are Personalized Gifts Better than Other Gifts?
Image source: Pexels.com