Click here to get this post in PDF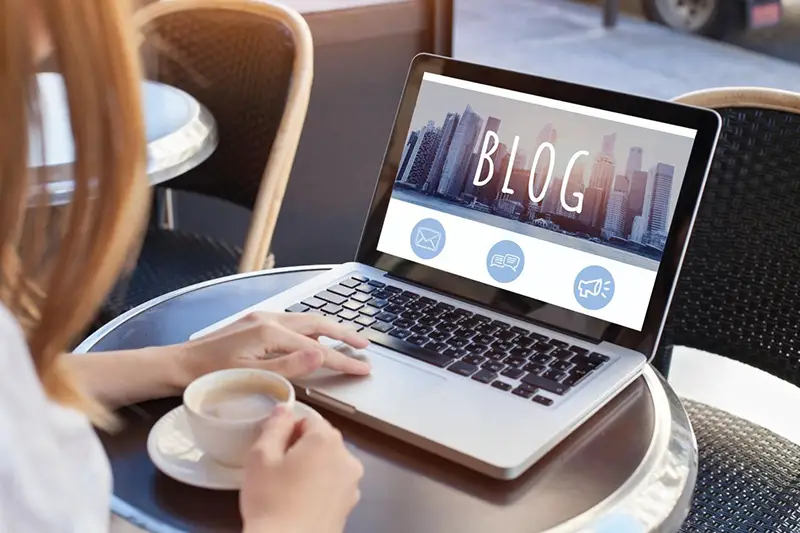 The research was done, and as of 2021, 41.4% of the web is now powered by WordPress. That's a lot of blogs! But it also demonstrates the popularity of starting a blog and getting in on the ground floor of a trending, profitable enterprise.
If you're thinking of starting a blog, you have a lot of catching up to do. Read on to learn how to start a blog and make money with it.
Starting a blog and making money is easier than you think. Here is a step-by-step guide to help you get started:
Pick a Blog Name
If you're looking to start a blog and make money, the first step is to pick a blog name. Ask friends, family, and followers for feedback on your potential blog names and choose one that resonates with them.
Your blog name should reflect you, your interests, and your industry. It should also be easy to remember, so consider using a combination of your name, a memorable phrase, or a keyword that relates to your specific niche.
Choose a Niche
The simplest way to start a blog is by choosing a subject or niche you're passionate about. Next, pick something you'll enjoy writing and researching, as this will make it easier to work and monetize your blog.
Think about what you're passionate about and what subject matter you'd like to write about. Once you have decided on your niche, you must decide what kind of blog you would like to create. Will it be a personal blog or an informational blog?
Research relevant topics and ideas, create content and reach out to networks, websites, and influencers to help promote your blog. 
Select a Domain and Platform 
As soon as you've decided on your niche, choose a domain name and web hosting service. 
Decide on a domain name; this is the address, such as www.example.com, that people will type into their browser in order to visit your blog.
Once you have chosen a domain name, select a hosting platform that suits your needs. Several great hosting platforms include WordPress, Blogger, and Squarespace. Each with its own pros and cons. It's important to carefully consider each platform's features before selecting.
Customize Your Blog 
A blog is an excellent way to connect with audiences through the written word. Customizing your blog allows you to make it look and feel uniquely your own. Get your blog designed with a professional theme or platform. Make sure to research online and read reviews and pick a company that can provide your needs. 
Here is a step-by-step guide to customizing your blog to best suit your needs.
Select a theme that is visually appealing and compliments the content 
Pick a basic layout 
Add a header photo
Use widgets to create an interactive experience 
Edit the color scheme, font, and size of the website text 
Use plugins to add additional features 
Following these steps and customizing your blog will create an online presence that readers will enjoy visiting.
Create and Add Your First Content
Once your blog is ready, it's time to start adding content. Make sure you post original and high-quality content regularly to build up your readership.
To make your blog successful, start by creating good content – blog posts, videos, photographs, and other materials based on your target audience's needs and wants. Then, try to make the content unique, interesting, and relevant to your blog's topic.
You can also network and advertise your blog to drive more traffic and reach more people. 
You can use online tools to create and write a blog.
Monetize Your Content
Starting a blog can be a rewarding journey, and it can also be a great way to make money. 
You can make money through blog sponsorships, selling products or services, ads, and more. Here's a useful guide to help you launch your blog
The final step is to monetize your blog. Here's a simple guide that can help monetize your blog:
Advertising With a Blog
Advertising provides an easy way to generate income from your website. It's an active method that helps you create a steady stream of revenue while allowing you to focus on creating high-quality content and engaging your audience.
You can set up your own ad space on your website or use an established service to facilitate the buying and selling of ad space. The key to success is to research and understand the different options. Make sure that you offer the right advertising space to the right type of advertisers. 
Sell Affiliate Products
An affiliate program allows you to earn a commission for any sales generated from customers that come from your content. All you have to do is promote somebody else's products. When customers click on the link from your content and make a purchase, you get a portion of the sale. This can be a great way to make an additional income from writing and sharing your material.
Plus, you get to control which products you promote and what your audience views and interacts with. This is an especially great option if you already have a platform with a large following. Finally, affiliate marketing is an excellent way for content creators to make money from their efforts.
Selling Products and Services
Monetizing your content by selling products and services is a great way to start earning a passive income. With content monetization, you can promote products and services that are relevant to your content without it seeming too "salesy". You can decide what type of products or services you want to sell.
For example, if you are running a fitness blog, you can showcase and monetize your content by selling gym memberships, home fitness equipment, or fitness-related apparel.
Selling Digital Downloads
As part of a larger digital strategy, digital downloads can be used to generate a consistent and reliable income passively. There are a few different approaches to selling digital downloads. All of these allow for creative freedom and the limitless potential for scaling.
One can create digital products like eBooks, music downloads, or video content. These can be sold through popular marketplaces. Alternatively, one can create their own shop or website. This enables them to customize their approach as desired. In addition, payment gateways like PayPal and Stripe create an efficient and secure purchasing experience for customers and providers. 
Sell Memberships
One of the most effective strategies is to sell memberships. With a platform like Memberful, you can set up a membership site where you can offer exclusive content, offers, and discounts.
This is a great way to build loyalty and create a more sustainable revenue stream. You can customize and segment your audience, introducing relevant content and special offers to keep them engaged.
Furthermore, memberships give you the added benefit of direct customer relationships, where you can gain direct insights into their preferences and current needs. All of this can be used to further personalize and tailor your content. 
Create a Newsletter
A newsletter allows you to keep your fan base and potential customers informed on new products or services that you are offering. By having a platform where you can showcase your products and services, you can reach more potential customers and increase your sales.
You can also use your newsletter to deliver blog posts, company updates, and promotions, allowing you to maximize reach and profit. An effective newsletter should include ideas, relevant industry news, and key stories about your business. You can also include calls to action, discounts, and other incentives to drive sales.
A well-created newsletter can help drive customer loyalty, increase sales, and increase your return on investment.
Promote Your Blog
It all starts with excellent content that appeals to your audience. Regularly producing engaging and relevant content will help optimize your blog and attract potential followers.
Leverage multiple platforms such as social media and search engine optimization to broaden your reach. Establish monetization methods for your blog such as selling advertising space, setting up affiliate programs, and attending events where you can promote your blog.
Ensure that your monetization is in line with your content focus and never compromises on quality or compromises your audience's trust.
How to Start a Blog and Make Money
Starting a blog and monetizing it requires hard work and dedication. If done correctly, it can be extremely rewarding and can even become a full-time job. By following the steps on how to start a blog and make money, you can have a successful blog and make money at the same time.
With this guide, you will now have the basic tools and tips you need to get started, find your niche, target your audience and monetize your content. So what are you waiting for? Take action and get blogging now!
Feel free to browse through our blog for more interesting reads about, business, marketing, finance, and so much more!
You may also like: An Introduction to Blogging