Click here to get this post in PDF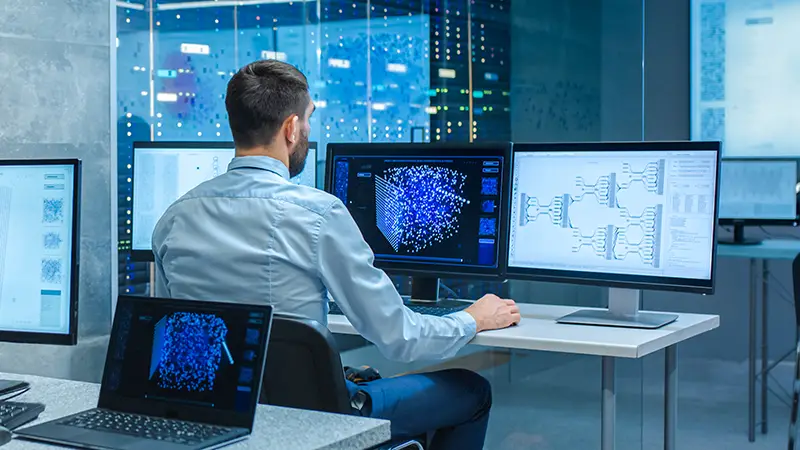 Data constantly flows through enterprises. As a result, stakeholders need to set up one or more apps to collect data that can be used to optimize back-end workflows or front-end conversions. Find out more about the best features of data collection apps that make it easier to achieve these goals, along with pointers regarding a few general data management best practices.
Harness the Power of Data Collection Software
Software designed for data collection is the easiest way to obtain, store and access information. Enterprises that invest money in licensing software for this purpose and put time and effort into achieving a successful implementation that corresponds to the unique data flow of the operation can reap the reward of access to higher quality data for use in analytics.
Decision-makers should prioritize compatibility between data collection apps and the systems in use at an enterprise. This software can typically only glean and process data points that originate on integrated platforms. Sometimes, it may be possible to use non-compatible legacy software with intermediary tools, but the best data collection apps can be directly integrated with customer relationship and workflow management software.
The Main Types of Data Collection Apps
The app an enterprise uses for data collection may also vary based on the industry and type of work being done. Some businesses focus on collecting customer and sales lead data, while other enterprises keep track of other data points pertinent to key performance indicators. Collection apps can be useful for obtaining, sorting, storing and recalling any of the following types of data:
Customer: Customer names, contact information, addresses and other information
Lead: Contact information and relevant data for lead cultivation
Financial: Key performance indicators for operational expenses
Operational: Data for daily operations that reflect short- and long-term trends
Some data collection apps are designed for use with customer relationship management or CRM software, as well as other types of platforms, and can support automated, scheduled or manual imports and exports from various sources.
While some data collection apps are versatile enough to be calibrated to manage multiple data types, some enterprises prefer to start with specialized, industry-specific solutions. The available features factor into the out-of-the-box functionality of any data collection app.
Top Field Data Collection App Features
Data collection apps designed for use in the field have different functions than collection apps designed to work primarily with CRM software. Some features that are likely to prove useful in the field include the ability to set up apps to collect data from one or more sources and update readings automatically based on sensor readings or other real-time sources..
Apps for data collection can be set up to account for any information relevant to field-based work. It is important to consider what types of data you want to collect before setting up this type of application. Focus on data that can be used to inform analytics that have the potential to guide the optimization of workflows.
Offline access is another worthwhile feature of the leading data collection apps that may not seem crucial until field workers need to use an app in locations where no internet access is available. Data collection apps that support offline access by storing data on devices until connectivity is restored and data points can be backed up are even more reliable and useful for staff.
Select the Best Data Collection Forms App
Data collection apps that support form-related functions offer enterprise users the ability to gather data from forms or fill forms with accurate data. The best applications with these functions also offer solutions for form generation, distribution, completion, and acceptance. Related document distribution and digital document signing functions can render this type of data collection app even more useful.
Decision-makers at enterprises should commence with a careful analysis of the different types of forms in use in operations and the timing of form submission relative to other tasks and processes in workflows. After assessing the role forms play in operations, deploying the right software can make it easier to digitize forms and set notification systems to increase productivity.
Organizations that already use digital documents can still benefit from using form-filling software to collect data and fill forms with existing data. Filling out forms is one of the most simple and rewarding applications of automation, as it spares the hassle for staff, customers, clients, or other parties tasked with filling out forms.
The Leading Mobile Apps for Data Collection
Mobile data collection apps are useful for enterprises with staff working in the field or on distributed or remote teams. The powerful processing technology in Apple and Android handsets and tablets makes it possible to run mobile versions of many software suites designed for full functionality on desktop interfaces.
Enterprises should consider data collection apps developed for the platforms and systems in use at an enterprise. Apps that combine this function with solutions for workflow management and code-free automation provide employees with the resources and tools needed to work productively from any location in the world.
Workflow management apps are useful tools that can provide data collection for asset tracking, form filling, geolocation, or engagement monitoring through a combination of native functionality and third-party app integrations.
Specs for Data Collection Apps and Hardware
Decision-makers at an enterprise should carefully review the specifications for running a data collection app. Based on the functionality an app for this purpose provides, it may be relatively lightweight, require relatively few system resources, or be more comprehensive and require more processing power to do analytics.
While running data collection apps on legacy hardware may be possible, stakeholders may want to consider whether it is worthwhile to upgrade enterprise computers and devices to support new data management methods. Some of these apps may also be exclusive to a particular hardware and operating system configurations, such as Apple iOS or Android.
Reviewing specs for data collection apps and seeing how current hardware measures up can allow for a smooth implementation process. Whether an organization is able to run an app for collecting data on existing systems or needs to budget for upgrades, being aware of app specifications provides a clearer sense of any obstacles that stand in the way of getting more use out of data.
Use Data Collection Apps That Do More
A data collection app that provides the features an enterprise needs at a price within the operating budget and that has integration requirements that match the IT capabilities of an enterprise is more likely to prove useful than more costly or less accessible apps. In other words, finding the right app to use to collect data at a particular enterprise is important.
Many data collection apps also include analytics or data processing features. Based on the needs of an enterprise, these apps may be all-in-one solutions for data management and analysis or specialized tools that work in combination with other data processing software.
Implementing data collection software at an enterprise can be the first step toward pursuing data-driven optimization. The features of an app will determine the types of data that can be tracked and can determine the ultimate usefulness of business data.
You may also like: How To Choose a Data Discovery Software
Image source: Shutterstock.com