Click here to get this post in PDF
It doesn't matter how intuitive the application for retouching and other designer operations you might prefer — it is always highly recommended to get a deeper insight into your sphere of activities and interests. In marketing, the meaning of photos expands the frames of simple beautiful pictures. Their purpose is to advertise and attract customers' attention to certain products, services, or important questions.
The worst thing that could take place is when the target image contains some visual imperfections that damage your original idea. From this perspective, a simple option to change background in photos and manipulate its separate elements is absolutely appreciated. Some deficiencies may be omitted during the shooting session itself, and such intuitive software like RetouchMe will come in handy 24/7/365.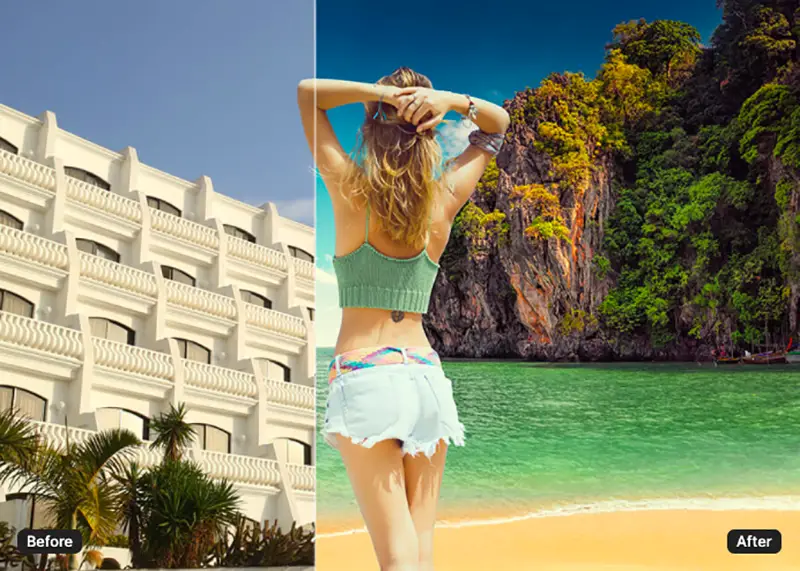 What Is So Crucial about Altering the Image Background?
If you are looking for keen methods to make your artwork more tempting and impactful, background removal techniques should be definitely included in your portfolio. There are different scenarios when this option is opted for. For instance, there may be an unwanted object that distracts viewers' attention from the main characters of the layouts. That could be either something as small as a stray hair or more noticeable as a dog passing by in the photo background. Just take a perfect background from another pic and create perfection with your own hands.
Changing the background of your target image includes several elaboration steps, and their purpose is more varied than it may seem at first:
Along with working with unnecessary items on the picture, this retouching method is a functional step before further edits and manipulations. For example, it simplifies adjusting different image layers, and the blank canvas will help consumers get a new perspective from the photo.
Photos contain precious memories. But they are also powerful tools of information. Adjusting the background with the requirements of different niches and target audiences enhances business opportunities. The offered flexibility doesn't require interested parties to constantly retake images just to make them downloadable and uploadable for various websites/platforms with their own set of requirements.
Editors' Choice: Top-Notch Techniques to Master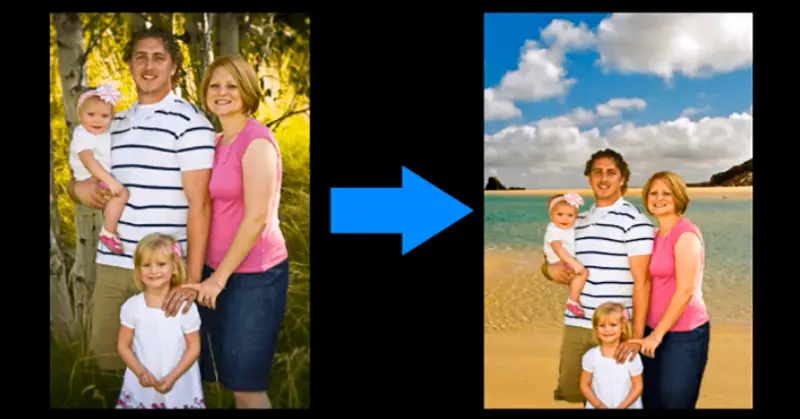 Taking into account how advanced the spectrum of services to change the background in photos has already become, even a professional designer easily gets confused. Solutions like RetouchMe allows achieving gorgeous results in the twinkle of an eye, but diversifying your knowledge to make your work even more flexible won't be extra:
Background erasing — this option is one of the most traditional considerations when it comes to manipulating the image background quality. Its functionality is both efficient and non-demanding for enthusiasts, regardless of their professional level. However, it suits best non-complex images where automatic processes are enough to create a natural outcome.
Image masking — people usually associate operations related to background removal as something serious and voluminous, but what about minor defects? There are tiny objects to get rid of, and standard clipping services might be difficult to apply. That is where the variety of masking tools is your best friend. From turning colorful deficiencies into their transparent versions to benefiting from complex layer masking, enthusiasts achieve enough room for experimenting.
Clipping — this technique under consideration offers brilliant results without hassle if the image to work with has straight or sharp edges. All you need to do is to enclose a frame around the target object. To make sure your accuracy is second to none, feel free to zoom the picture to see it in more detail.
Cut-out services — it is somewhat between clipping and erasing. The results are professional and leave room for further manipulations with the image.
The Final Verdict
Working with backgrounds is no less important than improving the image foreground and main elements. If you are searching for better visuals in a fast and straightforward way, these techniques and applications maintaining them, such as RetouchMe are what let your affairs boost up and keep on developing.
You may also like: Colorize and Save Your Old Photos