Click here to get this post in PDF
Since the first camera was invented, we use photos to record history, people and family. We can learn a lot from a single photo or picture. However, because of technological improvement, we can only see the black and white pictures decades ago. Then, how to recover these old and B&W pictures? How could I add color to them automatically without any PhotoShop skills? Read this post and you will learn from the trick and you can do that without any manual operation.
Picture Colorizer – is a highly efficient multi-platform photo colorization application. This program is integral to those who want to recapture all there was – in black and white or faded photographs. What's the most vital benefit this app will give you? It will bring your pictures… back to life! 
What is Picture Colorizer?
Picture Colorizer is an application – for Windows and Mac – that will transform black and white pictures into brilliant and realistic colors. Using a sophisticated AI Algorithm – a trained artificial intelligence – your photo is uploaded to a server, which then colorizes the image to authentic specifications. 
Manual Mode: Allows the demanding user (like me) to manually adjust each parameter to specific preferences.
Automatic Mode: Click one button, and instantly watch the professional results effortlessly unfold. 
It is free software.
Easy to use interface.
Minimal learning curve.
Upgrades for life. 
Realism: It renders lifeless black and white, and then transform it into living color. The results will please even the most incredulous user. I was impressed.
How Do We Use Picture Colorizer?
I began by going to the site – imagecolorizer.com – and downloaded the application. Once installed, I uploaded my photograph, and I was ready to convert my image. Can it really be that simple? The answer is – YES.
Are you familiar with photo-editing options such as; Exposure, Saturation, Hue, Sharpen, Radius, Gamma, and Denoise? Then you'll feel right at home. 
If you don't want to mess with sliding controls, try that powerful button labeled – Automatic. I tried both methods, and each produced exceptional and comparable images.
My Tests…
I chose two images to convert. The first was a picture I took of a marina. I first unsaturated the image (on another photo editor) and then uploaded the black and white version to Picture Colonizer. Using both the manual and the fully automatic modes yielded impressive results. 
Were all the colors identical in hue and tint to MY original? Not exactly. But when I asked a friend to identify my original amongst the colorized versions – he failed. The finished pictures are realistic and true to life.
The other picture I used was an old image of my grandparents standing next to a barn. I was amazed when I looked at the final image. It was as if I was looking at a picture taken yesterday. The colors were real and the image of my grandparents had come to life.
Here is the before & after image: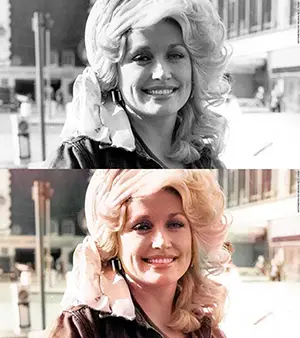 What Are the Benefits of Picture Colorizer?
Simplicity: Picture Colorizer is a simple and effective app to use.
Results: Produces realistic and stunning professional results.
Speed: Professional images are achieved in minutes.
Cost Savings: To achieve similar results with a 'professional service' would cost you a fair amount of money. 
Colorize Pictures on Mobile Phone
Using an app to colorize black and white photos would be another impressive experience. Here, I have tried a new released App named Colorize! that you can download from Appstore and GooglePlay. This app provides a fluent process for users to upload B&W pictures for colorization. It includes another impressive feature call "Enhance". With its AI enhancement capability, you can even fix the blurry pictures taken from one hundred years. It is really amazing.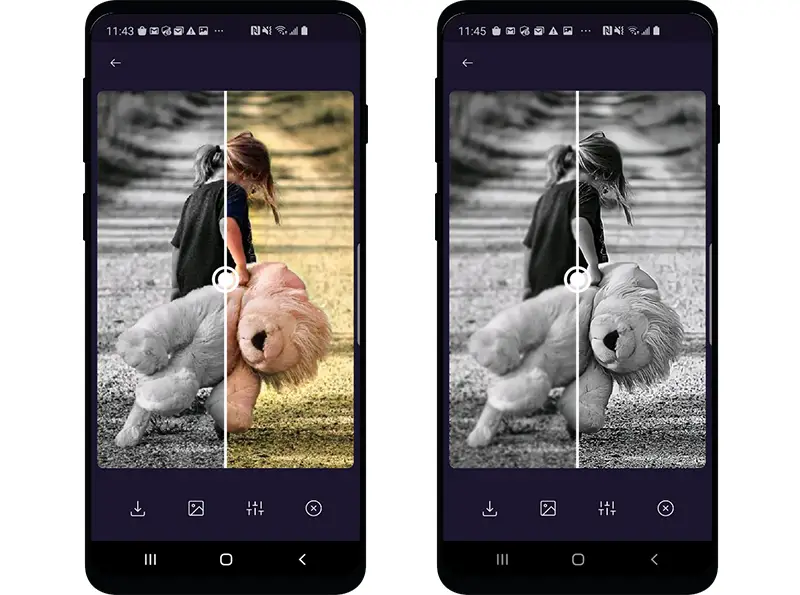 Conclusion
Picture Colorizer proved to me that for; black and white photos, faded images, or for old photo restoration – this application will generate professional images. The speed and efficiency of this app will impress even the most skeptical. Download the application and let your eyes be the judge. Your pictures … will come to life.
You may also like: How to recover deleted photos on Windows & Mac?