Click here to get this post in PDF
The highly advanced technology allows people to live in a convenient digital world. Nowadays, more and more people choose to store their photos on the computer, it could be a Windows PC or a Mac. However, while it's easier to keep the files, it's also troublesome when you delete the photo by accident. How to recover the images on a PC or a Mac? This post can help you to get deleted photos back.
Fixes to recover deleted photos on Windows PC
Fix 1: Recover deleted photos from Recycle Bin
It will be an easier and quick fix if you just simply remove your photos into the Recycle Bin. You may do it by pressing the Delete key or right-clicking to choose to Delete the file or folder, then the images will be dumped to the Recycle Bin on the Desktop. Under this circumstance, if you want to recover the files, you just need to:
1. Open the Recycle Bin by double-clicking its desktop icon.
2. Right-click the deleted photo or file you want and select Restore option.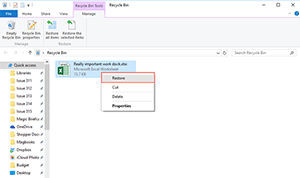 However, it won't be possible under some situations, for example, if you happen to have emptied the bin or you clear the photos by using the Shift + Delete key shortcut. Then, what else can you do to get your images back? You can move to the next methods.
Fix 2: Recover permanently deleted photos from Windows back ups
Introduced in Windows 8.1 and later, File History is capable of backing up copies of files that are in the Documents, Music, Pictures, Videos, and Desktop folders and the OneDrive files available offline on your PC. Therefore, if you have backed up the pictures before deleting them, here's what you can do to recover the images:
Step 1: Connect the backup storage media to your Windows.
Step 2: In the search box on the taskbar, enter "Restore files", and then select Restore your files with File History.
Step 3: Look for the file you need, then use the arrows to see all of its versions.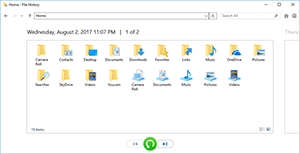 Step 4: When you find the version you want, select Restore to save it to its original location.
In case you want to save it in a different place, press and hold (or right-click) Restore, select Restore to, and then choose a new location.
Likewise, you can also restore permanently deleted photos from Windows with the help of Restore previous versions feature.  If you are using Windows 7, you can try Backup and Restore.
Fixes to recover deleted photos on Mac
Fix 1: Recover deleted photos from Mac Trash or Bin
Recovering deleted files from trash also works for Mac, as long as you don't empty it. Here are the easy steps to follow:
Step 1: Open the Trash on the dock.
Step 2: View a list of files that you have deleted recently.
Step 3: Right-click the photo you want to restore and choose Put Back to its original location.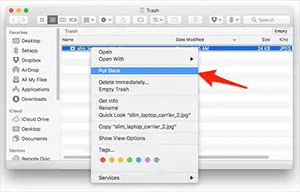 However, in the following situations, this method won't apply to you.
You have emptied the trash.
You have clicked Delete immediately to remove the deleted photos.
You press Option + Command + Delete key shortcuts to delete the photos or videos.
If you encounter the above three conditions, maybe you should try the following method to trace back your photos.
Fix 2: Restore deleted photos from Time Machine backups
Time Machine, the built-in backup feature of your Mac, is designed to automatically back up all of your files, including apps, music, photos, email, documents, and system files. If you have set up Time Machine before deleting the files, there you go.
Step 1: Connect the backup drive to the Mac computer.
Step 2: Open the folder that once contained your deleted files.
Step 3: Click the Time Machine icon in the top left menu bar and select Enter Time Machine.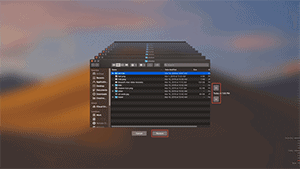 Step 4: Browse the items in the backup folder by using on-screen up/down arrows or using the timeline at the edge of the screen. If you want to find files of older version, using the timeline to navigate the files is faster. You will be able to see a lot of snapshots of this whole folder and how the folder changes.
Step 5: Select an item and press Space bar or double-click it to preview it.
Step 6: Select the file you want to restore, and then click Restore.
Whereas, not everyone develops the habit of backing up. In that case, special-designed software can help you out, for example, iBoysoft Data Recovery for Mac can recover your deleted photos with simple and clear steps.
You may also like: The 10 Best Trading Computers and Laptops for 2020