Click here to get this post in PDF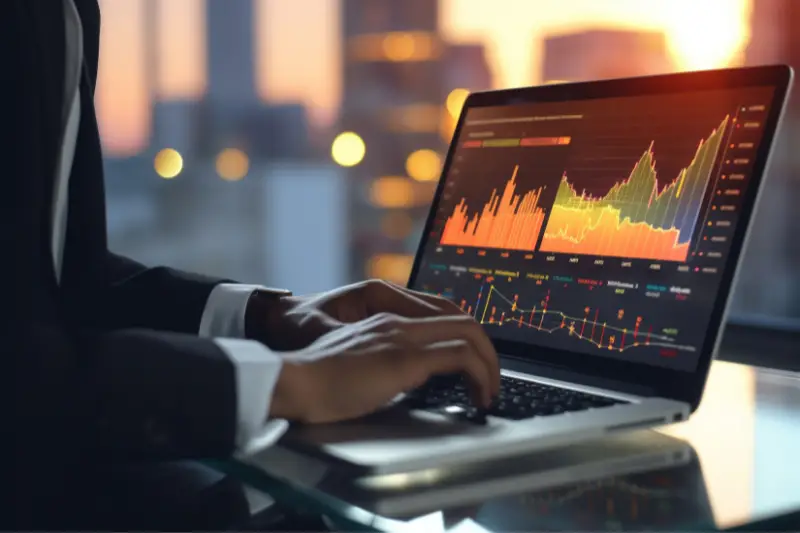 Stock traders and currency traders in the past hunched over desktops to predict trades, and because it was a corporate affair, companies used to invest in large mainframe computers for such tasks. Currently, with highly advanced computing technologies, the best laptop for stock trading and fast internet speeds, individuals can trade in the comfort of their homes. You, therefore, need fast internet and very fast, reliable RAM for high-frequency trading. In order to be successful in your trading business, you need much more than just a fast RAM and internet but also a good reliable power source according to ElectricRate.com. The other features required for high-frequency trading are:
•           Multi-monitor/large monitor
•           DisplayFusion
•           High configuration
•           Spacious hard drive
Best trading laptops: 10 best picks
1. F-30 Extreme
The F-30 definitely looks like a laptop, but it has all the power of a desktop. That's because it uses a 9th gen Intel desktop processor! This makes it super fast and more efficient than ever. Not only is it super quiet, it also has incredible storage capacity with 2 PCIe M.2 SSDs, plus 2 SATA3 drives. You can also trade with up to 6 monitors. That's a lot of power in one small device.
2. F-15 Pro
The F-15 Pro laptop is one of the best mobile traders out there. It uses a 9th gen Intel mobile processor to expertly handle trading, recording, and streaming – all at once! It also allows for multiple monitor trading with Mobile USB 3.0 powered monitors. This model has a screen with the same resolution as the mobile monitor – meaning everything looks consistently sharp and clear across all screens.
3. Acer Aspire E 15 Laptop – 8th Generation
The Acer Aspire E 15 Laptop – 8th Generation runs on a fifth-generation i5 core processor and comes with a Windows 10 Operating system. You will find the best utility from this laptop due to its affordability and premium features. It comes standard with a 1TB hard drive and 8gb RAM, which are enough for a beginner in trading. It has a large screen of 15.6 inches, which allows you to spread out your trading platform fully. It has an expandable 256 SSD space and fully expandable RAM space too. This specific brand, however, lacks a fully customizable multi-monitor and displayfusion functioning, which is essential for high-frequency trading platforms.
4. Razer Blade Stealth
It comes highly recommended for its optimized outdoor usage. It has one of the longest battery life in the market, and even though it is expensive, it still makes up for the expense in premium features. The razer blade stealth back is made from aircraft-grade aluminum and is lightweight enough for on-the-go usage. It comes with a 7th generation I7 core, packing Windows 10 operating system, 16 GB RAM, and 256 GB SSD. Trading computers.com offers laptop trade in services for this specific machine, with only a few added costs.
5. Dell XPS Tower Special Edition (8930)
This is a computer tower desktop that is customizable with a range of premium monitors. For traders, it works well in multi monitor functionality with optimized displayfusion. It allows for up to 3 multi-monitors all running on its eighth-generation Intel Core i7-8700, Gigabyte GeForce GTX 1060 Video Card, 16 GB RAM, and 3.8-4Ghz processors, all of which are found on tradingcomputers.com.
6. Dell Inspiron 5680
Though designed as a gaming computer, the Dell Inspiron 5680 is a preferred trading computer on a reasonable budget. It has the same specifications as the XPS Tower 8930, with added thermal design and smart component placement. It is the quietest computer on the list. Trading computers.com offers excellent financing options for this model.
7. iMac 21.5″ i7
The iMac 21.5″ i7 is a favorite amongst Apple fans for its premium display and a large 27-inch monitor. IT allows for multi monitor and display fusion functionalities. Its hefty price tag should not sway you away from its other premium features.
8. iMac 27″ i7
This is another favorite for high-frequency traders, offering a sleek design, quad-core processor, and 27-inch monitor. It has a trade-in offer with similar brands on tradingcomputers.com.
9. Asus ZenBook 13 UX331UN
At tradingcomputers.com, this stunning laptop comes with standard Windows 10, 256 GB SSD, and 8GB RAM. It is lightweight, weighing only 2.47 pounds, making it a fan favorite amongst high-frequency traders. Tradingcomputers.com allows for laptop trade ins with other brands with similar specifications.
10. MacBook Pro (Quad-Core)
Mac fans have a preferred trading laptop in the form of the MacBook Pro (Quad-Core). The seventh generation Intel Core processor allows for fast trading alongside other core functionalities.
Wrapping Up
A fabulous computer cannot make you a great trader; however, it is the best starting point to optimized high-frequency trading. Trading antecedence shows that high internet and optimum hardware are essential in establishing a proper trading platform. Choices can be overwhelming, and with high-end gadgetry coming out every season, you should expect some confusion unless you know exactly what you are looking for.
You may also like: How to Master Trading Psychology: Controlling Greed, Fear, and Regret
Image source: stock.adobe.com