Click here to get this post in PDF
The difference between a job you love and one you, well, don't love often depends on working for a firm that values workplace wellness. The secret to success is a happy workplace.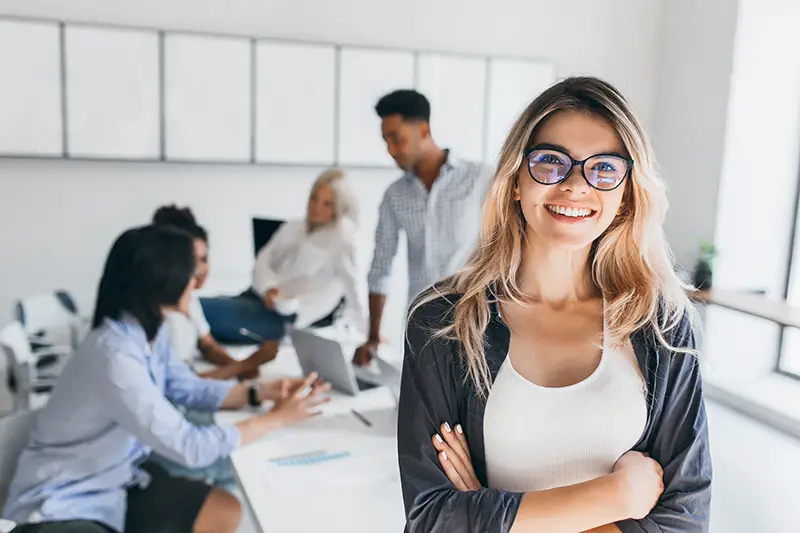 A shared set of characteristics that promote excellence, productivity, and friendship may be found in healthy organizations. 
Here are a few traits of a healthy workplace and a happy workplace.
Is Your Workplace Safe for Women?
From promotion to opportunity and equal pay to representation, women's position in a company can suggest a lot about culture. Healthy workplaces encourage women to speak up, pay them based on merit (not on gender), and empower them by giving them equal opportunities. 
It is also imperative to make the company a safer place for them with activities like anti-harassment training, listening to their problems instead of dismissing them and more. You can tell a lot about a company by looking at how they treat women in its workforce. True enough, a positive shift can occur with relatively little effort.
Wellbeing Is Prioritized
Whether you do your job from home or in an office, taking care of yourself is always job one. Without it, accomplishing anything else will be difficult. Although it is becoming increasingly common for businesses to institute policies and schedules that encourage employees to maintain a healthy work-life balance, it is still important for workers to know what to anticipate in the meantime.
The degree to which we feel secure, happy, and healthy determines our productivity and effectiveness. It's not uncommon to find a remarkable connection. It still remains a challenge for the majority of businesses to strike a balance, but companies that care about their employees' well-being tend to retain more of their staff, which means greater productivity and fewer problems for the employee. 
Teamwork Over Competition
Does your company credit your team for their accomplishments or keep the achievements to themselves? The culture of an organization has a significant impact on employee relationships. If cooperation is discouraged in favor of rivalry, then the bonds between employees will be flimsy and easily broken. In fact, it's the other way around, with collaboration being encouraged.
All humans have a unique trait: they thrive in groups. When we are surrounded by people who believe in us and encourage us to take risks and develop, we flourish. The same holds true in a professional environment. Without confidence in your colleagues, you won't take the chance to suggest changes that might benefit the project. Ask yourself, "do I feel rivalry inside the team?" while you observe your work environment.
Encouragement Over Threat
If you were praised, how frequently would that be? We are not, of course, people who need constant affirmation for doing everything well. There must be some justification for it. However, if you have to choose between encouragement and threat, go with encouragement. 
A strategy built on fear will only succeed in the near term. Teams whose members make decisions based on unhealthy rivalries or the fear of being laid off tend to have less satisfied workers overall. As a result, productivity drops, and workers' motivation to "go the additional mile" wanes. In a productive workplace, your efforts are recognized and appreciated, providing the boost in morale you need to go above and beyond.

After Hours Are For You
How often do you get calls or emails after hours? The company's policy may need revising if work is intruding into your personal life. If work keeps intruding on your free time, you may forget about striking a work-life balance. With more and more offices opening, this becomes even more important.
There has been a rise in the number of firms and nations trying out the four-day workweek in recent months. Although the final result has not been determined, this tendency indicates that workers who have more time off tend to do a better job. Take stock of your current work condition. We could all need some downtime in the afternoons, so perhaps it's time to suggest a "don't interrupt" policy for the team.
Open Communication Is Encouraged
Kaizen, a Japanese philosophy, emphasizes the importance of always striving to do better. This necessitates a commitment to continuous improvement, manifested in the form of communication that is valued in a firm that sees room for growth. Conversely, this does not entail that constructive criticism is quashed.
Anyone has the potential to come up with a brilliant idea or solution if they have faith that their suggestions will be taken seriously. In a productive workplace, people are encouraged to voice their concerns and ideas without fear of retaliation. If you are unable to speak freely at work, you may feel stifled and unappreciated.
It may be challenging to work with others, exhausting to work for a company, and completely daunting to work alone. The difficulties one must face and conquer vary from circumstance to scenario. Employees that strive for improvement create the best working conditions. Minor interactions can lead to major shifts. Incorporate the aforementioned advice into your life and use your voice to advocate for the changes you seek.
You may also like: Is Your Workplace Toxic? – Spot the Red Flags
Image source: Shutterstock.com