Click here to get this post in PDF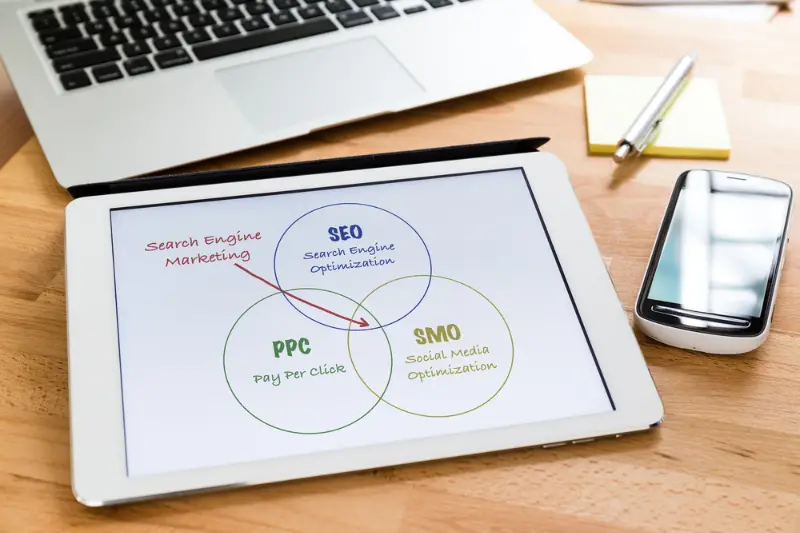 It is getting increasingly difficult for your digital brand to set itself apart from your competitors, with more and more people utilising different digital marketing strategies to try and increase traffic and conversions. So, in a world where digital marketing has become very competitive, what can you do to make sure your business is the one that gets found?
SEO and PPC are two of the most popular digital strategies that, when done right, can be very powerful and drive traffic to your website. This article will cover the differences between SEO and PPC, the benefits each can provide, and why you should consider implementing them as part of your strategy.
What is SEO?
Search Engine Optimisation, commonly referred to as SEO, is a digital marketing strategy that focuses on driving organic traffic to your website by optimising your website and pages. When done well, this results in search engines, like Google, ranking your website higher in the SERPs (Search Engine Results Pages). Statistically, the higher your website ranks in the SERPs, the more organic traffic you can expect to see. SEO is a long-term strategy, as it can take a while to start seeing consistent results – to help with this, consistent SEO implementation is key.
How Does SEO Work?
As mentioned above, SEO is based on optimising your website so that search engines, like Google, will start to rank your website higher in search results. The basic elements that make up SEO are:
Making sure your website is technically sound
That your website targets specific keywords and search terms
That optimised pages contain strong and relevant content
Making sure your site has the correct heading structure, and that your headings include keywords
Making sure your content naturally includes keywords – SEO has evolved being keywords being forced onto a page where they don't fit naturally
Internal linking pointing between and to key pages
Reaching out and receiving backlinks from other trusted websites can boost your traffic and the authority of your website's domain
When you start to properly implement elements, ideally all of them, from the list above, you'll slowly start to build up your website's SEO potential. In the long run, if done correctly, this will start to show in both your visibility in the SERPs and an increase in quality visitors to your website.
User Search Intent
With SEO, it is important to remember that your website and content need to be relevant to the user's search intent. There is no point targeting and optimising for keywords if when people visit your website, they realise it doesn't fulfil their needs and bounce immediately.
Simply put, why is a person using a particular search term? Someone searching for "how to bathe a dog" is looking for information, not dog grooming products. However, if you can provide relevant information that is valuable to the user, you have a chance to move them down your customer journey, which could eventually lead to a conversion.
What is PPC?
PPC, or Pay Per Click, is a form of paid advertising which is typically placed above the organic search results in a search engine. These appear at the top of search results with "Sponsored" written in bold next to them.
When done well, PPC can be a very effective digital marketing strategy, capable of quickly bringing in a lot of traffic to your website. There are various PPC platforms across different search engines and social media available to choose from, each with its own benefits.
One of the big benefits of using PPC is that you can target exactly who you want to reach and visit your site, targeting things like location, age, income, and even interests.
How Does PPC Work?
PPC works by creating adverts that target specific groups of people and keywords. The cost of a PPC advertising campaign can vary depending on the level of competition for a keyword, highly sought-after and competitive keywords are likely to be a lot more expensive.
In addition to choosing what keywords you want to target, you also have to consider your bid for each keyword. Essentially, a bid is how much you would like to spend on each click for a certain keyword. Too small a bid could see you missing out on exposure by not being at the top of the PPC rankings, and too much could see your campaign getting costly quickly.
Creating a Relevant and Quality Ad
Unfortunately, PPC isn't as easy as choosing keywords and targeting, paying for it, and reaping the results. A big part of creating a strong PPC campaign that drives a lot of traffic to your site is creating quality ads relevant to your target market.
Like SEO, a big part of this is determining search intent. Creating ads that contain headlines and descriptions that are relevant to the keywords you've bid for increases the chances that someone will click on your ad. Your ads can't just contain keywords, though; you'll have to weave in pain points and solutions which will help to "sell" the idea to your target market, getting them to click.
It doesn't stop there either; the landing page that people click through to, also needs to contain relevant and valuable content; otherwise, visitors will bounce back immediately.
Your PPC ranking is determined by how much you bid for your target keywords, the quality and relevance of your ad, and finally, if the landing page is relevant and keeps people engaged.
SEO vs PPC: What's The Difference?
The major difference between SEO and PPC is that SEO targets organic traffic and is based on long-term implementation and consistency. Whereas PPC is a form of paid traffic and is typically used over a shorter time frame, but can generate traffic faster.
However, they have similarities in their reliance on targeting specific keywords and creating content that matches the user's search intent. Additionally, both rely on having strong, relevant content on your website that keeps users engaged and ideally progresses them to the next stage in your customer journey.
Pros and Cons of SEO
Pros of SEO:
Can generate quality organic traffic and conversions long-term once strong visibility is achieved
A high SERP ranking can generate not only traffic but also overall brand awareness
Can drive relevant, targeted traffic that is likely to convert into a paying customer when implemented effectively
Ranking high on Google for a range of keywords can help to build credibility
SEO can keep generating traffic, even when it's not being worked on
Creating high-quality and searchable content can lead to other websites linking to your website and build your authority
Cons of SEO:
SEO is a long-term strategy, meaning it can sometimes take months to start to see positive movement and patience is required
SEO thrives on consistency, meaning regular content and refreshes are needed across a website
While SEO is technically free to implement, it can be highly time-consuming and harmful when done poorly, which means many businesses choose to invest in professional SEO services
Smaller websites can often struggle to compete against more established and authoritative brands for sought-after keywords
Google algorithm changes can affect your SEO visibility, however usually only if your website isn't compliant with Google's guidelines
Even a "fully" optimised site needs ongoing SEO work to maintain rankings and keep pages relevant to changing search intents
Pros and Cons of PPC
Pros of PPC
Paid ads rank above organic search results, meaning your content is seen before competitors
It's easy to hyper-target your ads to your exact target market
Almost instant results if your ad is well-made
PPC can drive high volumes of traffic in a short period of time
You can perform A/B tests to find the best ad elements, to educate and craft future ads
Cons of PPC
Paid ads cost money, so you need an initial budget to get started
It can be easy to waste money by bidding on keywords if your landing pages aren't relevant and don't convert traffic
PPC requires ongoing monetary investment as when you turn off the ads, all your traffic stops
Ads can become costly, so it's important to consider the value of a conversion and comparing it to a customer's lifetime value
Some people don't like ads and will purposefully skip past them in favour of organic results
Ads can become less effective over time, so will need refreshing with new content
Using SEO & PPC Together
While it's certainly worth considering if SEO or PPC is more suited to your business, it doesn't mean you have to only choose one. In an ideal world where you have the time, capacity, and budget, you should choose a combination of SEO and PPC.
Diversifying Your Traffic
Opting to use both SEO and PPC means that you start to diversify your traffic. If you need to stop your ads for a bit, you still have traffic generated from SEO. Or if you've just started optimising your site or your rankings have dropped, PPC will still be directing traffic to you.
SEO and PPC Working Together
Another benefit of doing both is if you target the same keywords for both SEO and PPC, there is a chance you can dominate the top of the SERPs by having both paid and organic search results on the same page.
Additionally, having an influx of traffic from PPC to a page that is relevant to your target audience's search intent, and that provides valuable content can help to improve engagement time and authority. In turn, this contributes positively to your website's SEO.
The SEO Works – SEO and PPC Agency
SEO and PPC can be incredibly powerful tools for your business, but learning how to get them right can require a lot of time, effort, and money. Sometimes it's not feasible for you to manage these channels internally all the time. In cases like this, it is worth exploring the option of using a professional SEO or PPC agency to manage these for you and help drive results.
Author Company Bio: 
The SEO Works is an award-winning UK SEO and PPC agency, based in Sheffield, London, Manchester, and Leeds. Our team of experts are specialised in using both SEO and PPC that synergise and work with each other, to help businesses drive traffic and grow. No matter if it's SEO or PPC, we focus on achieving real-world results for your business – sales and conversions.
Get in touch and see how our SEO and PPC services can help to maintain your business's online potential or check us out on socials LinkedIn, Twitter, Facebook and Instagram. 
You may also like: 4 Signs Your Digital Marketing Strategy Isn't Working
Images source: Depositphotos.com