Click here to get this post in PDF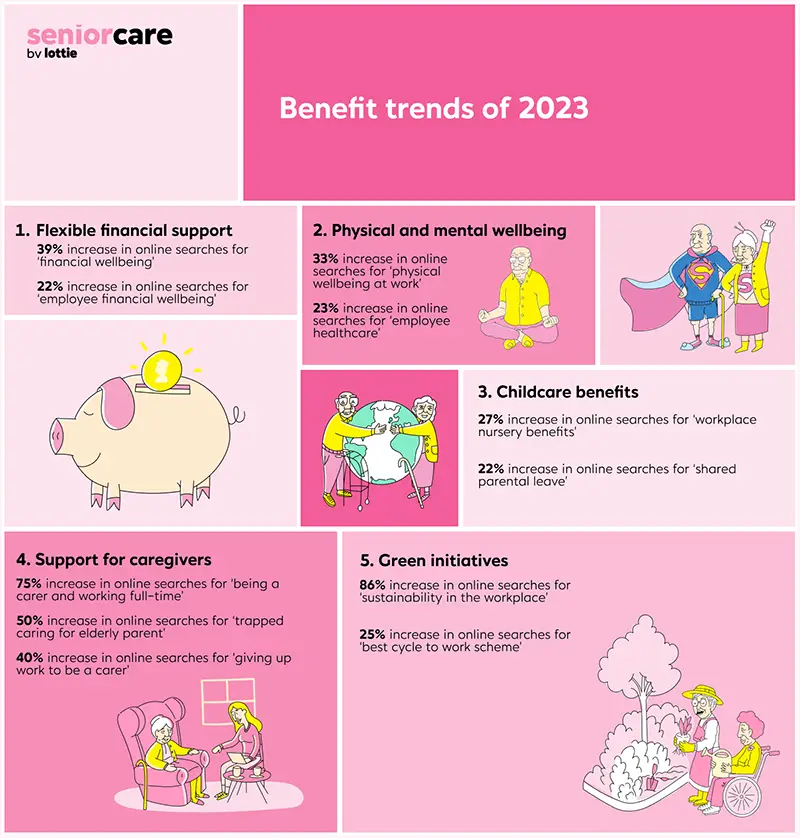 2023 is set to be the biggest year yet for employee perks, after new research from Seniorcare by Lottie (an eldercare benefits solution) has predicted the best benefits for workplaces to invest in.
From childcare to support for caregivers in the workplace, Seniorcare by Lottie's experts have analysed our online searching habits over the last 12 months to predict the best perks to offer your employees.
"As we start the new year, it is clear that more people are prioritising their wellbeing and a healthy work-life balance, so there's no surprise that more businesses than ever before are attracting new team members through offering the best perks," shares Seniorcare by Lottie Lead Ronan Harvey-Kelly. 
"By analysing the UK's online searching habits, our team of experts have predicted the most valuable and trending employee benefits to adopt this year. 
Benefits offered in the workplace are at the forefront of people's minds, with a 75% increase in online searches over the last 12 months for 'top employee benefits'*. During the same time period, we've seen a huge surge in online searches for childcare support, flexible financial benefits, and many more.
"More business owners are investing in unique perks that genuinely support employees in need. In doing so, they're attracting the best talent and lowering their employee turnover. From coping with the rising cost of living to juggling work commitments and caregiving responsibilities, the UK workforce are coping with a wealth of added stress, anxiety, and worry," concludes Ronan Harvey-Kelly.
Revealed: The 5 Biggest Employee Perks For 2023
1. Flexible financial support
2. Invest in physical and mental wellbeing
3. Childcare benefits
4. Support for caregivers
5. Green initiatives
Flexible financial support
39% increase in online searches for 'financial wellbeing'*
22% increase in online searches for 'employee financial wellbeing' 
As the cost of living continues to rise, employers should raise awareness of the importance of being financially healthy. Financial wellbeing isn't about the money you have, it's more about how secure you feel about your financial situation, and whether you feel you have enough money to fulfil your needs.
Employers have the power to build financial resilience by creating a culture of support, sharing useful resources, and providing essential help when needed.
Offering staff training about how to talk openly about financial wellbeing can help, too. Another great way to reduce any financial pressure for your employees is by providing financial perks, including access to special discounts, and budgets for expenses like transport or lunches.
Samuel Lathey, CEO from Financial Wellbeing provider Bippit, adds, "The truth is that financial matters are the 'elephant in the room'. Something that's affecting all of us, but something that very few of us are comfortable talking about, and that's why it's so important for employees to have a safe, confidential space where they can access support and have an expert to talk to."
Invest in physical and mental wellbeing
33% increase in online searches for 'physical wellbeing at work'
23% increase in online searches for 'employee healthcare'
Your team's physical and mental health is hugely affected by their workload and work environment. As we begin the new year, businesses must step up and be a positive influence on employee health. 
Many workplaces are a major contributor to sedentary behaviour. Previous research by The Workplace Movement has found that physically inactive workers lose up to 4 and a half working days per year, compared to those who are active, through absence and presenteeism. 
From providing mental health support to offering discounted gym memberships, you'll reap the rewards as a business owner if you prioritise your employee's health. They'll likely be happier and more productive, and you'll retain top talent. 
Sançar Sahin, Oliva's Co-founder & CMO, says, "We spend at least 8 hours of our lives at work each day. So to say that us employers have a responsibility to support our team's mental wellbeing is an understatement. 
How many times have we taken a day off because we lack the mental energy to turn up? And how many times have we turned up but had our minds somewhere else; thinking about a sick relative, a recent breakup, or something more debilitating like depression, OCD, or trauma. Healthy people = healthy business."
Childcare benefits
27% increase in online searches for 'workplace nursery benefits'
22% increase in online searches for 'shared parental leave'
Childcare benefits are becoming a huge factor for many working parents when deciding on their next job. Over the last 12 months, there has been a 600% increase in online searches for 'childcare issues and work', with many parents struggling to open up to their workplace about their struggles. 
Jobs that provide support for parents and parents-to-be are at a huge advantage of retaining staff, raising morale, and improving attendance. More parents are also keen to share parental leave, which is a huge trend for employers to focus on. 
Some businesses have set up on-site nurseries for employees or offer greater flexibility through remote working and flexible hours for parents. What's more, companies could focus on helping parents with back-up childcare, for when their children are unwell or off nursery. 
Support for caregivers
75% increase in online searches for 'being a carer and working full-time' 
50% increase in online searches for 'trapped caring for elderly parent'
40% increase in online searches for 'giving up work to be a carer'
An ageing population means more people are living longer, and many employees are finding themselves caring for older, disabled or seriously ill relatives. This means more employees than ever before are caring for an elderly loved one in the UK and beyond – whilst working full-time – leaving them at risk of mental health struggles and financial worry. 
Employees who are juggling the additional demands of caregiving are more likely to experience stress, absences from work and health problems. 
There is no one-size-fits-all approach to raising awareness and sharing support for caregivers in the workplace. As a leader in your workplace, take the time to listen, understand and empathise with caregivers in your organisations. Simply being aware of caregiver needs is a huge step that bridges the gap between caregivers and their employers.
One of the best ways to support a caregiver at work is to provide practical support. You can offer support in several ways, including offering advice from experts on finding suitable care for your elderly loved one, whether that's home-care or in a care home setting.
Giving employees access to expert care and impartial advice will enable them to be more productive, whilst providing their elderly loved ones with the care they deserve. 
Green initiatives 
86% increase in online searches for 'sustainability in the workplace'
25% increase in online searches for 'best cycle to work scheme'
Your benefits aren't just how you attract and retain talent – they're how you demonstrate your company values. Businesses who are genuinely investing in a more sustainable workplace are offering their employees an opportunity to make a positive impact.
From using only electric vehicles as company cars to adopting a new tree planting initiative, there's lots of ways businesses can quickly become more environmentally conscious.
You may also like: Types of Employee Compensation: The Benefits