Click here to get this post in PDF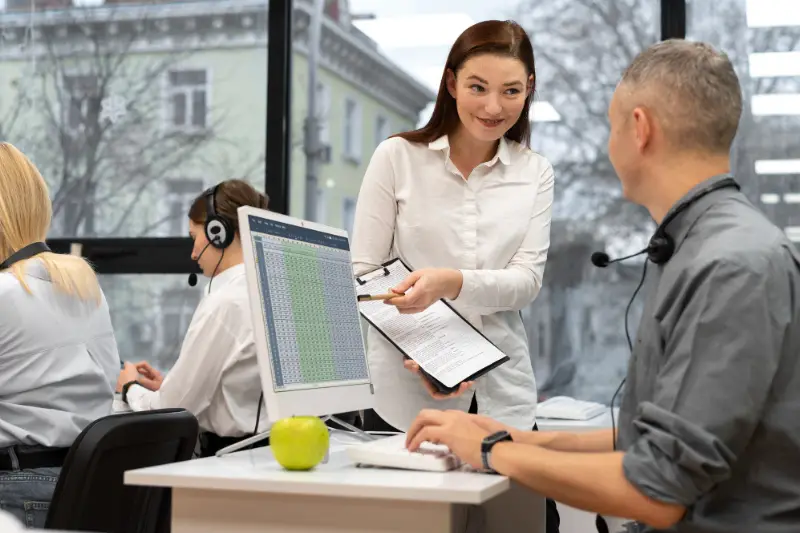 Effective Human Resources Management, commonly simplified as HR, is crucial to organizational success in the dynamic landscape of modern business. However, managing HR functions in-house can be a complex and resource-intensive endeavor. Here is where outsourcing HR services proves its worth. 
From small businesses to large corporations, outsourcing HR functions is becoming popular to streamline operations, enhance compliance, and foster growth. This guide explores the significant benefits of outsourcing HR services and how they can improve your HR practices.
1. Expertise and Experience
Outsourcing HR services brings a wealth of expertise and experience to the table. HR service providers specialize in various aspects of human resources, from recruitment and talent management to benefits administration and compliance, and will offer beneficial HR outsourcing services. 
This specialization ensures that your HR is managed by experts who understand the intricacies of HR laws, industry best practices, and the ever-changing landscape of employment regulations. By leveraging the expertise of HR professionals, your organization can make well-informed decisions and confidently navigate complex HR challenges.
2. Cost Savings
One of the main advantages of HR services outsourcing is higher cost savings. Employing a dedicated HR team comes with various expenses, including salaries, benefits, training, and technology infrastructure. Outsourcing allows you to convert fixed HR costs into variable costs, as you only pay for the services you need when you need them. 
This cost-efficient approach helps you manage your budget effectively and frees up resources that can be invested in other critical areas of your business.
3. Time Efficiency
HR functions involve various time-consuming tasks, such as recruitment, employee onboarding, payroll processing, and benefits administration. Outsourcing these tasks to HR professionals allows your internal team to focus on core business operations, driving innovation, and achieving strategic objectives. 
With experts managing HR functions, you can streamline processes, reduce administrative burdens, and allocate your time and resources more efficiently.
4. Scalability and Flexibility
As your business grows, so do your HR needs. Outsourcing HR services provides the scalability and flexibility required to adapt to changing demands. Whether expanding your workforce, entering new markets, or downsizing, HR service providers can adjust their services to accommodate your requirements. 
This adaptability ensures your HR functions can keep pace with your business's evolution without significant internal restructuring.
5. Enhanced Compliance
Navigating the intricate web of employment laws and regulations is very challenging for businesses of all sizes. HR service providers are well-versed in local, state, and federal employment laws, ensuring compliance with your HR practices. 
This compliance extends to employee contracts, workplace safety, and wage regulations. By outsourcing HR services, you mitigate the risk of legal violations, audits, and penalties, safeguarding your organization's reputation and financial stability.
6. Access to Advanced Technology
HR management involves sophisticated software and technology solutions in today's digital age. Outsourcing HR services provides access to advanced HR technologies, including applicant tracking systems, payroll software, and performance management tools. 
These technologies streamline processes, enhance data accuracy, and improve organizational communication. Leveraging these tools can boost overall efficiency and enable better decision-making.
7. Focus on Strategic Initiatives
Focusing on strategic enterprises that drive your business forward can be challenging when your internal team is bogged down with administrative HR tasks. Outsourcing HR services relieves your team of these administrative burdens, allowing them to concentrate on strategic planning, innovation, and improving customer satisfaction. This shift in focus can ultimately contribute to long-term business growth and success.
8. Recruitment and Talent Management
Recruitment and talent management are critical components of HR that directly impact your organization's success. Outsourcing these functions to HR experts can improve recruitment strategies, candidate sourcing, and talent acquisition. HR service providers have the knowledge and tools to attract top talent, conduct effective interviews, and ensure that your organization's workforce aligns with your business goals.
9. Employee Development and Training
Investing in employee development and training is essential for fostering a skilled and motivated workforce. HR service providers offer a range of training programs and resources that can enhance your employees' skills, boost morale, and increase retention rates. Outsourcing these services demonstrates your commitment to employee growth and well-being, contributing to a positive work environment.
10. Risk Management
HR is closely tied to risk management, particularly workplace safety, harassment prevention, and employee relations. Outsourcing HR services can help identify potential risks, implement preventative measures, and handle employee relations issues fairly and competently. This proactive tactic decreases the likelihood of costly legal disputes and reputation damage.
Outsource What's Needed To Grow Your Business For the Better
In the fast-paced business landscape, outsourcing HR services offers many benefits that can transform your organization's operations. From expert knowledge and cost savings to enhanced compliance and improved employee management, outsourcing HR functions provides a strategic advantage for your long-term success. 
As you explore the possibilities of revamping your HR practices, consider the valuable role that HR service providers can play in elevating your organization's performance and competitiveness.
You may also like: The Benefits of Outsourcing for Small Business Owners