Click here to get this post in PDF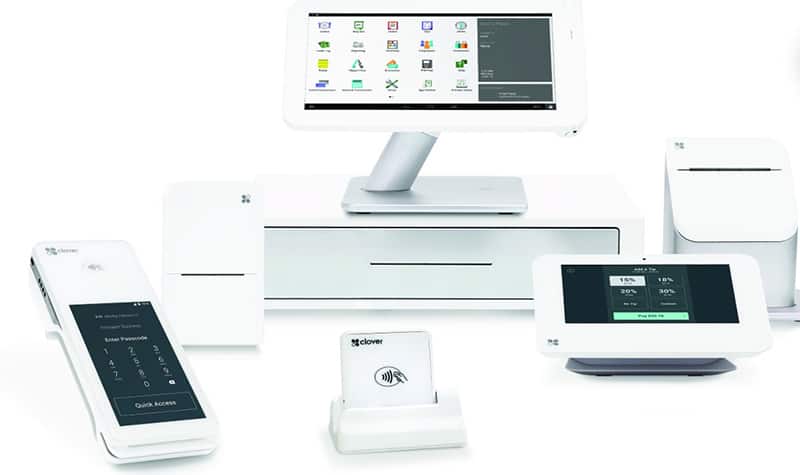 The Clover Station 2 POS system has all the features an auto repair shop needs to process transactions and manage customer accounts. Discover how Clover Station 2.0 hardware, software and credit card processing services can empower any business to accept popular payment methods and redefine many other aspects of daily operations.
Why Is Clover 2 Right for a Repair Shop?
The right POS system for auto repair shop depends on whether your business provides a few specialized services or offers a wide variety of repairs. Clover Station hardware can be paired with the full-service Register software to account for the most comprehensive selection of services. Even the tablet-based Clover Mini and Register Lite software offer omnichannel payment processing and the ability to add useful applications and integrations.
Any auto repair shop can benefit from the ability to process the most common methods of payment. Clover 2 systems come ready to accept cards with chips or magnetic stripes and contactless payment methods. The owners and operators of shops that use Clover hardware and software also appreciate flat rates for processing in-person and keyed-in transactions that are determined based on a choice of software plan.
How Can Clover Increase Business?
Clover POS systems are cloud-based, which makes it possible for an owner or operator to track sales from any internet-connected computer or device. The ability to review hourly and daily sales trends may draw attention to certain days or times that might be ideal for running promotions. These systems also make it easy to maintain customer and vehicle profiles and have support for outreach and relationship management tools to help you stay in touch with repeat clients.
In addition to processing discounts and promotions, a full-service POS system can also run reward or loyalty programs. The hardware and software of any Clover system are compatible with many third-party applications and integrations. It may be possible to continue using your current program or find even more effective ways to attract new business while maintaining a customer base.
What Sets Clover 2 Apart Among POS Systems?
The Clover 2 system stands out for its affordability and versatility compared to other full-service POS systems. Auto repair shop owners should start by selecting hardware and software. Whether you just want to process payments or need to streamline daily operations with more extensive service and inventory selections, you can find the right Clover system and software for your budget.
A Clover Station with the full Register software offers features such as commission and inventory management with lower in-person transaction fees. Any Clover hardware with either the Register or Register Lite software plan can run hundreds of supported applications downloaded from the Clover App Market. The versatile built-in software and broad compatibility of Clover exceed the capabilities of many competing POS systems.
If your business needs credit card processing services and simple solutions for daily operations, you should take a closer look at the Clover 2 POS system. Updated hardware and software support a variety of payments and provide helpful services to redefine any auto repair shop.
You may also like: 5 Reasons to Get a POS System for Your Business