Click here to get this post in PDF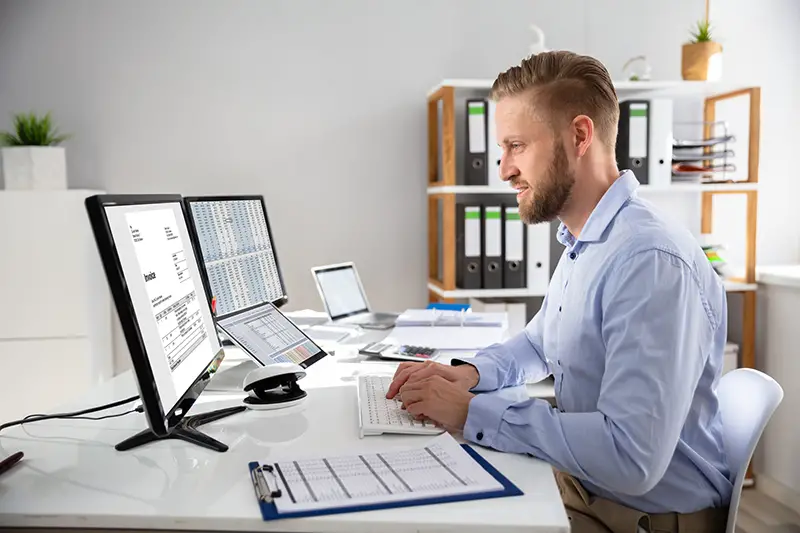 Invoicing is surely a big part of the business world, whatever the business may be, and it can be difficult to keep track of all the steps involved in completing a customer's order. A great way to streamline processes and improve payment efficiency at your company is with accounts payable automation.
Understanding Accounts Payable Workflow Automation
Invoice workflow automation may seem like a tedious thing, but it is an essential process that runs through a company's accounts payable department. They administer the finances of the business. You simply cannot survive without it. The top AP automation solutions include all transactions related to paying employees and vendors for their services.
Invoice workflow automation can help you streamline this process. It is easier to track payments, manage inventory, and keep your business on track.
Lowers The Errors
The benefits of using AP automation solutions are clear. It's easier to manage and more efficient than having people file their invoices and have them paid without a problem. It also improves accuracy by providing more accurate reports on what was sent out and when.
Better Communications
Accounts payable is a part of business management that deals with payments to suppliers and other vendors. This is for goods and services that have been provided. It is also responsible for charging customers for products or services purchased.
Invoice process automation can help improve your business communications. It can also reduce errors in the payment process. AP automation allows you to create customized automated processes. This helps eliminate manual tasks and errors while increasing efficiency, accuracy, and speed of payment processing.
It also allows you to automate recurring payments, including payroll, taxes, and insurance premiums. This helps reduce human error while increasing the accuracy of these recurring transactions.
Prevents Financial Fraud
Accounts payable is a process where the most important details of all outgoing payments are recorded, and all incoming payments. This information is used for invoicing and for identifying which expenses should be paid out of company funds. It also helps with accounting, as it makes it easier to track what your business owes you and what you owe others.
Invoice process automation helps by preventing fraud in the accounts payable department. It tracks all outgoing payments made for your business and stores this information securely in the cloud. The system will then categorize each payment based on its purpose and send an invoice to you or whoever made it.
The system also provides real-time access to this information to quickly see what has been paid out and when they were paid so you can be sure that they were authorized correctly.
Better Audits
Accounts payable workflow automation splendidly helps by benefiting the audit process. For example, if you have a system that tracks payments to vendors and it's not automated, the checks need to be sent in person to the vendor. Sure, it seems like something that was done 20 years ago. Also, it means that you would need to send the checks out by hand, which increases the danger of losing them.
With a neat accounts payable automation software that automatically tracks payments to vendors, all you need to do is enter the payment amount and then have a check sent out when it's done. Pretty simple, huh? This means that there is less chance of losing money or getting it mixed up with another payment.
Streamlines Workflow
While most people enjoy spending their days doing mundane tasks, other ladies and gents get frustrated. Accounts payable is, without a doubt, one of those tasks. It's a time-consuming process that involves sending invoices and collecting payments. It can drain you like an energy vampire. Some even have to update their accounts receivable data. The work doesn't have to be this way.
Accounts payable automation software can help you make your job easier by automating the invoice approval process. With AP automation solutions, you can also automate other important steps in your accounts payable process. This means that you'll spend less time on manual tasks and more time on more important things like customer service or growth initiatives.
Invoice approval workflow should not be mistaken to be the same thing as the AP Automation software. Invoice approval workflow is the process of approving invoices that can be automated with the AP automation system. Therefore, it does not automate any other payment processes. It is only an automated way to manage the approval process of vendor invoices.
Conclusion
Implementing accounts payable automation software is a smart move, no question. If you're currently spending time on repetitive, energy-draining tasks and have to spend time chasing invoices that don't get paid on time, it's painful to even think about. It can take hours for accounts payable to do what should be automated, and that's time that's being wasted. You definitely do not want that. Once you implement the right AP automation software, the work will be done correctly every time.
You may also like: Why Is Financial Performance Management Software Important In 2022?
Image source: Depositphotos.com