Click here to get this post in PDF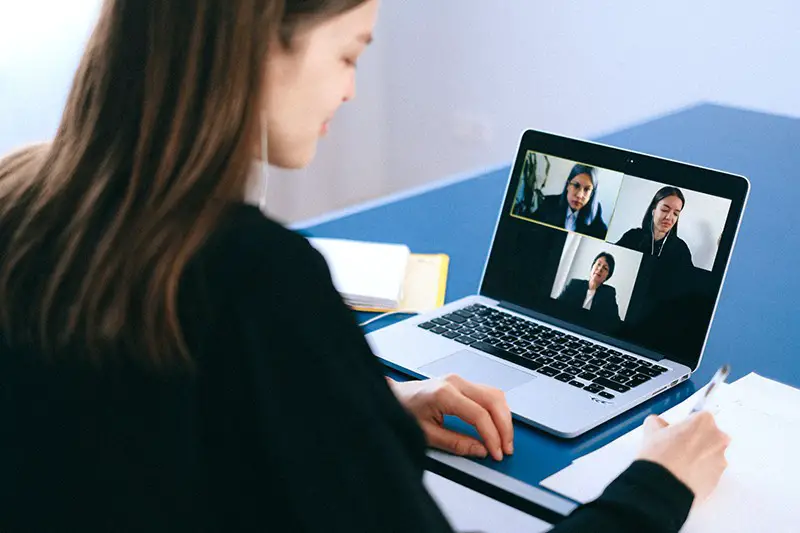 Technology has made a lot of things possible, with businesses now able to operate virtually and offer their employees work from home opportunities. At the centre of it all are virtual meetings that allow businesses to connect with their employees, investors, and other third parties, no matter where they are in the world. Because of this, virtual meetings have become a critical tool for most businesses, especially at a time where physical interactions and travel are quite challenging. If your business is not already taking advantage of virtual meetings and hopes to do so, it is important that you weigh the pros of cons of doing so.
Digital Meetings Save Money
Hosting a physical meeting can be expensive. One, it necessitates that you have enough room for everyone to fit in. This takes away the space available for you to hire more staff if you need them, which reduces your productivity in some areas. If a business does not have enough space to host everyone, it might be forced to hire some space, which can get very expensive for businesses that have a large team.
Second, they require that everyone commutes to the meeting. And if the meeting is offsite this inevitably means additional expenses start racking up: cost of fuel, lunch, coffees, and valuable time spent away from billable work. It all adds up.
Virtual meetings solve these problems as they allow people to attend the meeting anywhere, they are at any time they like. This saves money by removing the need for space for a meeting and saves employees' time and additional expenses such as fuel costs.
They Enable Global Offices
Global businesses have always had to face the cost of meetings due to high telephone tariffs for international calls. VOIP has made it easier for businesses to not only hold meetings as frequently as they might like, but also to save costs on their meetings. In addition, holding digital meetings over video makes it easier to feel like you are all in one office. This makes communication and collaboration easier.
VOIP and the software used to make these meetings possible is also very reliable. This means there are fewer interruptions during meetings, something that used to be a huge distraction and kept reminding people of the distance between different offices and centres of operations.
It Has Made It Easier for Startups to Connect With International Investors
Digital meetings have opened up a new world for startups because they have made it possible to meet investors from all over the world. With travel being as problematic as it is due to the coronavirus pandemic, startups have reason to worry they cannot have face-to-face meetings with their investors. With digital meetings, that worry has been alleviated, as this barrier no longer exists.
According to successful startups that spoke to Harper James Solicitors for their start up investment report, the ability to reach new investors and discuss new investment opportunities is critical at a time where investments are more important than ever. The rise in online meeting platforms and video meetings has meant that businesses are able to continue raising funds, expanding their offering, and gaining momentum.
They Save Time
In the past, managers and business owners had to take a business trip to meet stakeholders, investment partners or even employees in different cities. Now, all they have to do is set up a digital meeting and that saves time and money in travel and accommodation costs since they do not have to take the trip.
Business meetings can now be arranged at everyone's convenience, which means the amount of time spent waiting for people to come to the meetings has been drastically reduced.
Digital Meetings Improve Attendance
One of the biggest challenges associated with physical meetings is low turn-out numbers. This is usually because some people cannot attend the meeting for various reasons, e.g. if they are out in the field.
Now, attendees can attend meetings wherever they are without it being an inconvenience to them, which helps improve attendance numbers drastically.
In addition, digital meetings make the meeting flexible. This flexibility allows people to get into and out of the meeting as they like. This means they stay for the portions of the meeting that is most important to them and then leave for the portions that are not. When people understand they do not have to be in attendance for the whole meeting, they will be more likely to attend the portions they ought to be available for.
Information Sharing
Digital meetings make it easier to share information and collaborate on revising and editing this information. Files can be shared digitally before the meeting, so people have a chance to look at them. This saves time and money because the printing of information is eliminated.
Digital meetings also make it easier to control the flow of information. Companies that do not want information leaking can share time-bound read-only documents that expire after a certain period. This is much harder to do if physical documents are used during meetings because all documents have to be checked after the meeting to ensure none are missing and no one leaves with any documents.
Digital Meetings Are Good for the Environment
Digital meetings have a smaller impact on the environment because less energy is used during meetings and people do not have to increase their carbon footprint to get to the meetings. In addition, the reduction in the use of paper is good for the environment.
Digital Meetings Make Personal Contact Harder
One of the most important aspects of negotiation is the ability to understand a person's physical cues, such as facial expressions and body language. Both of these types of non-verbal communication are important in understanding intent and context and their absence can lead to misunderstandings. Hearing a person's tone might help, but it will not be enough in some cases.
Digital Meetings Reduce Human Connections
Online meetings can feel impersonal, which makes it harder to make and maintain social connections. This means online meetings cannot be used in situations where human connections are important, for example, when people need to talk without getting into business negotiations.
Planning a Digital Meeting Can Be Challenging
Even if a digital meeting gives a business the flexibility of arranging the meeting at everyone's convenience, this can turn into a disadvantage. This tends to happen where there is no proper planning so that the meeting itself becomes disorganised.
There is also the need to ensure the communication between the attendees is kept secure, which is another challenge businesses have to contend with.
Insecurity
Although minimal, there is always the chance of the recordings of digital meetings leaking. This can compromise the confidentiality of what was discussed in the meeting and be a potential PR problem for the firm.
Also, there is nothing stopping anyone from taking a screenshot of read-only documents and sending them to an unauthorised third party.
Unstable Connections
An unstable connection can become a problem for companies that do not have a robust communication infrastructure. An interruption during the meeting can cause disruption that would necessitate another meeting or a complete breakdown in communication.
Initial Cost
Installing communication equipment can be very expensive, initially. It can cost companies tens of thousands of pounds to not only get the right tools but also to get an internet connection that is both fast and stable enough to support digital meetings.
Maintaining and upgrading communication equipment can also get expensive in the long run, but this is something many businesses do not worry about, as this cost can be offset by the savings made by switching to digital meetings.
Training Costs
Some people may need some time to learn how the software and the technology used to enable digital meetings works. The company has to incur costs both in terms of money and time to train employees on how the systems they will be using work. This is especially true for people working from home who may be used to using one software solution and have to switch over to using another one.
Lack of Focus
Studies have shown that a sizable number of people have a short attention span. This can make them get bored and lose concentration easily during digital meetings, thereby reducing their effectiveness.
There is always the chance of someone doing something else during the meeting, such as catching up on emails that negates the whole point of them attending the meeting.
---
10 Tips for Running Efficient Meetings
---
Holding digital meetings seems the best way to go as more businesses encourage their employees to work from home. Digital meetings have several pros and cons that should be carefully considered before businesses decide to switch to digital meetings. Given how many pros digital meetings have, the main cons business owners and managers have to contend with are the initial cost and employees not being mentally available for meetings.
Image Source: Pexels.com