Click here to get this post in PDF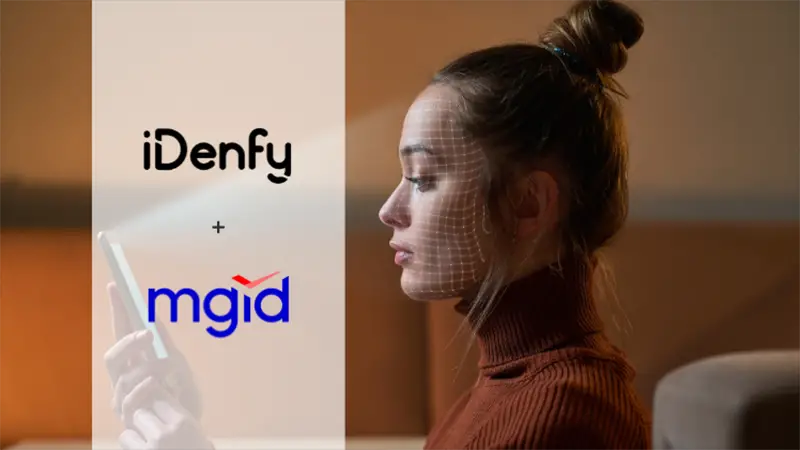 The new ID verification secures a swift onboarding process for the advertising platform
Kaunas, Lithuania (October 00, 2022) – the AI-driven identity verification, compliance, and fraud prevention startup iDenfy, teamed up with MGID, the Santa Monica-based global advertising platform. iDenfy's fully automated identity verification service will guarantee a user-friendly and secure registration process for MGID clients. 
The FTC reports that in 2021 fraud losses increased by more than 70% from the previous year, with losses reaching $5.8 billion. The growing number of cyberattacks pushes many businesses to search for more robust fraud prevention solutions. iDenfy company officials agree with this approach, arguing that data breaches and identity fraud incidents are becoming more frequent, especially in cases where huge data swathes are being handled. 
As a secure business, MGID is responsible for safeguarding its clients' data and preventing fraudsters from gaining access to its advertising services. The global advertising platform helps brands reach unique local audiences at scale. It uses privacy-first, AI-based technology to serve high-quality, relevant ads in brand-safe environments. Additionally, MGID offers a variety of ad formats, including native, display, and video, to deliver a positive user experience.
Currently, MGID is using iDenfy's Know Your Customer (KYC) solution, which helps to maintain the platform's compliance with anti-money laundering (AML) regulations. MGID decided to partner with iDenfy due to the easy integration and the extra layer of security that the new ID verification was able to provide.
iDenfy, the fraud prevention and identity verification service provider, stresses the importance of remote authentication solutions based on security concerns that today's digital platforms face. Its identity verification solution extracts information from any ID document in seconds, ensuring a smooth and secure onboarding process for MGID's network. 
At this point in time, iDenfy's platform assists MGID in automating the customer due diligence procedure. To verify individual advertisers, MGID uses iDenfy's four-step ID verification service. iDenfy's in-house expert team manually verifies each identity, double-checking the AI-collected results, ensuring complete accuracy without human error. 
MGID representatives recall when identity verification was once strictly used in financial institutions. However, industries outside the financial sector are now adopting such digital solutions, further demonstrating the effectiveness of ID verification.
"At MGID, we are implementing fraud prevention services to ensure an effective tracking system for suspicious activities and transactions. Our team is thankful for iDenfy's assistance, as their identity verification helps us welcome more advertisers in less time without compromising security," – commented Oleksandr Nazarenko, Head of the Fraud Protection Department at MGID. 
"Compliance remains a complex task for many organizations. Our role is to remove the hassle around identity verification and compliance regulations while ensuring a secure onboarding process. We're confident that our partnership with MGID will show long-term success in the ongoing battle against fraud," – said Domantas Ciulde, the CEO of iDenfy. 
About iDenfy   
iDenfy, a platform of identity verification services and fraud prevention tools, ensures AML and KYC compliance for every company — from large-scale businesses to small organizations. The rapidly growing business was named the best "Fintech Startup" in 2020. The company also received recognition for winning a Baltic Assembly Prize for innovation in 2021. For more information and business inquiries, please visit www.idenfy.com.
You may also like: How Facial Recognition Systems Threaten the Right to Privacy