Click here to get this post in PDF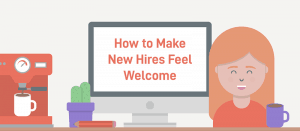 There's no getting around it: nervousness and first days go hand in hand. With a long list of names and processes to learn, plus the added pressure of appearing professional and capable at all times, it's understandable why anyone would be tense on their first day in a new company.
As a manager or even fellow employer, you may never be able to completely eliminate a new employee's sense of nervousness. You can, however, take small steps to make sure that they feel more welcome.
It can be as simple as a kind word, or thoughtful as a team lunch out to celebrate, but the crucial part is that your new employee understands that you are glad to have them on board, and they are safe to make a few mistakes. You can't be expected to know just how the coffee maker works, or where the bathrooms are on the first day, after all.
If you're unsure about how you might make your employee feel more welcome, get inspired by My Own Stationery 's top tips:


You might also like: 5 Tips to Ensure You Hire the Best Candidate
Infographic by My Own Stationery