Click here to get this post in PDF
Human resource teams have to deal with massive amounts of documents, from employment records to complaints. As a result, it's incredibly important that HR teams have an effective document management strategy in place.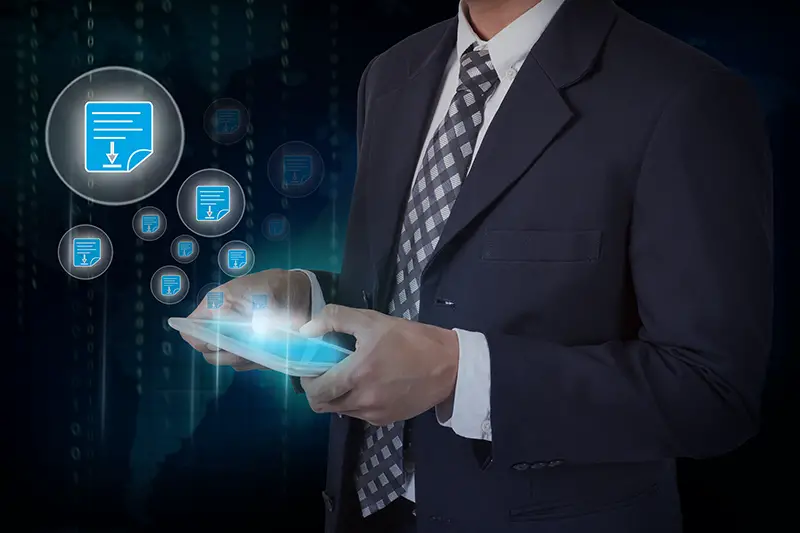 Often, this means managing documents in digital formats, but what if the majority of your documents currently exist as sheets of paper? If this is the case, you may be able to benefit from the multiple benefits associated with document scanning.
Enable remote working
Now that remote and hybrid working models are becoming the norm, with over 43.1% of workers having worked from home in 2020, it's more important than ever that HR facilitates working in a remote capacity.
Scanning documents is a necessary part of this process – employees can't easily access paper files from their home office, but they can access digital files from anywhere in the world. This takes us on to our next point – that digitised files save space.
Increase security
To ensure the security of extremely sensitive information in paper format, you need secure premises, alarmed and potentially manned by a guard. This is extremely expensive, likely too expensive for a lot of small and medium-sized businesses.
With digital files, it's a whole lot easier. You can encrypt the files, ensuring that access is also password and account restricted. Digitisation can make it a lot cheaper and simpler to ensure GDPR compliance.
Save space
Physical documents are bulky things that take up a lot of space – many businesses have to dedicate whole rooms to their storage. Digitised files take up literally no space at all; even if stored on hard drives, the comparative space saving it enables is immense.
There's also the space-saving benefit that arises from enabling remote and hybrid working. If a majority of your workers don't need to have their own desk, as all their data is digitised rather than stored in their filing cabinet, you can massively reduce the amount of office space required to support your workforce.
Accessibility
Looking for paper documents is an incredibly inefficient process, no matter how good your system is. Multiple studies have been completed that show just how much time is wasted in that search – one study found that some employees spend an average of 1.8 hours per day searching for information.
Digitised information is incredibly easy to find. When indexed properly, you can literally just type a keyword into a search bar, and your documents pop up. This can potentially totally eliminate the time spent looking for files, as long as the searcher knows what they're looking for. 
Now that we know the benefits, it just comes down to choosing an appropriate service. Which service you choose will differ depending on your document scanning requirements. Choose one that offers a service matching your needs, with great reviews, and you should be able to benefit from all those great perks listed above.
You may also like: Understanding the Advantages of Using PDF for Business Documents
Image source: Shutterstock.com