Click here to get this post in PDF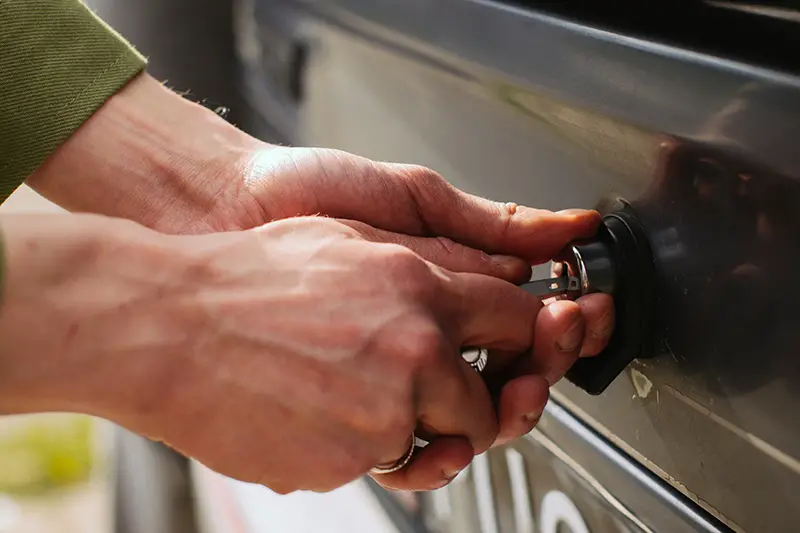 If you are unfamiliar with the locksmithing profession, you will find the term strange. Questions like who a locksmith is and what they do will cloud your mind, which is normal. In this post, we want to address what the locksmithing profession is all about and the type of services they render. At the end of this post, you will no longer be in doubt about the profession.
Who Is A Locksmith?
A locksmith is a tradesman who specializes in installing, adjusting, and repairing locks in cars, offices, warehouses, factories, plants, and residential buildings. They assist their clients in periods of emergency when they are locked out of their homes, offices, and cars or when their locks develop a fault. Locksmithing is an ancient tradition as old as time. The first locksmiths emerged when the first locks were created in ancient Egypt. The engineering was complicated, and only skilled handlers installed or repaired them.
Today, the profession has evolved into a broad set of specialist services, especially with the introduction of advanced security systems that use motion sensors, fingerprints, and cameras. Most locksmiths now work with modern locks, keypads, and motion security hardware.
They work on residential, commercial, and industrial properties and any building where valuable items are stored.
What Do Locksmiths Do?
There is a common misconception that locksmiths only duplicate keys and pick locks, but modern locksmiths do much more. Unlike in the past when the only security gadget available to property owners were locks and keys, modern technology has provided society with many more locksmiths grounded in the art and offer much more.
Let's take a look at some things locksmiths do.
Cut Keys
During ancient times locksmiths started as key cutters, and the tradition still remains. They cut duplicate keys for commercial and residential buildings, including safes and windows. Automotive locksmiths can also cut keys for vehicles if their owners no longer have spare keys.
Install Locks For Doors & Windows
Professional locksmiths also provide locks for doors and windows that either have none or require new ones. Homeowners packing into a new house need to replace the old locks in the home with new ones in order to make the house more secure. As a homeowner or business owner, you can hire a locksmith to inspect your property and recommend the type of locks required; the locksmith can also help install them properly so burglars will have a hard time breaking into your property.
Install Locks For Security Safes
Security safes are important in homes and offices where valuable items like cash, jewelry, and firearms are kept. For a safe to be truly secure, its safe must be impregnable. Modern safes have different types of security features, such as locks, sensors, or fingerprints, depending on the security technology installed. If you want a safe for your valuables, you can hire a locksmith to install one for you. They also specialize in repairing vaults and are safe to bring them up to speed. Another valuable service offered by locksmiths is to identify the best spot for your safe.
Automotive Service
Some locksmiths are trained to work with cars, so they are the ones you call when your car door has refused to open or if you've misplaced your keys. Besides key cutting and lock repairs, they can also reprogram car keys, transponder keys, and key fobs or even create duplicate keys for your car. You can start by searching for auto locksmith near me on Google to find some options.
Access To Security Control Systems
If you notice that you can't enter your home or office because the security control system is malfunctioning, what do you do? You need to call a security control expert to help you reprogram the system so you can gain access to your home or office. Overriding a system can be tough if you are not an expert, but a locksmith can handle it for you.
Emergency Services
Did you know that some professionals render emergency services to clients? These pros never go to sleep, and their hotlines are active around the clock. You can call on them in the wee hours of the morning or the dead of night, and they will show up in their work van to help you out. If you misplace your keys or the key breaks in the keyhole at midnight, it is wise to have an emergency locksmith on speed dial.
They Keep Record
Another invaluable service offered by locksmiths is record keeping. They keep records of the houses they work on, such as the key type, codes, or the type of repair work undertaken. This is why they can be of help to the client la they've worked for should the need arise.
In a nutshell, a locksmith performs the following duties:
Market locks and security systems
Repair or replace damaged locks for doors and windows
Examine locking mechanisms
Key fabrication
Develop security architecture for commercial buildings
Crack key codes
Open safes
So besides picking locks and cutting keys, locksmiths do much more. As security technology advances, we expect locksmiths to offer more services in the coming years.
You may also like: Tips for Removing a Broken Key from a Lock
Image source: Pexels.com