Click here to get this post in PDF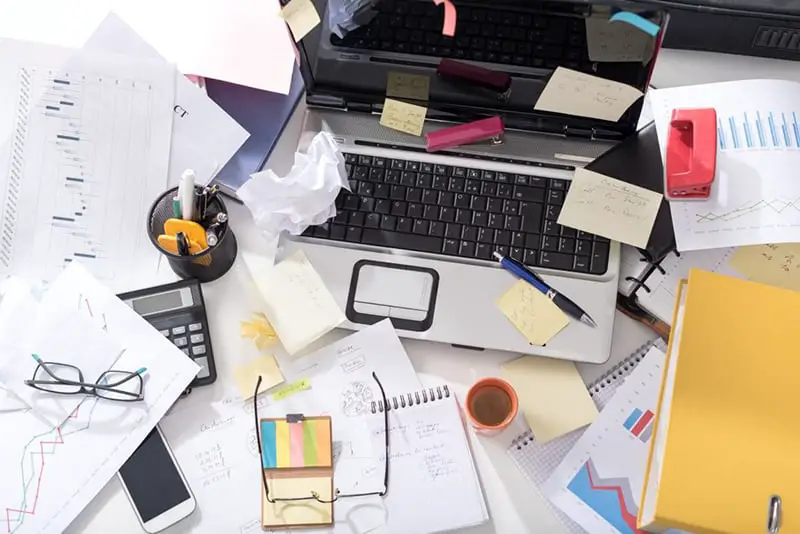 Did you know that the average office employee spends 1.5 hours per day just looking for things? Does this sound like you?
It could be client information, tools like pens or sticky notes, or essential files needed to do their job. Whatever it is you're struggling to find, it's clear that hunting things down is cutting into people's productivity in a major way.
If you want to avoid wasting time and keep your office running in the smoothest manner possible, keep reading. Listed below are nine effective office organization tips that will help you keep everything in order and boost your productivity.
1. Start with a Purge
When it comes to decluttering and organization, the best place to start is almost always with a purge. Get everything out of your desk drawers and filing cabinets and sort through your belongings one by one. If you work in a shared office space, encourage everyone else to do the same.
When you're sorting through your belongings, create a pile dedicated to everything you either want to donate or throw away. Then, follow through and get rid of those items. This will give you a blank slate to work with and will ensure you're not just moving clutter around instead of tackling it head-on.
2. Give Everything a Place
Once you've thrown out or donated everything you don't need, the next step is to tackle what's left.
Don't go ahead and stuff all the remaining items back into your desk or filing cabinet drawers. Instead, sort these items so that similar documents or tools get stored together. Then, give everything a designated place within your office.
It could be a bin, a drawer, a tray. It doesn't matter. The goal is to ensure that everything has a place to be.
3. Label Everything
To ensure you don't forget where certain items are supposed to go, give everything a clear label as well. Label your file cabinet drawers based on their contents, or label individual folders if you want a more discrete system.
This might seem tedious at first. Remember, though, that the better you are about labeling things now, the easier it will be for you to maintain your organizational system long-term.
4. Sort the Mail (and Emails)
It's time to get in the habit of sorting your mail, both physical and digital. Don't let things pile up on your desk or your inbox.
Get yourself a mail sorting tray and label different sections to simplify the process of storing different types of letters. For example, you can label a tray for letters from clients and designate another one for bills or invoices.
When it comes to your email inbox, create different folders for different types of emails. That way, everything has a place and you won't feel overwhelmed every time you go to check your messages. You can use an app like Edison Mail to keep your email organized. This app has a built-in assistant that will automatically categorize messages for you to make them easier to find.
5. Invest in Organization Tools
A mail sorting tray is just one of many organization tools you can use to maintain order at your desk and in your office. There are plenty of other tools you may want to buy as well, though.
Pick up bins or boxes to use for storing items in your desk. That way, things aren't just rolling around without boundaries. Invest in containers for pens, pencils, and other objects as well.
Make it easy for yourself to give everything a designated location.
And don't forget the software you can invest in that will help you massively when it comes to being organized. Inverroy Crisis Management has a range of different planning tools that will help you stay organized in your office, and, should the worst happen, will enable you to keep working throughout. Something like this could save your business when otherwise no amount of organized desks and drawers would help you.
6. Set a Discard Date
Sometimes, you have items in your office that don't necessarily fit into a specific category. That's okay. With these kinds of items, though, it helps to give them a discard date.
For example, every Friday you throw out or donate anything that isn't useful or doesn't have a place in the office.
This gives you and your coworkers some extra motivation to get rid of the item or give it a job before Friday rolls around and helps you keep the office in order more easily. 
7. Update Your Filing System
If it's been a while since you've revamped your filing system, or if you don't have a real filing system, to begin with, now is the time to address it. In the same way that you should have separate slots for the different types of mail, you should also have separate folders or boxes to store different types of documents.
Have a folder for items that need to be discussed in upcoming meetings and create another one for tax documents. The more detailed your system is, the easier it'll be to maintain it.
8. Store Contact Info in One Place
You should also have a designated place for all of your contact information. That way, when it comes time to figure out how to choose a network cabling contractor or electrician for the office, you'll know exactly where to go to find people's information and get in touch with them. 
Whether you store your contact information in a shared online drive or in an address book, make sure everyone in the office knows where to find it.
9. Establish a Routine
Don't wait until your office becomes a cluttered mess once more to take on another organization project. If you do this, you'll end up wasting more time trying to keep it clean. Instead, establish a daily organizing routine.
At the end of every workday, dedicate a few minutes to tidying up your desk and the rest of your office. Put files back in their proper place, sort your mail and emails, and make sure your desk is clear before you pack up.
This is a great way to signal to your brain that the workday is over. It also ensures that you'll start the next day off on a positive note since you'll return to a neat and organized desk.
Try These Office Organization Tips Today
As you can see, there are a lot of different strategies you can utilize to get and keep your office organized.
It doesn't matter if you work out of a home office or are managing space for dozens of employees. Either way, these office organization tips will help you achieve and maintain order long-term.
Do you want to learn more about staying organized? Give some of the other articles in the Workplace section of our site a read today for more helpful tips and tricks.
You may also like: Setting Up an Electronic Filing System
Image source: stock.adobe.com