Click here to get this post in PDF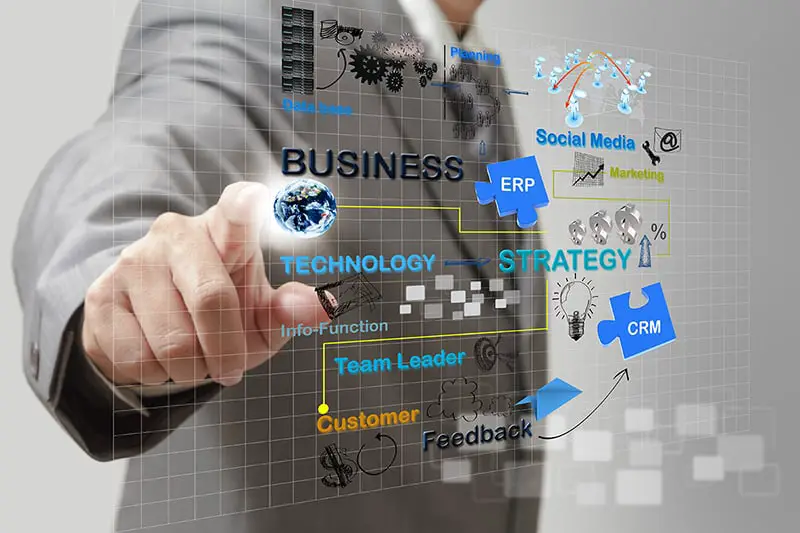 Introduction
Making a strong business case for an enterprise resource planning (ERP) system may seem hard. The reality, however, is that once an organization reaches a certain level, the reasons become self-evident.
ERP is a category of enterprise software that provides integrated management of the core processes that are essential for most businesses and organizations. Which processes are supported will vary according to the type of industry a particular ERP solution serves (e.g., manufacturing, wholesale & distribution, retail etc.). For example, if you plan to consider ERP software designed for small and medium-sized businesses (SMBs), the functional areas covered by the software include sales management, financials, inventory management, purchasing management, human resources, and more. All of the business processes supported by these functional areas are integrated, greatly improving productivity and efficiency.
So how do you know when you need one? This article answers this question by identifying key signs you need an ERP system. These typically involve your company's legacy systems, security, business processes, growth, and accounting department.
Forseeing Your Business' Bright Future With ERP
You can leverage your business and benefit from the bright future of ERP with workflow automation, overcoming marketing innovation's common roadblocks. If you're still using the old system, you're missing great business opportunities. With ERP, developing an Operational Intelligence Framework serves as your roadmap, aligned with your industry, business priorities, resources, and company culture.
Realize your business' future because of the following top ERP benefits:
Better Information Management: Using ERP software makes it easier to measure progress because it puts all the data in one place, making it easily accessible to different teams and departments. 
Improved Workflows: Simplify workflows with ERP because of its user-friendly interfaces. Finish projects faster without sacrificing accuracy.
Streamlined Processes: Using a software program allows you to integrate all business functions into one centralized program, saving employees from toggling into different programs to obtain the information they need.
Easier Business Accounting: Accounting can be complicated, especially during the busiest times of the year, the filing of taxes. Your accounting department can easily access financial data when generating reports required for filing taxes, completing different accounting tasks more efficiently. 
Promote Transparency: Make better business decisions by being more transparent in your business using ERP. It's one way to encourage employees and upper management to practice open communication, accuracy, and eliminate redundancies.
Improve Customer Satisfaction: Expect more satisfied customers if your business always provides accurate information about all business aspects your customers are most concerned about.
Improved Security: Only authorized people can use your ERP software, enforcing strict security protocols to keep your business data confidential. Avoid using different programs for different business functions. Use a reliable ERP system that can integrate everything for more secure data.
Now that you're aware of the importance of ERP, it's time to know the signs your business needs an ERP system.
Signs You Need An ERP System
Declining Performance Or Lack Of Support For An Outdated Legacy System
A telling sign that you need a new ERP solution is a decline in the overall performance of your legacy system. If your organization is experiencing more downtime due to system crashes or slower responses, that can be a prime indicator the legacy system is near the end of its useful service life. You need to change your current system if it has become a burden. If you find the legacy system is becoming too expensive to maintain, it probably is time to look into a new system. Does your legacy system satisfy the needs of your customers? Today's ERP solutions are often designed to enable the use of various new technologies, from artificial intelligence (AI) to the Internet of Things (IoT), and more. If you find that customers—and even internal users—are frequently disappointed to find the systems you are using are not meeting their expectations, this is a clear indication the legacy system is not cutting it anymore.
Some ERP vendors cease support for their systems after a certain time. This can be due to new releases, forcing a phase-out. Similarly, relying on an ageing system that was developed in-house is risky: your IT staff may not always be there to support it. You may have no choice but to move to a modern ERP system that has resources in place for maintenance and support.
Increasing Concerns About Security
How secure is your business data? From safeguarding the critical systems that underlie business operations to the personal information you likely have stored about your customers, there are more and more regulatory compliance issues coming to the fore—in keeping with the frequent news reports of serious data breaches.
The majority of security breaches originate from inside an organization and are often inadvertent. Your systems' current security is no good if staff can access information that they should not, or if security protocols are not updated on a regular basis.
Some outdated systems aren't capable of restricting users' access to sensitive information based on each user's role. Others may not be equipped with the tools to detect threats or actual breaches promptly. Many businesses choose to have an ERP system because it can enhance the ability to determine which users can access which information under which circumstances.
ERP systems can be deployed in two main ways: through the cloud or on-premise. They have different ways of handling security. A cloud-based system puts the responsibility for security in the hands of the vendor, whereas an on-premise system gives full control to your in-house IT department. It's up to you which one is best suited for your business.
Declining Productivity
Most small businesses start out using spreadsheets to support everything from inventory management to accounting. In today's competitive landscape, however, the lack of an integrated system such as an ERP solution provides can become a stumbling block for larger organizations, or those that operate in multiple geographic markets or that have a significant e-commerce component.
The reasons are mostly tied to the integration of data and automation of routine processes—two of the fundamental characteristics of an ERP solution. Insisting on maintaining outmoded systems can directly impact productivity. For example, if business data stored in multiple locations, it hampers the communication needed to deliver the best and quickest possible customer service. In another example, if employees are routinely keying in data manually, especially within different departments but relating to the same transaction, it invites errors and duplication of data as well as being needlessly time-consuming.  In addition, when users spend less time on mundane tasks, they can spend more time on higher-value activities, including delivering more efficient and personalized customer service.
The Business Is Undergoing Rapid Expansion
If you're hiring new employees, increasing sales, and expanding your market: there is cause to celebrate! It is also time to reassess your current systems to determine whether an ageing system is becoming a stumbling block rather than an asset.
Expansion can drive changes in business models, create a need for new goals and objectives, bring about a larger volume of orders, and so on. Any or all of these developments will likely change the requirements of current operations and, as always, the system in place must offer functionality and features that align with those requirements.
If your business is expanding through acquisition, it may be time to adopt an ERP system, or at least you need to ensure that the systems in use have the functionality and capacity to handle the integration of both organizations. Wherever your business is headed, it's important to ensure your system is fully up to the demands being placed on it.
The accounting department is struggling
Have you checked in with your accounting department lately? You may be surprised to hear how difficult their day-to-day has become. Accounts is usually one of the first divisions of a company to show signs that an ERP system is needed.
ERP automates invoices. So, for example, whenever a sales order is completed, the ERP can automatically create an invoice and also alert other relevant departments (e.g., shipping). This greatly simplifies data entry by having your ERP handle all this data, you will see an improvement in the department's productivity and overall costs.
Build Your Business Case
If you recognize even a few of these signs within your organization, you can build a strong business case to adopt a new ERP system. Modern ERP software can eliminate these typical pain points by integrating and streamlining your business processes. By being able to handle the day-to-day tasks with greater speed and efficiency, a business is freer to focus on what it does best – and, in turn, that can drive growth.
In addition, any properly selected ERP solution will offer the functionality and features needed to handle the particular requirements of your organization. It is essential that you appropriately analyze your business needs and objectives and understand how well your current system, or a potential new one, will support those requirements.
Ask The Experts
So you want to go ahead with adopting an ERP system? To properly assess your organization's ERP system requirements, using an impartial software selection advisory firm makes sense. Such unbiased expertise can help you assess your organization's requirements and compare those requirements against what today's ERP software solutions. With so many competing ERP solutions to choose from, getting advice from unbiased industry experts can help guide you through the software selection process and support data-driven business decisions.
You may also like: What It Takes to Understand Your Customers Today
About the Author
Deeana Radley: Business & Technology Writer at Technology Evaluation Centers
Areas of Expertise: Enterprise Resource Planning (ERP) | Customer Relationship Management (CRM) | Business Intelligence (BI)
Deeana Radley is a business and technology writer with over 5 years of industry insight. She has written extensively on technology trends, software solutions and market developments, and particularly enjoys rendering complex topics accessible to beginners.