Click here to get this post in PDF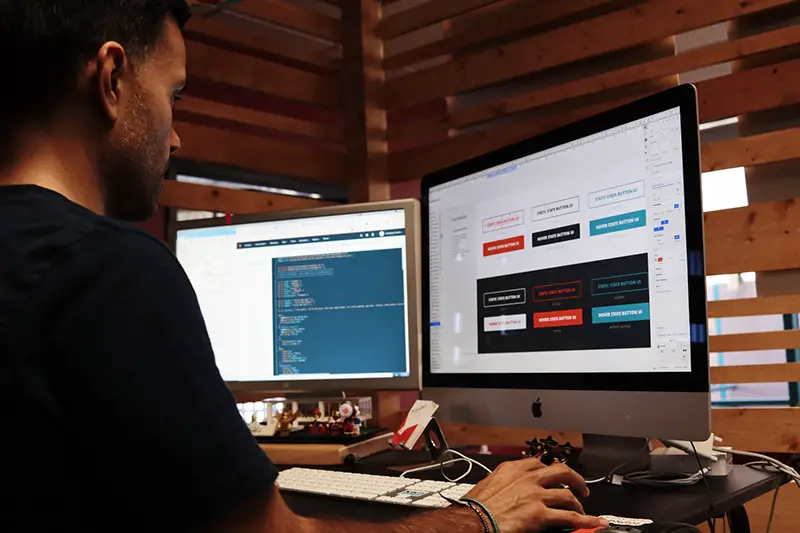 This article contains affiliate links. For more info, see disclosure.
Many people think that the basics of good web design follow the same principles as that of graphic design.
That assumption would be wrong.  A good visual design is vital to a website, but even more important is its functionality and layout.  A well-designed site is easy and comfortable for users. It should achieve the goal of allowing the user to get the relevant information or item they visited the site for initially.
What are the Basics of Good Web Design
Clear Text and Writing
Writing for the web is a bit different than traditional print journalism.  The content standards are similar, but in addition to solid writing, there are many other considerations.  
For example, webpages often use headings, short paragraphs, and bullet-point lists to make information easier to read.
This website's blog on the basics of blog writing goes into further detail on blog writing basics.
Website Structure
Having an underlying structure for a site that is easy for a user to navigate remains one of the key items to consider.  Are the menus easy to access?  Are proper keywords and categories set up?
Taking time to plan out the structure of a website in a way that makes sense for users can save time and frustration over the long term.
Search Engine Optimization (SEO)
SEO seems to be the website design world's favorite current buzz word and is mentioned in almost every article about web development and design.  
What is SEO exactly?  It stands for Search Engine Optimization.  According to Wikipedia, the definition of SEO is "the process of improving the quality and quantity of website traffic to a website or a web page from search engines.SEO targets unpaid traffic (known as "natural" or "organic" results) rather than direct traffic or paid traffic. Unpaid traffic may originate from different kinds of searches, including image search, video search, academic search, news search, and industry-specific vertical search engines." 
SEO needs to be kept in mind whenever a website is being designed.  There is no point in writing a post only to have it languish on page 20 of search engine search results.  There are many tips and tricks to SEO and best practices are constantly changing and being updated. 
Graphic Design – Using Images on a Website
Using images on a website improves both the look and functionality of the site.  It is, however, important to remember that the more images are on a page, the slower it will load.  This is why images should be kept to the minimum amount that will be effective.  
Learning which images to use and which to avoid is paramount to good web design. The images chosen for a site should be relevant and serve a purpose, they should either further illustrate a point or enhance usability. 
Delegating to a Professional
Productive people know that their time is valuable and the more they can delegate, the better.  Work smarter, not harder.  If web design isn't your passion, or if you don't have time to keep up with the constantly changing landscape of SEO,  it is a task that can be delegated.  There are many companies whose specialty is to create effective websites.
View this Huntsville marketing company website for an example of this type of company.
Quality is still and will always king when it comes to developing websites.  Using the key basics of web design to develop a good foundation is a great place to start. However, designing for the web is an intricate and ever-changing process. There is always more to learn and further details to tweak for better website performance. 
You may also like: The Future of Web Design—What's Next?
Image source: Unsplash.com