Click here to get this post in PDF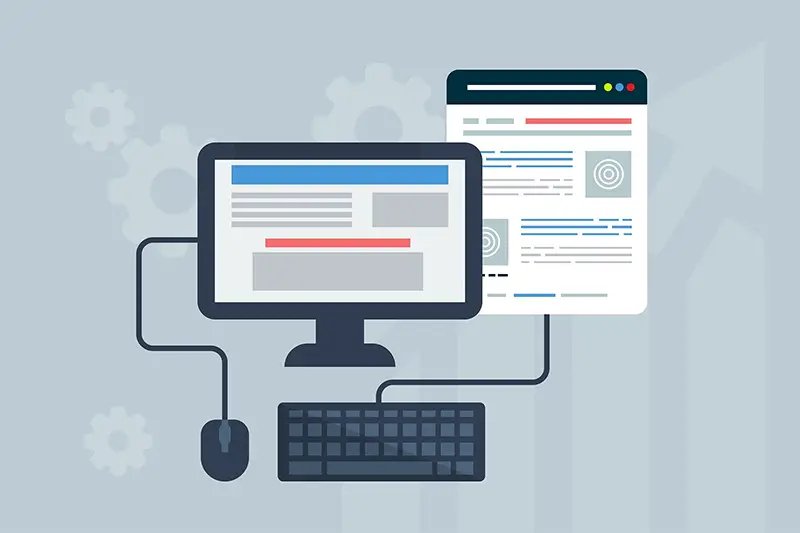 New web design technologies are constantly coming on the scene. Figuring out what web development's landscape may look like in a few years can therefore be a bit challenging. Now more than ever, we are uncertain about the future of web developers. 
That said, we tried to analyze what the future holds for the practice. Here are a few techniques and technologies we expect to dominate in the future:
1. Artificial Intelligence
First on our list is the disruptive technology that's been the rage the last few years: Artificial intelligence. The technology has made its mark in different spheres and is now getting to website design. 
AI makes building sites much easier for developers. You no longer have to go through the hassle of developing a site from scratch. AI offers several building blocks that you can integrate into your development process. 
There are now self-learning algorithms available to internet uses, meaning even novice coders can build their own sites. These algorithms help in improving the quality of end results. 
To understand how influential AI will become in the long run, here are just a few popular sites using the technology:
Firedrop 
GoDaddy
The Grid 
Wix
For business owners, AI allows them to create sites without much expertise, time, or money. Currently, if you need a business website, there are two ways you can get one. 
You can design it yourself — manually or through site builders — or hire a professional designer to work for you. 
The former requires you to be tech-savvy and may be too time-consuming. The latter requires you to shell out some money, especially now with designers charging top dollar for their services. 
When developing your website, leveraging AI allows you to get more bang for your buck, without much expertise or time on your hands.  
Choosing an ideal design for sites has now become much more hassle-free, thanks to several AI analytical tools. These tools help designers get insights into how their potential designs perform in real-time. 
For years, designers used A/B testing to refine website designs and get better results. AI has since replaced this practice, enabling developers to improve their sites in just a few steps.
Considering the several AI applications and the pace at which they're picking up, we can expect the technology to become more widely-used by designers.
It's obvious that we're just enjoying the beginnings of AI, and there's more to come from the disruptive force. We predict that AI will impact almost every facet of web development in the next few years.  
2. Chatbots 
Designers are increasingly adding chatbots to their websites. Live chat is the in-thing right now; the big companies like Amazon, Facebook, and Microsoft have released so many bot-building platforms to help designers create bots. 
In fact, the chatbot market will bring over $1.2 billion annually in the next five years, according to Grand View Research's study. 
Several reasons have led to the popularity of chatbots. Firstly, the instant response that they provide improves customer experience, making clients feel valued. Secondly, on their own, chatbots can help solve some of your client's biggest challenges. 
Some small businesses often have websites that feel a bit too impersonal, as they aim to cast a wider net and draw in all types of customers. A chatbot can bring some much-needed personality to your bland company site. 
Poorly designed bots can end up doing more harm than good. If your bot's responses come out as too automated, readers may not get that personal connection with your brand. This is where getting wordpress web design services can benefit you. 
You'll be able to get a highly-functional live chat feature that helps solve your reader's current problem, without all the technical difficulties. The drawback? You'll have to spend some of your own money. But it's a worthy investment, as its perks outweigh its only drawback. 
3. Augmented Reality 
AR can no longer be considered an upcoming technology. It has slowly made its way in most apps like Snapchat, PokemonGo, and Layar. It has recently cropped up in e-commerce websites, helping in improving the user experience for both desktop and mobile users. The technology enables customers to select the products they want to buy using their phone cameras or webcams. 
AR, for instance, has helped set up "virtual dressing rooms" in fashion sites. Customers can scroll through various available outfit options that they can see on their screens. They can access these clothing choices by pointing their phone cameras in their direction.  
AR can help solve your engagement problems. Interaction with users is much easier, unlike with billboards or TVs. It develops some empathy between companies, users, and services. Here are some of the ways it drives engagement:
It boosts a client's confidence, as they can try out your products before spending their money. 
Through augment touring, customers know and understand your products better. 
Using a QR code to scan your brochure, users can download the information they need about your product. 
The growth of WebAr ensures that AR will continue to be popular among developers. This is a technology that enables users to view AR content through web pages. You don't need to download a mobile app to start using WebAr. You only need to key in a web address, just as you would normally when surfing the web. 
Almost all popular smartphone manufacturers—from Samsung, Huawei to Apple—support the technology. Also, WebAr is accessible on major browsers like Chrome, Firefox, and Safari. This means that business owners who publish AR content can get their posts in front of so many people.
4. Voice-User Interfaces
Brands that focus on maintaining good communication are more likely to retain their customers, according to Narvar Consumer Report. The survey interviewed 1500 online shoppers, and close to 43% of shoppers who owned voice-enabled devices used a voice-user interface to buy products online. And half of these users used the same devices to research products to buy. 
Voice-user interfaces help companies foster personal connections with their audience on their websites. The brands' voice-based assistants may use some vocabularies that match their target audience's values. 
Conclusion 
Voice-user interfaces, artificial intelligence, chatbots, and augmented reality are technologies that are set to rule web design in the coming years. The future of web development looks bright, and business owners can expect better engagement, more leads, and higher customer interactions with these trends.   
You may also like: The Top Benefits of Hiring a Professional Web Designer
Image Source: Pixabay.com