Click here to get this post in PDF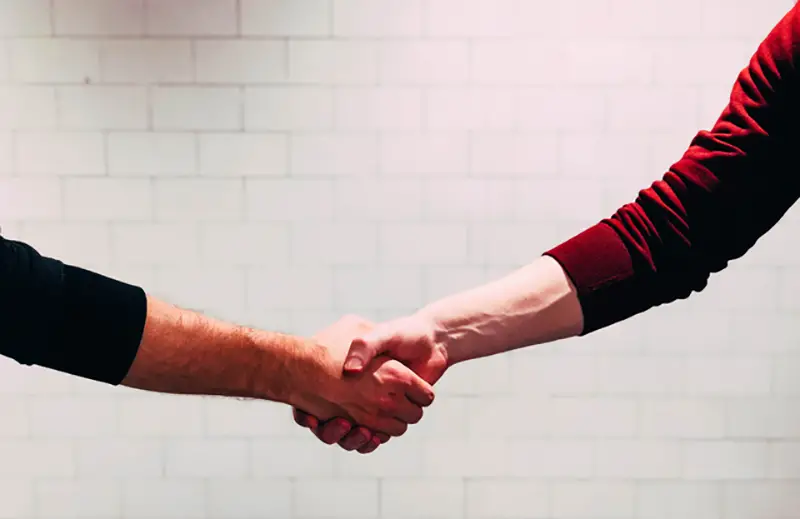 Those looking to grow their business have many paths from which to choose. Better technology can make systems more efficient and effective. Better employee benefits can build loyalty and attract talent. Better marketing can increase sales and revenue. While the list goes on and on, there is one often-overlooked business tool that can quickly add to a business' resources in a way that will boost the bottom line. That tool is a business partnership.
At their core, business partnerships bring together the resources from two organizations to accomplish a predetermined goal that promises to be mutually beneficial. While there can be a lot of work involved in identifying potential partnerships and managing the legal side of the relationship, those who put in the effort often report that they have no regrets.
What is there to gain from a business partnership
PS Furniture™ is a commercial furniture manufacturer that creates flexible furniture that can be used to optimize multi-use spaces in buildings like schools, churches, and hospitals. Amulet® Ballistic Barriers manufactures bullet-resistant materials that are used in a wide variety of applications. When the two companies were introduced, they saw the potential to bring their expertise together and be even more innovative. They formed a partnership that resulted in the creation of the Revolution Shield™, the world's lightest bullet and blast-resistant table.
The PS Furniture/Amulet story is an example of how partnerships can allow businesses to draw upon each other's experiences from different industries. Though Amulet pioneered the application of lightweight ballistic barriers in contract furnishings several years ago, their products were primarily used in architectural applications. The Revolution Shield is loose furniture, which opens up a new market for Amulet. For PS Furniture, the partnership opened the door to serve a new group of customers seeking solutions for safety and security.
"There are few precedents of mobile ballistic furniture," explains Roger Clark, Executive Vice President of Business Development for PS Furniture. "Amulet and PS Furniture are introducing a new product idea in existing markets like municipal buildings, colleges, houses of worship, and schools, where unsecured spaces present the risk of sudden walk-in handgun violence. We discovered that the virtually instant flip-down, lightweight, and mobile ballistic barrier was a new and marketable idea."
Clark says PS Furniture has undertaken many partnerships over the past 30 years, always looking for relationships that would be complementary and mutually rewarding. In the case of the Revolution Shield, PS Furniture applied their expertise to engineering the table while Amulet supplied the anti-ballistic technology and conducted the ballistic testing.
"PS Furniture is a small company, constrained by our physical and capital assets, plus personnel resources," explains Clark. "In order to grow — and we do not view an absence of growth as sustainable — we need to take the risks implicit in forming partnerships. Some have worked wonderfully, and some have been clunkers, but we have no regrets."
While the PS Furniture/Amulet partnership resulted in the two companies developing a new product together, that is not a necessary component of a business partnership. In 2016, mattress startup Casper and home furniture store West Elm launched a partnership that brought Casper mattresses into West Elm stores where potential customers could try them out. The partnership brought more customers into the West Elm stores and gave West Elm an opportunity to showcase its bedroom furniture.
Another possibility for partnerships involves a service provider pairing with a product developer to introduce a new utility. Thanks to the partnership between Mastercard and Apple, iPhone users are able to use the Apple Pay app to simplify in-person credit card purchases. The relationship enhanced Mastercard's service and Apple's products at the same time.
As Environmental, Social, and Corporate Governance (ESG) initiatives have gained popularity in recent years, partnerships between for-profit and not-for-profit organizations have also grown in popularity. Typically, not-for-profits benefit from gaining access to the for-profit's customer base. The for-profits benefit by further strengthening their reputation as a business that supports positive environmental or social impacts.
PS Furniture is presently involved in a partnership with Defend Our Children Inc., a nonprofit organization that is preparing to market a patented Ballistic "Safe Space Security Desk" in the near future that will provide children, teachers, and security with the means to defend and protect themselves against a variety of threats and dangers including active school shootings.
The prospect of entering into a business partnership can be intimidating due to the time and resources that it requires for exploring options and wading through possibilities. However, for businesses looking to gain access to new resources, enter new markets, and pursue creative synergy, a business partnership could provide just what you need to launch your next business venture.
You may also like: 4 Ways a Partnership Can Strengthen Your Business