Click here to get this post in PDF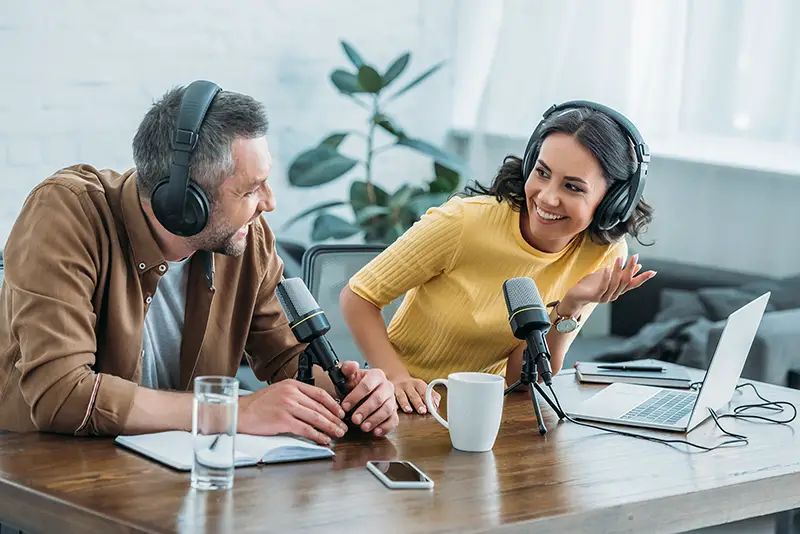 Over the past ten years, podcasts have grown in broadcasting over the Internet, with their listening rate increasing to six hours per week. 
What is a podcast? 
A podcast is a set of audio files published on the Internet that the user can listen to directly or download from various platforms via computers and smartphones.
A podcast is like a radio, but for the radio, it is the same as video content posted on the Internet for a television.
Thus, what we know about video content in terms of its diversity and comprehensiveness applies in some way to podcasts. The advantage of the podcast is that it is easy to produce in terms of authoring, creativity, and broadcasting. It does not require the usual montage and graphics in the video and receiving and listening, as it is not necessary to stare at the screen—all the time. 
The platforms and the way to listen
Although podcasts have been available on the iTunes store since 2005, smart devices did not outperform computers until Apple released its podcast app in 2012. It then became the primary method that listeners prefer to use, until smart audio aids came in that their use increased by 70%.
Apple Podcasts had the primary role in developing the podcast industry because it was the main and almost the only platform for several years. Recently, its market share had decreased after Google entered this market when it launched its Google Podcasts platform last year.
Spotifystorm also captured a good market share of around 10%. 
The notable differences between podcast platforms
The platforms can be classified into three categories. Choosing a reliable podcast hosting platform is crucial for your podcast, as finding the best place to host your podcast will help you grow your audience faster and make it easier to manage your podcast files.
The first category is unique to the Apple platform. It is distinguished by the fact that it is installed by default on all Apple devices, and this makes 900 million users one click away from accessing the podcast. Yet, Apple does not benefit financially from all these users because the advertising revenue goes to  Podcast producers, not to the platform.
The second category includes giants in other fields and is trying to benefit from this promising market, such as Google, Spotify and Pandora, to take advantage of their fans.
The third category includes startups trying to bite off part of the cake by offering more fantastic features within the applications and improving their services. Many features or options may make using the podcast application easier or easier to customize to the user's preferences. 
Types of Podcast Producers.
We have five types of podcast producers:
1- Media companies with internal podcast divisions whose broadcast goals range from developing audiences to diversifying revenues, such as the New York Times podcast and Al Jazeera podcast.
2- Independent podcast studios: This category depends mainly on ads for revenue. Thus, it needs to build a broad base audience by broadcasting exclusive content and hosting famous personalities in its programs.
3- Famous Personalities Podcast: This person who previously had many followers enters the podcast market, benefiting from followers who will receive any product from it with passion and enthusiasm, like Sam Harris, author of Free Will.
4- Non-profit companies: and non-media companies in origin, and the goals of these companies vary, and most of them seek to build a distinctive brand.
5- Amateurs: These create weak or repetitive content mostly, and their audience is limited, while those who are distinguished from them move to the previous third category and have contributed to the spread of amateur podcast platforms such as Anchor.
You may also like: The Practical Things to Know About Starting your Podcast
Image source: Shutterstock.com