Click here to get this post in PDF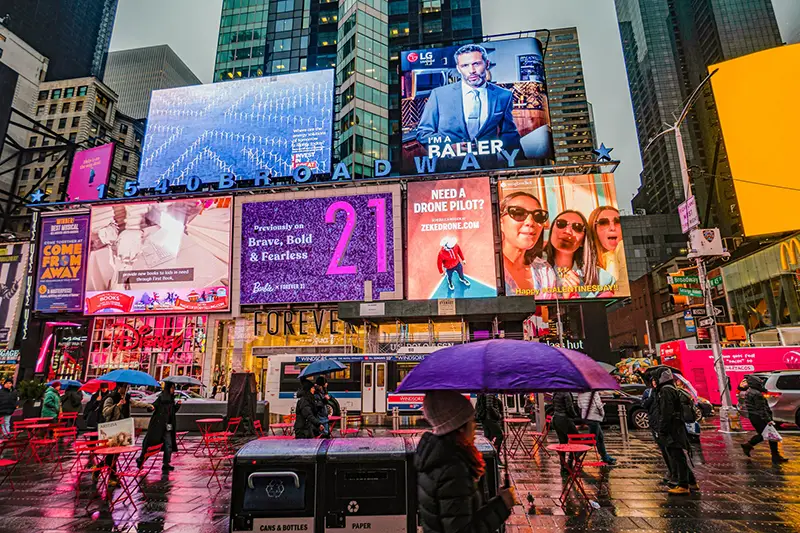 Today's world is digital, and consumers swear by its convenience. Therefore, any business that wants to be successful must embrace this trend.
One way to help your business transition to digital is to adopt the use of digital signage. The benefits are so numerous that one could write a book about it.
You may be wondering, what is digital signage? What is its purpose? How can you use it in your company? You will find the answers to these questions in this article.
What Is Digital Signage?
Electronic signage, also known as digital signage, refers to display technologies such as LED walls, LCD screens, and projections used to vividly display videos, web pages, directions, marketing messages, restaurant menus, or even images.
Whether you're in retail, hospitality, restaurants, or even education, you can use digital signage to grow your business. 
Digital signage consists of three key elements:
Content: This is the message or information you are trying to convey. It can be an inventory of sounds, images, videos, graphics, text, and more. The content is displayed for a unique purpose, which is to communicate with the visitor.
Material: This is the physical medium used to convey the content. These are tangible elements such as screens and supports.
Software: This is the digital infrastructure allowing the creation, deployment, and management of content on the hardware.
What Are the Types of Digital Signage?
There are several types of digital signage, but not all of them are used. Here are the best-known types of digital signage:
Digital posters: These are the simplest and most widespread of all signages. They are often placed against a wall and are available in landscape and portrait orientation. Digital posters are the easiest to install and generally require little space.
Ceiling mounted digital signage: As the name suggests, this type of signage is ceiling-mounted. The most common use of ceiling-mounted digital signage is to transmit information. Since this type of signage can be easily missed due to its placement, people use it less. 
Freestanding displays: These are signage mounted on the ground and used to draw the attention of passersby. You can make it interactive by linking it to an LCD touch screen. Because of this feature, you can install it on kiosks and areas where people stay for an extended period.
Indoor and outdoor digital signage: Outdoor digital sign boards are often used as billboards. Since they must be placed outdoors, they often require enclosed waterproof housing with good ventilation and an adequate cooling system. They are mainly used by large companies for advertising purposes. As for indoor digital signage, it is used to display any format of entertaining and informative content, from social media feeds to live TV to RSS feeds.
Digital menu: This type of digital signage provides customers with a hassle-free experience in restaurants and hotels. It is often used to indicate new items and prices anytime and anywhere. It is practical, unlike traditional menu cards that need to be changed every time you want to update them.
If you are unsure about which of these signage types is the most appropriate for your business, the best thing to do is to ask an expert for advice. The best signage consultants in Dubai share more of their insights below. 
What Can You Use Digital Signage For?
Every company uses digital signage for various purposes. Some use it for marketing, and others to make things easier for employees and customers. Below you will find some of the ways to use digital signs.
Interactive forms and games
Who said digital boards should only be used to display information? Digital signages have an untapped potential for interactivity and entertainment. They allow users to interact with content and even play games. People can play directly on the signage or on their mobile device through a local web portal. The goal of using signage for entertainment purposes is to make the customer experience better.
Promotion
Just like billboards, digital signs offer the best way to promote your products and services. The advantage is that you can display any kind of content: from product demos to static advertising to video testimonials. You may have noticed that retail stores use digital signage a lot for advertising purposes. 
Maps
Many companies still use static maps to guide customers to their destinations. While this is a great move, remember that these maps leave no room for flexibility. For example, offices can be assigned from one floor to another overnight. In such a case, you have to take the old map down, print a new one with the recent updates, and then put it back up again. That is not a good way to spend the company's money. That's when you need a cheaper solution that offers more flexibility. 
Digital maps allow you to do that. You can update your maps in real-time and integrate them with software to provide visitors with more dynamic and accurate itineraries.
Internal team communication
Statistics have proven that the average office worker receives 121 emails a day. This includes messages from people outside the company and messages directly from colleagues. In such a context, the most important information ends up drowning under the countless emails received per day. This means that email may not always be the most efficient way to communicate in a team.  
Instead of sending paper memos or emails, you can share updates via digital signs installed in employee-only areas. Not only is this a fast way to communicate, but it also allows you to get employee attention when you need it the most. Also, your message will get across more quickly because visuals increase people's desire to read the content by 80 percent.
Embrace digital and grow your business
Many companies are already taking advantage of digital signage solutions to save time and money by avoiding printing costs and delays. But digital signs are not just meant for that. They also allow you to attract the attention of passengers and therefore increase your sales significantly. These are convincing reasons to transition from printed advertisements to more modern, economical, and efficient solutions.
You may also like: LED screen rental signage in San Diego
You may also like: What's a Digital Signage System, and why it's important for your business
Image source: Unsplash.com