Click here to get this post in PDF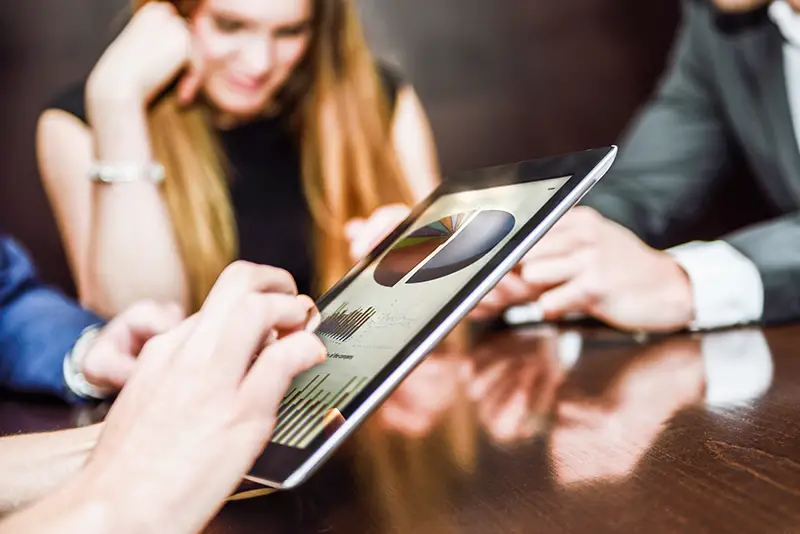 If you want to achieve your goals and create a smart success plan for your business, then monitoring & evaluation is one process you shouldn't ignore. M&E is a super important and valuable management part that many companies fail to give due importance to. And thus, most of their development projects and plans end up failing. They also have to bear a loss of resources and time. 
This is why monitoring and evaluation are crucial for businesses of all kinds. With an efficient M&E plan in place, an organization can truly understand what is and isn't working great for them. For the successful completion of a development project or plan, effective M&E is essential. 
The data collected and evaluated during M&E plays a key role in the growth and success of businesses. Both in the short and long run. This procedure helps you keep your projects on track. Plus, it ensures that the project is going as planned. 
If any issues occur, M&E helps identify them as quickly as possible. Then with the help of the project cycle stages overview, you can resolve those issues in the best possible way. 
Why is Monitoring & Evaluation Important for Businesses?
Monitoring & evaluation are essential management processes, and some organizations fail to understand this. It helps businesses understand whether a development project is effective or not. 
How is the project performing against the set goals and objectives? Does it have the expected impact? Is it worth the money? And all these things are essential for a business to know if it wants to have a successful project. 
M&E also helps to identify the aching points and issues in a project in its early stages. This way, an organization can resolve those issues. And the rest of the project can go as planned. 
Moreover, this management process will enable you to learn from the wrongs done in one project. That way, the same issues won't reoccur in other projects. And this is how a business grows. 
Furthermore, With M&E, you can make better decisions with the help of the valuable data collected during this process. Hence, M&E should be implemented at all stages of a project cycle. To make your M&E more efficient and easy, you can also utilize the help of innovative tools like Delta Monitoring. To learn more, keep on reading!
Here are some of the awesome benefits of M&E;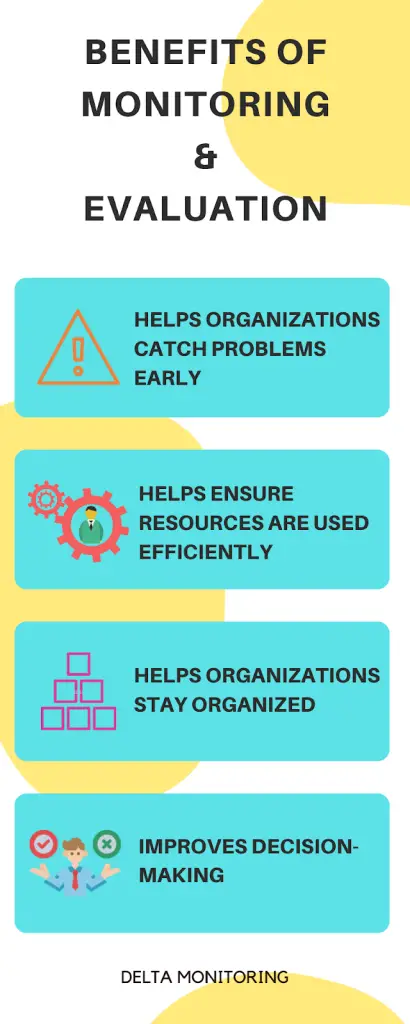 5 Key Things You Should Know about Effective Monitoring & Evaluation
M&E is a super important project management process. Hence every organization needs a proper plan for it. This way, a business can ensure that its development projects go as planned and achieve the desired results. For that, here are a few key things that you should know about M&E and its importance;
1. Monitoring & Evaluation needs a proper plan
It is vital for an organization to know that M&E needs a proper plan. If you want to reap all the benefits of this process, you must first make a proper plan. To make an effective M&E plan, you have to understand your project inside out. You need to have a proper understanding of your project goals and objectives. 
Have answers to questions like; what issue will your project be solving? What steps are required to be taken to solve these issues? 
What is your target audience? Do you have a set budget? What are your available resources? 
With the help of these questions, you can know what type of plan you need for effectively implementing M&E. In addition, you will also be able to keep up with the project timeline. 
2. It is essential if you want to know whether a project/plan is actually worth it or not
If you have a smart M&E plan, you can ensure that your project development process goes as planned. By looking at the improvements that are getting in place because of the new development project, you can easily understand whether it is worth it. The data collected during M&E also helps understand whether a project is worth the money and resources invested in it. Not only will this help make the project/plan better, but it will also help you save your resources and cut costs. 
3. You should only gather valuable data
One important thing you should know about effective M&E is that you should collect only valuable data. Both quantitative and qualitative data that are collected should be relevant. Furthermore, the information you gather should be decided according to the aims and objectives of your service. 
Hence, one key thing to know in monitoring and evaluation is that data is everything. It is extremely valuable. So make sure that it is collected properly and by the best team members. This data will help you understand everything that worked in your favor and everything that didn't. 
Furthermore, it will enable you to see all the right and wrongs done in a project cycle. That way, you would implement only the best techniques and use the best result-driving tools in your future development projects. 
4. Using the right tools and techniques is important
Using the correct tools and techniques is essential if you want to create and implement a smart M&E plan. There are various tools available that can enhance your monitoring and evaluation process.
It is an all-in-one M&E software for development projects, agencies, and donors. It offers advanced features at budget-friendly pricing. The features empower you to take your M&E to the next level with ease and efficiency. 
5. You should devise a proper evaluation plan
Other than monitoring, evaluation requires a separate plan as well. Here are a few things to keep in mind for devising a plan that will help you in managing your evaluation;
Pick correct performance measures/indicators.
Set up a realistic timetable. You have to realistically decide what you can achieve in what amount of time. 
Decide the information/data you require and who should collect that data. 
Decide the method of data collection
Select who will be analyzing the information. 
Decide why you want to gather this information.
Decide who will be evaluating the information and project results. 
You can implement an efficient evaluation plan by having proper answers to these questions. And this is essential for development projects, agencies, and donors. To make this process easier and smarter, you can utilize the help of an innovative M&E solution like Delta Monitoring. 
Doing this will help you get a hassle-free approach to managing development projects and plans in the short and long term. Furthermore, with this tool, you can get the best-fit pricing plan solutions according to your development project's needs. 
Final Verdict
By understanding the things mentioned above, you will be able to reap the benefits of M&E truly. You will also get to know if the development project you are working on is beneficial for the growth and success of your business or not. Moving forward, M&E is evolving day by day. 
The things, tools, and techniques working great for M&E might become outdated soon. So continuous learning is essential to effective M&E. Plus, using smart but cost-effective tools like Delta Monitoring is also crucial.
You may also like: How Process Flow Diagram Helps In Better Management
Image source: Depositphotos.com