Click here to get this post in PDF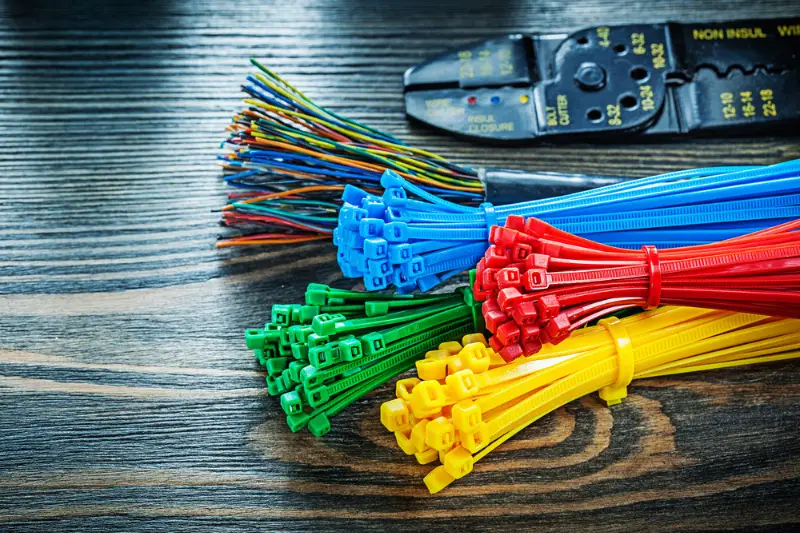 In our increasingly connected world, cables are omnipresent. We rely on them to charge our devices, power our electronics, and maintain our networks. However, the downside to this technological web is the inevitable cable clutter that can take over our lives. Enter cable management – a simple yet crucial practice that can save you time, frustration, and even accidents. This article will explore the importance of cable management and dive into the world of cable ties, the unsung heroes of wire organization.
Why Cable Management Matters
Cable management isn't just about aesthetics but also efficiency, safety, and longevity. Here are some compelling reasons why managing cables should be a priority:
1. Enhanced Safety: Tangled cables create tripping hazards, posing risks to you, your family, or coworkers. Proper cable and wire management can significantly reduce this danger, making your environment safer.
2. Equipment Longevity: Excessive cable stress or tangling can damage cables and connectors over time. By managing your cables, you can extend the life of your expensive electronics.
3. Faster Troubleshooting: A well-organized cable setup allows for easier identification of specific cables, simplifying troubleshooting when issues arise.
4. Improved Airflow: In data centers and electronic systems, proper cable management can improve airflow and prevent overheating, ensuring that your devices operate optimally.
5. Aesthetic Appeal: Let's not forget the visual aspect. A clutter-free space is more appealing and can enhance productivity and peace of mind.
Now, it's time to focus on the heroes of cable management: cable ties.
Cable ties, also called zip ties or cable wraps, come in various shapes, sizes, and materials, each catering to different cable management needs. Some common types of cable ties that are used in a multitude of applications are:
Types of Cable Ties
1. Nylon Cable Ties: These are your everyday go-to cable ties that come in various lengths, strengths, and colors, making them versatile for securing a wide range of cables and wires.
2. Releasable Cable Ties: These ties are ideal for situations where you may need to make changes or additions to your cable setup. They can be undone and reused, saving you time and money.
3. Stainless Steel Cable Ties: Known for their exceptional durability, these ties are resistant to extreme surroundings, such as high temperatures and corrosive environments. They are commonly used in industrial settings.
4. Velcro Cable Ties: Reusable and adjustable, Velcro cable ties are perfect for bundling and securing cables. They come in various lengths and are gentle on cables, preventing damage.
5. Beaded Cable Ties: These ties feature a ball and socket design, allowing for easy adjustments and secure fastening. They are often used in applications where precision and flexibility are key.
6. Mounting Cable Ties: Equipped with adhesive bases, these ties are perfect for attaching cables to walls or other surfaces, maintaining a neat and organized appearance.
7. Screw-Mount Cable Ties: Similar to mounting ties, these come with screw holes for more secure, permanent management solutions. They are excellent for heavy-duty applications.
Tips for Effective Cable Management
Now that you have gained an insight into the importance of managing cables and the types of cable ties available let's look at some tips for effective cable organization:
Label Cables: Use cable labels or markers to identify each cable, making it easy to find and trace specific connections.
Bundle Similar Cables: Group cables with similar functions or destinations to reduce confusion and prevent tangling.
Use Cable Management Tools: Invest in cable clips, organizers, and wire looms to organize and secure your cables.
Regular Maintenance: Periodically inspect your cable setup and adjust as needed to accommodate changes or wear and tear.
Common Cable Management Resources Used Across Industries
1. Heat shrink tubing is a versatile and widely used product that has revolutionized wire and cable management and various other applications. Whether you're an electrical engineer, a DIY enthusiast, or someone looking to tidy up cable connections, heat shrink tubing is a valuable tool in your arsenal. 
Also known as heat shrinkable tubing or heat shrink, it is made from various polymer materials, most commonly polyolefin. What makes heat-shrink tubing unique is its ability to shrink in diameter when exposed to heat. This property allows it to conform tightly to the objects it covers, providing insulation, protection, and strain relief.
2. Braided sleeving is a cable and wire management product that stands out as a true workhorse. Also known as cable sleeving, mesh sleeving, or wire loom, this protective textile has found a place in a wide range of applications due to its versatility and durability. 
Braided sleeving is a tubular, woven textile made from polyester, nylon, or fiberglass materials. The distinctive design of braided sleeving consists of interlocking fibers or threads in a tubular pattern, creating a flexible, expandable sleeve. This construction allows the sleeve to stretch and accommodate different cable diameters while providing a snug fit.
3. Spiral Wrap is an invaluable tool in the cable and wire management arsenal. It is a flexible, versatile solution for protecting and organizing wires and cables. 
Spiral wrap, also known as cable wrap or cable spiral wrap, is a protective and flexible sheath spirally coiled around wires and cables. It offers an effective means of cable organization, protection, and strain relief. Spiral wrap is typically made from materials such as polyethylene or polypropylene, allowing it to maintain flexibility and expandability.
4. Split loom wire tubing is a highly effective solution for managing and protecting wires. 
Split loom wire tubing, often called split conduit or wire loom, is a cylindrical tube designed to house and protect wires and cables. Its defining feature is the longitudinal split that allows you to easily open the tube and insert or remove cables, eliminating the need to thread wires through the tubing. This design makes split loom tubing an ideal choice for organizing and safeguarding wires in various applications.
Conclusion
Cable management is essential to maintaining an organized and efficient workspace or home environment. It may seem inconsequential in the grand scheme of your tech setup, but proper management of cables plays a crucial role in safety, organization, and device longevity. You can transform your cable chaos into an orderly and efficient system by understanding the importance of cable protection and management and utilizing suitable types of cable ties and cable management resources. So, take the time to declutter, secure, and label your cables – you'll be glad you did.
Cable Ties Unlimited is the haven of everything cable. It has everything from standard ties to specialty material for almost every application. Its commitment to quality and customer satisfaction is reflected in its choice of representing some of the most renowned brands in the industry, including Thomas & Betts, Panduit, Hellermann Tyton, & Velcro Brand Products. Whether you are looking to secure cables in your office, home, or industrial setting, Cable Ties Management has the perfect product for you.
You may also like: 5 Usage of Wire Ropes
Image source: Depositphotos.com