Click here to get this post in PDF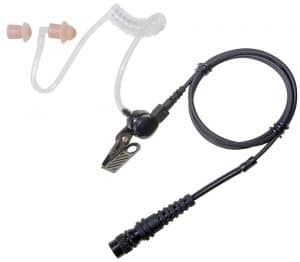 What is an earpiece
Broadly speaking, an earpiece refers to anything that functions by either covering the ear or hanging near the ear. In this broad category are the parts of an eyeglass frame that extend over the ear, and any material specifically designed to fit into the ear and block off the entry of sound or water. The most common meaning of an "earpiece" however is an electronic device that converts electronic signals into sound waves and directs them into the ear.
From their shapes and sizes, earpieces can be placed into four categories. The circum-aural types have large pads that surround the outer ear. They are most used in recording studios. The supra-aural headphones fit just over the ear, without fully surrounding it. Ear buds are designed to fit inside outer ear's canal. However, they don't fully cover the canal, and exterior sounds can still be heard around them. In contrast, canal buds, the fourth category, fit snugly into the ear's canal, and effectively block off the external sounds.
How do earpieces work with radios?
A Radio earpiece is simply an extension of the radio, it physically connects to the radio and redirects the sound that would be produced by the speaker on the radio to the earpiece.
The PTT button and mic is also replaced on the radio so the user can listen to messages discreetly through the earpiece, most earpieces have a combined unit with a mic and a speaker that allows them to use them might like using a radio.
Covert vs overt earpieces
Overt is that which is extremely obvious and makes no effort to hide. Overt actions are easily seen and observed.
Covert is the exact opposite to this. Covert is that which is done to avoid attention or being noticed and is often synonymous with secrecy and discretion
"Overt" and "covert" may be applied to all kinds of activities.
"Overt" means "done or shown openly" while "covert" means "not displayed or openly acknowledged."
Benefits to using an earpiece with a walkie talkie
Covert communications – broadcast messages are securely and covertly, when communicating with other users or command and control, you don't really want to have sensitive information broadcast to the public. Earpieces keep this information between users or between control and people on the ground secure, covert and discreet.
More professional – looking the part and seeming the part what it's all about with earpieces.
Prevention as a rule – a user wearing a radio earpiece will give the impression that they are in communication with others and a management team, as so preventing trouble or aggravation.
You may also like: The Advantages of Two-Way Radio Communication: 3 Types of Devices Push to Talk Technology Can Be Enabled On