Click here to get this post in PDF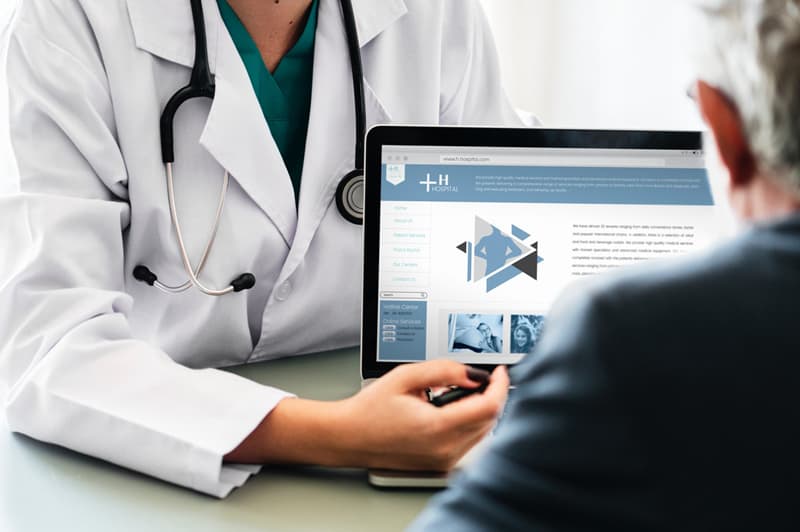 Every single healthcare business is struggling hard to invest money in web development and create a robust web presence for their brand. A website has the power to either make or break the image of an enterprise. As per a recent study by a distinguished review agency Hostingfacts, 80% of Internet users in the U.S. are expected to make a purchase online in 2019.
So when you are looking for a website design company, it is important that you hire the right medical website design company that has the experience and know-how to provide a quality result – a website that will represent your brand in the best possible way.
This stats is enough to explain the significance of being on the internet for an entrepreneur. But the real challenge is to find a high quality web development partner who understands your core objective and build a website or a web application that meets your company's vision. Also, the website must be in sync with the specific requirements of your target audience and provide them with what they are looking for.
There are different ways and methods to filter and discover the most appropriate website development agency in today's gig economy. But the simplest of all is to keep the right questions in your arsenal so that to identify who will be the best partner. Let's explore seven such questions.
1. Do You Think You Have Worked On A Similar Project In The Past?
First of all, you should convey what's your vision as precisely as you can to the engineering team that you're hiring for the job. Make sure that they understand the essence of the project completely. Also, it's essential to check whether they've worked on similar projects in the past.
In case they have the desired experience your task will be much easier and hassle-free as they will be equipped with the kind of research and planning that goes into a project like that. This will accelerate the entire web development process.
2. What Could Be The Approx Budget For This Project According To You?
The price that every web development agency charge to accomplish a project successfully is different. But this does not stop you from doing primary research and coming up with an approx budget for your project before getting in touch with a potential development partner.
You should ask them what could be the estimated overall cost for your project in accordance with their charging norms and conditions. But it's not a good idea to go for the cheapest one. Rather pay a bit more for getting the job done in the right manner.
3. Do You Mind Me Interacting With A Few Of Your Past Clients Or References?
By interacting with past clients or references you can get an honest and unbiased opinion of the medical web designers. If they gladly accept this proposal of yours it's excellent but in case of a denial, you need to worry. Always make sure that you get an opportunity to have a healthy discussion with a few clients with which the developer has worked in the past.
4. What Will Be Our Role In The Entire Web Development Journey?
It's good to have a discussion with your potential web development partner on how you will be involved in the entire journey. Let them know if you want to be a part of major decisions. Also, get an idea of their perspective about your involvement in the entire process. They should be very transparent in terms of being on the same page with you so that to create an end product as per your expectations.
5. How Do You Go About The Research Before Beginning To Develop A Digital Product?
Before making a final call you must ensure that the web developer follows a comprehensive process of doing extensive research in the strategic roadmapping phase prior to starting the actual development. They should know each and everything about your brand, its image, and its values. Also, they should research the specific requirements of the end-users you are targeting.
If the developer is ready to make this much effort and gain insights into relevant aspects definitely they'll end up creating a site that represents you as well as your brand accurately in front of the customers.
6. What All Services Do Your Provide Under Your Umbrella?
It's obvious that in order to beat the competition every individual engineer provides their customers with a wide range of packages and services. But it's your job to pick the best one according to you by conducting relevant interviews, checking their resume, etc.
You can ask them questions like do they offer design services as well? Do they have specific SEO or social media strategies for promotion? Also, make sure that they are providing you with each and every service that you have on your checklist.
7. What's Your Condition For Support/Maintenance Services & Updating of The Site In The Future?
You need to confirm that the web developer is willing to provide you with support and maintenance services in case you are stuck somewhere because of a glitch. Also, they should be very clear in terms of how they will upgrade the website at regular intervals of time.
Make sure that the editing process is simple so that you can also make changes as you want. Ask them what kind of tools or software solutions they'll be providing you with for editing purposes. Make sure that they train your staff to use these tools efficiently.
Finding the best web development team may be a tedious and time-consuming task. But it's much better to work with someone who understands your vision and not with someone whose working style doesn't complement yours as it can be risky for you in the long run.
You may also like: 12 Reasons to Start a Web Development Business