Click here to get this post in PDF
Get a new Android handset? Cool. Perhaps it wasn't easy to switch from iPhone to Android in the past, but it's not now. There are many helpful ways that can assist you in iOS to Android switching without losing your data. Simply put, the focus is which ways you select for switching.
Therefore, today's post will discuss pivotal tips on how to switch from iPhone to Android. It's believed that you can easily solve this problem with them after reading.
You Might Need A Tool to Switch Data from iPhone to Android
To make the iPhone to Android switch easier, this part introduces 4 manufacturer and third-party transfer tools. They can transfer different file types from the iPhone to the Android phone at once.
Samsung Phone Users' Choice: Smart Switch Mobile
As most Samsung users know, Samsung Smart Switch Mobile can transfer data from one phone to a Samsung phone. Furthermore, it works with contacts, schedules, messages, call history, and so on. If your new Android phone is Samsung, you can select this tool.
After downloading the app on both phones, you can transfer content via Wi-Fi or USB. The on-screen guide will give you hints to complete the data migration with ease.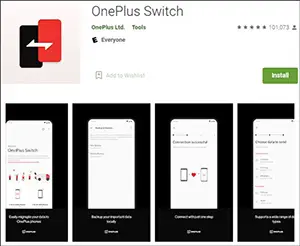 OnePlus Phone Users' Choice: OnePlus Switch
OnePlus Switch is a nice switching utility for OnePlus users. It can quickly transfer multiple data types from the iPhone to the Android OnePlus smartphone. Conveniently, you can download it from Google Play.
Please note that when your storage space is insufficient, it's possible to fail to transfer data. To confirm the successful transfer, please clean up trash files on your old phone in advance.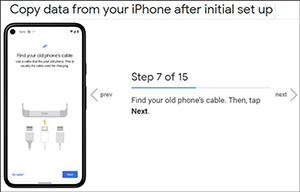 Google Phone Users' Choice: Quick Switch Adapter
Quick Switch Adapter, created by Google, can transfer device settings, videos, audios, and other data from an iPhone to a Google Pixel phone. But it requires iOS 8.0 or upper, and Android 5.0 and above. If your iOS device is iPhone 6 and former, it can't perform the data switch flawlessly.
The operation is easy. Connect both devices using the iOS USB cable and the adapter. Then set up the new Android phone and keep them unlocked. Next, you can follow the guide to select data types on the interface and transfer them seamlessly.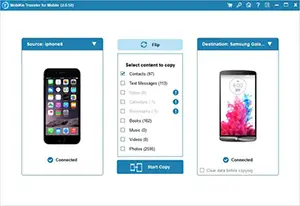 One-stop Solution: MobiKin Transfer for Mobile
This Transfer for Mobile from MobiKin, supporting iOS and Android OSes, can effortlessly transfer contacts, books, messages, music, videos, and photos at the same time. Although there are many files on your iPhone, it can detect and send them to Android without data loss. Besides, you can select data types on the interface without limitation.
Certainly, it can also transfer data from Android to iOS, from iOS to iOS, and from Android to Android. As long as your phones are Android 4.0 and iOS 5.0 (Android 11 and iOS 14 included), it can work smoothly.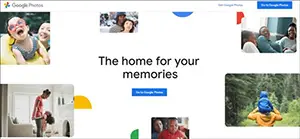 Want to Switch Some Specific Data Only from iPhone to Android?
Want to transfer one or two specific data types only? That's simple. You can check for it in this section with 9 types of files. And freely choose to transfer what you want from the iPhone to Android.
Photos and Videos
If you intend to synchronize iOS photos and videos to Android, Google Photos is an excellent choice. Once you download it on your iPhone and sign in with the Google account, you can upload desired pictures and videos to Google Photos via the available network. After finished, launch Google Photos on Android with the same account. Then, you can view and download your iOS files on it at any time.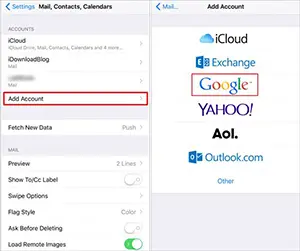 Mail, Contacts, Calendars, and Notes
For emails, contacts, calendars, and notes, you can back them up with your Google account in the Settings app. First, please go to iPhone's Settings, and choose the "Password & Accounts" > "Add Account" > "Google" option to turn on the backup. Then add this account on your Android handset and sync data. You will get these iOS files on it soon.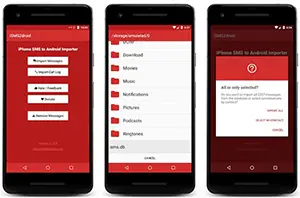 Text Messages
Undeniably, iMessage doesn't act well on Android devices. But it doesn't mean that you have no idea to transfer text messages from iOS to Android. To start with, please turn off the "iMessage" and "FaceTime" feature on the iPhone's Settings.
Next, to avoid Apple intercepting your text messages, you need to deregister iMessage on the Apple website. Third, you can transfer your iPhone text messages to Android using iSMS2droid, a nice message transfer tool.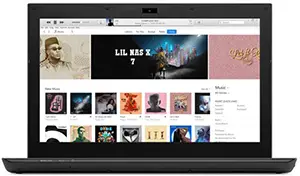 Music
For downloaded iOS music, you can use iTunes to transfer it onto the computer. And copy them to the Android device via a USB cable. So what about online music? Don't worry. Install the same music app on your Android phone and log in with the same account. Then you can enjoy the music on Android as well.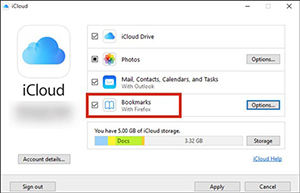 Bookmarks
It's a little complicated to transfer bookmarks from the iPhone to the Android phone. Anyway, you can make it with iCloud. Above all, sync your Safari bookmarks to the iCloud on the iPhone. Then browse iCloud on the computer and check the backup bookmarks on the browser.
After you added them to the browser that you use most, please turn to your Android device. Install the same browser on Android and log in with your personal account. Finally, you can browse the iOS bookmarks on Android.
Conclusion
It's recommended to switch from iOS to Android with the comprehensive transfer tools in the first part. They all allow you to pick out file types and help transfer data automatically. But whichever tools you choose from the mentioned above, it's effective to help you switch from the iPhone to the Android device. If you have any related queries, please leave them in the comments zone.
You may also like: Mobile App Design: 7 Nuances that Really Matter