Click here to get this post in PDF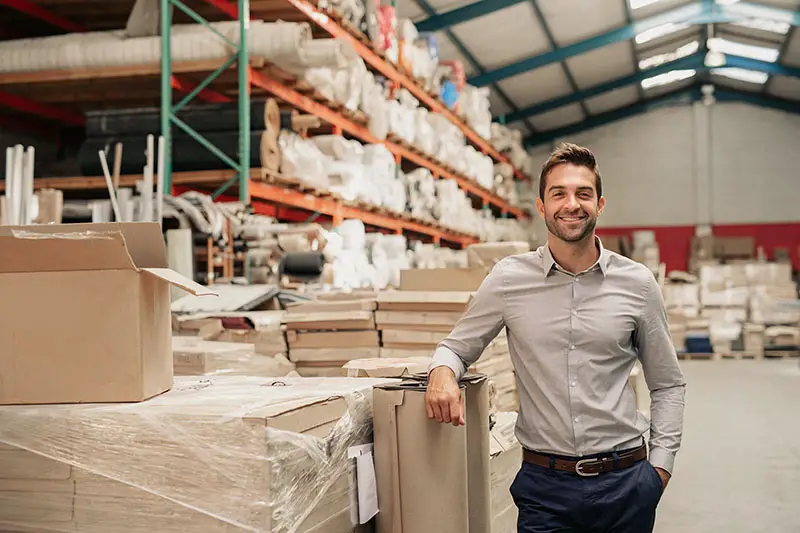 Owning a warehouse business isn't just about renting out large spaces for storing infinite boxes on infinite shelves. That is sometimes the case, but it can be much more. The options for the building and purpose of a warehouse are diverse, so there are just as many opportunities to turn it into profit. Above all, there are clever ways to do this on a small scale and with a small budget.
Have a Vision
First, be clear about why you want to run a warehouse. This is where you define your potential customer base, the size of the warehouse you need, and the appropriate location. A business plan with a detailed budget will help you focus your efforts and not get off track.
Warehouses have tremendous potential beyond just storage. In recent years, they have become the location for small businesses, offices, gyms, and more. Having a rough idea of your desired client base is important for efficient planning and design of the warehouse to be built.
Save on Construction
Luckily, you don't need to build the warehouse yourself – there are companies that specialize in creating a temporary warehouse structure that fits your needs. For example, with a temporary warehouse structure, you can save money during the construction of a permanent building or while you wait for final paperwork on a lease. These lightweight, durable solutions are based on individual needs and for a fraction of the price. A temporary warehouse tent is a cheap and flexible option with little risk until you can afford a full-scale building.
Bear in mind the obvious limitations of such tents. Companies often use them only as a temporary solution. Still, they are the right choice when it comes to storing equipment, protecting valuable materials, or even providing meeting space.
Probe Your Client Base
It's wise to start gathering customer contacts in the early stages so you can hand them the key as soon as your warehouse is ready. Consider hiring a professional for client acquisition and networking. Freelancers typically charge less for making lists of potential clients, copywriting, and marketing. Websites like Fiverr and Upwork can help you find freelancers within your budget.
Online businesses are a promising target as they don't own physical space for storing merchandise. With the boom in dropshipping and fulfillment, the demand for storage and logistics services skyrockets too.
Another cost-saving option is to look for small local businesses near you and research their demands. Often, they won't be looking for a storage solution, but for physical space in which to offer their services. Be creative when targeting businesses; there is no end to the possible uses of a warehouse. Here are some examples:
Auto repair
Furniture shop
Dry cleaners
Bowling alley
Footwear store
Tattoo studio
Dance school
Beverage company
Art gallery
Flea market
Party venue
Hire the Right Staff
Once your industrial tent is up, you'll need staff to take care of things. Inventory management and customer service need staff to keep things running, which can be costly. Think about hiring entry-level employees, as they are often motivated to work hard even at lower wages. Again, outsource as much work as possible to freelancers to reduce staffing costs.
Using machinery such as conveyors reduces the workload while speeding up processes. However, some machines require a trained person to operate them. Smart robotic solutions can be the answer to this, especially where human intervention is not necessary. To further curb your costs, install safety procedures for your facility and employees. This will keep insurance expenses low and create a better working atmosphere for happier, more committed staff.
Provide Extra Equipment
Besides space, you also need to provide your clients with adequate warehouse equipment. That includes machinery and tools such as racks, forklifts, carts, conveyors, packing equipment, and even bins and containers.
A smart option is to buy used equipment to keep costs down. But make sure all equipment is in good condition to reduce follow-up maintenance costs. However, you should never try to cut costs when purchasing Warehouse Safety Systems. The health and safety of your employees should always be a top priority, so buying high-quality safety equipment, such as machine guards and safety fencing is vital. If you also want to offer distribution and shipping services, consider integrating a small office.
Start Small
The important thing is to be well informed and prepared ahead of time and scale your business accordingly. Knowing your potential clients and competitors will give you a big starting advantage. Position yourself within a niche and make yourself familiar with current demands.
Making sure your services are unique in some way will let you stand out from the competition and gain more attention quickly. The narrower your focus, the easier you'll avoid unnecessary costs and wasted time.
Lastly, there is no point in rushing. Keep your stakes low and your long-term goals in mind. There is always enough room to grow. The warehouse business is booming, so you can jump on that bandwagon with a small investment and the potential to expand.
You may also like: 3 Tips for a Start-up Business
Image source: Shutterstock.com