Click here to get this post in PDF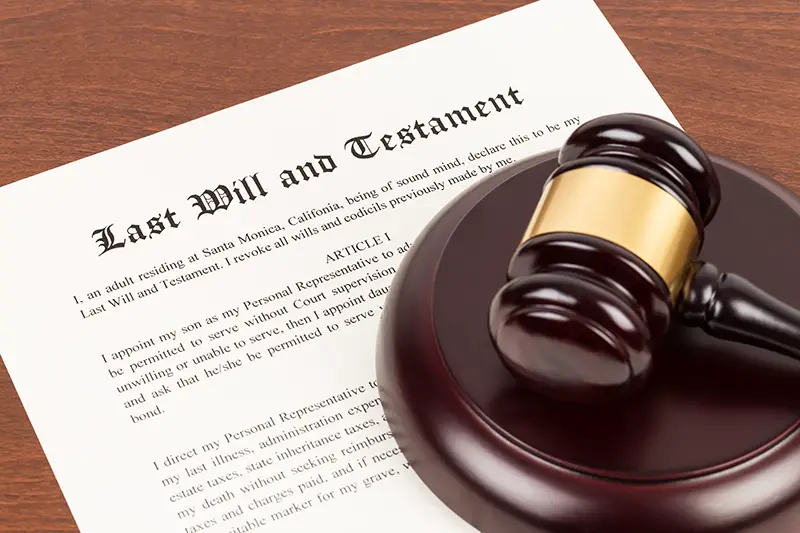 When it comes to the welfare of your loved ones, nothing should be left to chance. Whilst nobody likes to spend time dwelling on morbid subjects like death, understanding how the probate process works with and without a will is essential when ensuring the protection of those who mean the most to you.
Letting the courts decide the fate of your dependents, assets, and money means that the individuals you want to provide for may be left without the security they need should the worst happen. Here we take a closer look at how probate works when there's no will in place and why you should avoid this scenario when leaving your estate to those important friends and family members.
How does the probate process work?
Probate is the official name of the legal process undertaken when a person dies. The first step is determining whether the individual who has passed has a will in place, which will help ascertain the deceased's assets and debts. Inheritance tax returns are then completed before the executor or administrator applies for probate and is issued a grant of probate.
Upon the grant of probate being issued, any liabilities are collected, and the estate administered/passed onto the necessary beneficiaries. Whilst on paper, probate seems relatively straightforward, the process is made more complex and extremely arduous by the lack of a valid will.
Does this differ when a will isn't in place?
The steps taken during probate remain largely the same, and the timescales are also similar when a will isn't in place. The main difference between dying with or without a will in place is how the estate is bequeathed and shared. Without a will, who inherits what is decided by the courts, and this may not match your final wishes.
Launching the probate process without a will may also be necessary to apply for a grant of letters of administration to give the person responsible for administering the estate the legal authority to do so. This administrator is usually the deceased's next of kin. The requirement for a grant of letters of administration however depends on the deceased's assets. Banks have their own limits for how much money can be released without a grant of letters of administration.
 A grant of letters of administration is issued instead of a grant of probate in these cases, but both work in a similar way. With a grant of probate, however, it is the executor of the will who is given the legal authority to administer the estate.
Who inherits what without a will?
When a person dies without a valid will in place, they are deemed to have died intestate. This means the rules of intestacy apply to who inherits what from the estate. 
Under the rules of intestacy, modern family circumstances are not taken into account, a fact that leaves the loved ones of those who have enjoyed a happy, harmonious blended family unit during life with discrepancies, confusion or even arguments to deal with after a death. Stepchildren and unmarried partners have no legal claim to an estate if there's no will in place.
What are the benefits of preparing a will? 
Preparing a will is integral to the protection of the children, partners and property you hold dear in life. With a valid will in place, you can ensure that your estate is passed onto exactly the right people, and avoid the unnecessary disputes and hassle that comes with dying intestate. 
If your estate is particularly complex, preparing a will is made even more important and can even help to minimise your estate's inheritance tax (IHT) liability.
As Head of Wills, Probate and Trusts at Winn Solicitors, Rebecca Harbron Gray explains:
"Many people avoid writing a will and making plans for death for many years because they think it is a morbid or depressing process. But the truth is often that, once complete, people get a sense of comfort and relief from knowing that they have done all they can to protect and care for their nearest and dearest.
"At Winn Solicitors our team has decades of experience in this specialist field of law and we know how to make it simple and stress-free – no matter how complex your estate or family situation."
Get help from experts in Probate Services today and don't wait until it's too late.
You may also like: Wills and Trusts: Understanding the Differences and Similarities
Image source: Shutterstock.com