Click here to get this post in PDF
There are many different kinds of stanchions in the world of crowd control supply. Some have retractable belt barriers, (like the ones you would likely see in airport ticketing lines), some have decorative posts connected with velvet ropes, and some are simple plastic posts connected with a plastic chain. Each has their own specific features which help keep people safe in crowded spaces, but in this article, we'll discuss how plastic stanchions help to make events more safe. 
Specifically, we'll discuss:
How are plastic stanchions different from other types of stanchion?
What features make plastic stanchions effective for crowd control?
What are some examples of how plastic stanchions are used to make events more safe?
How are plastic stanchions different from other types of stanchion?
Stanchions are simply posts with some kind of barrier connecting from post to post to create a continuous barrier. In the case of plastic stanchion posts, it is common to use plastic or metal chains or even simple caution tape to connect the stanchion posts. 
Plastic stanchions are simple in their construction. For instance, as you can see in the image below, they typically have simple hooks at the top where chains or caution tape can be tied or hooked into place.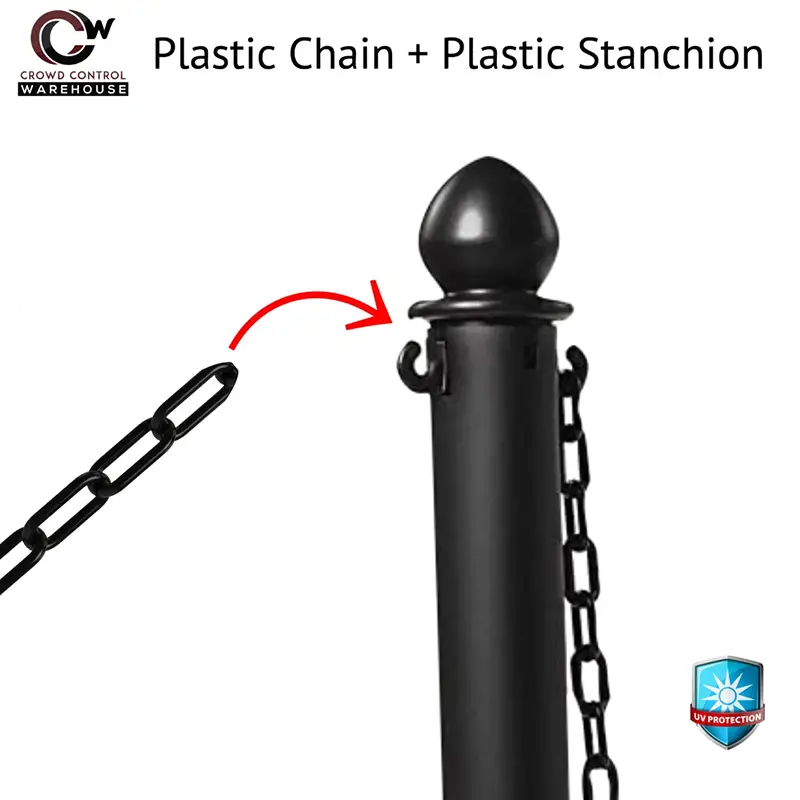 This simplicity has some major advantages:

This simple design makes plastic stanchions extremely easy to set up, tear down, and store. It does not require skilled specialists to create a barrier from plastic stanchions.

The simple UV protectant plastic makes these stanchions suitable for indoor or outdoor use. This also makes them quite lightweight, suitable for impermanent uses, or even uses which require daily set-up and tear-down.

Plastic stanchions and the chains or caution tape used to create a full barrier are all quite affordable. Plastic posts are often available for $20 or less and chains are often less than a dollar per foot.   
What features make plastic stanchions effective for event crowd control?
As discussed briefly above, the plastic construction makes these stanchions not only more affordable than other alternatives, but also more lightweight, more portable, and more easily installed. But here are the features which make plastic stanchions particularly useful for crowd control:
When stanchions are lightweight, they can be easily moved around. This is useful when an event's crowd control changes throughout the day. For instance, when ticketing or entry is limited to certain times of the day, or when certain elements of an event close before other elements, it's important to have stanchions which can be easily moved, set up, and taken down as needed.

Plastic stanchions are not very environment-specific in their design, despite often being made from UV protectant plastic. This means that they can be used in all aspects of an event – indoor or outdoor. For instance, they can be used to keep pedestrians safe in parking lots as they enter an event, or they can be used indoors to keep crowds safely organized in waiting lines, etc. 

Affordability means that event planners can comfortably purchase the proper number of stanchions for their event. Budget should not compromise sufficient safety barrier implementation. 
What are some examples of how plastic stanchions are used to make events more safe?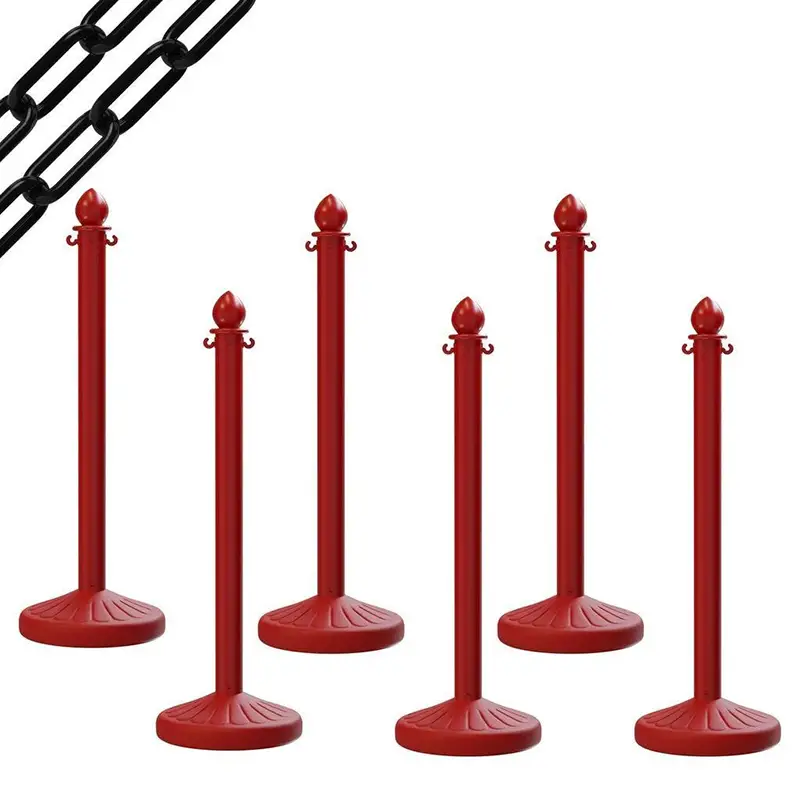 Plastic chain barriers can be used to promote social distancing at events. With the ongoing pandemic causing a kaleidoscope of regulations in various cities across the nation, there are still many places where social distancing is being required indoors and outdoors. Plastic stanchions can help event venues alter their permanent facilities to better accommodate safe social distance or limited capacities, without requiring any permanent changes. For instance they can be used to block off tables, aisles, seating areas, or entrances. This can help venues accommodate changing regulations without permanent installations. 
Plastic chain barriers can also be used to create organized lines, helping keep attendants safely organized at checkout, entry, or ticketing. No one likes to wait in line, but the chaotic alternative is even more frustrating, and even dangerous. 
Uncontrolled crowds can cause injuries and even death, exemplified by the incidents of stampeding listed here, or of course in the recent incident at Astrowrold where 8 people died. While stampedes are not necessarily common, minor injuries in crowds are more common than one might think. 
Plastic stanchions, especially in brightly visible colors, can help clearly indicate off-limits areas, for instance where maintenance is ongoing. Every event has areas where attendants are not intended to go. Plastic stanchions are available in bright colors like yellow and red, which makes them excellent visual barriers where heightened caution is required.
Colored plastic stanchions are also very useful in temporary parking areas. For example, often outdoor events or festivals might make use of fields, lawns, or other unpaved areas for temporary parking. Without visual barriers to help indicate the parking boundaries, event attendants in the vicinity are not safe from vehicles. Plastic stanchions help set the boundaries of parking areas without the need for permanent installation.
Conclusion
Much of what makes plastic stanchions effective in keeping event attendants safe relates to its versatility. When stanchions can be used indoors or outdoors, they're useful for a wider range of needs. When they can be used with simple plastic chains or caution tape and can be purchased in a wide variety of colors, they can be made to blend in or made to stand out as a visual barrier when caution is needed. When they are lightweight and easy to set up, they can be used in many different locations without hassle or expense. This makes them extremely effective tools for keeping events organized and safe.
If you are looking for a place to buy plastic stanchions like the ones described in this post, you can find them for sale at Crowd Control Warehouse or any other crowd control supplier.  
You may also like: Generators – Are they a Valuable Pick for Outdoor Events?