Click here to get this post in PDF
How you organize the space in your office has an enormous impact on your work efficiency and your ability to focus and be productive. You will spend about 40 hours per week (and 2000 hours per year) in the office on average. You should therefore prioritize calmness and comfort in your work setting by transforming your space into a healthier and less stressful atmosphere.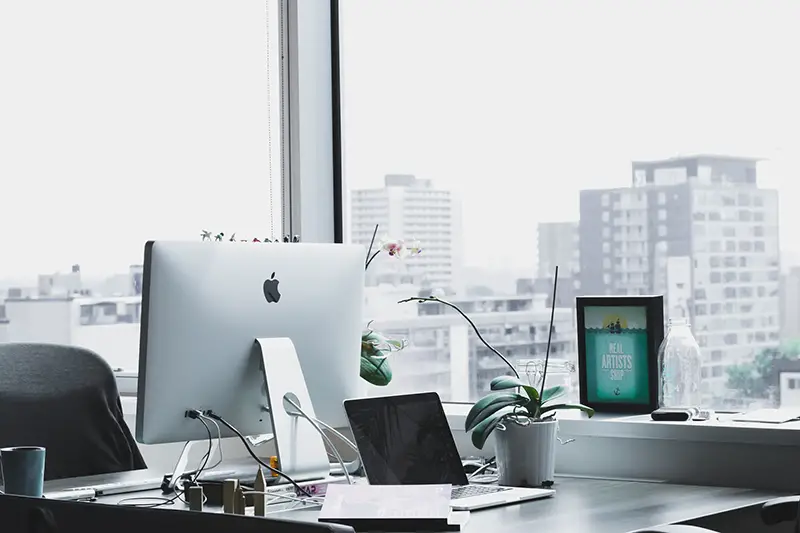 You are probably wondering how you are supposed to meet the demands of optimizing your productivity while decreasing the levels of stress at work. Well, you've come to the right place. In this article, you will learn how to create an ideal working environment. Here are some tips for optimizing your office space to improve your health and productivity.
1. Pay Attention to Lighting
Lighting is one of the most important factors in staying focused and feeling inspired to produce. It affects many aspects of your work life, from productivity, mental health to workplace safety. Take a walk around your office and take note of the places that are not getting enough light. 
For the interior offices that cannot be reached by natural light, consider obtaining ceiling lights or sunlight desk lamps that are more like natural light.
If you regularly experience eyestrain, headaches, and blurred vision symptoms, consider letting more light into your office. Natural light is essential to your body because it improves your mood and boosts vitamin D. If this is not possible, warm lights- like lamps- can be more calming and inviting while cooler light can reduce fatigue.
This is easier done by opening the office's windows and doors to let natural light in and amplifying the effects of lighting by using mirrors, curtains and painting your walls with bright colors that can easily reflect light.
2. Be Mindful of Airflow and Temperature
Are you too warm or too cold? Keep a well-balanced temperature. As simple as it sounds, it is important to keep your temperature at a pleasant level to make you feel comfortable at work. The air quality within your office can have a major impact on your health. Make sure your office space has the right combination of airflow, temperature, and humidity.
When you are going to work, dress for success but make sure you are comfortable in your attire. Most offices have their temperatures regulated by air conditioners. This not being enough, keep your favorite sweater in your to-go bag. Opening office windows and curtains can also help in regulating the office temperature and maintaining a healthy level of humidity.
3. Include Plants in Your Office Space
Plants will make your space feel a little more alive. Humans are naturally inclined to connect with nature. Plants reduce stress, clean the air, and can get you started on the right footing at work. Plants are important for optimal psychological and physiological functioning, which directly affects your ability to be attentive and productive.
What is your favorite smell? If you have a positive response to a certain smell, why don't you apply it in your work environment and create a more positive atmosphere for yourself? A plant or bouquet of flowers can provide a sweet and fresh smell, while also making your workspace eye-catching.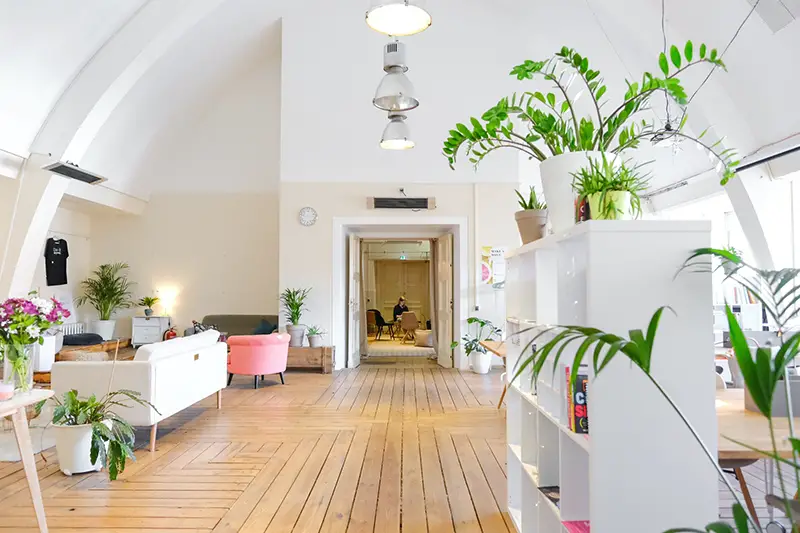 4. Decorate Your Office
There is nothing as bad as an office with dull colors and zero decorations. Having wall art paintings at your workplace has been shown to increase creativity and productivity. Try and include artwork, inspirational quotes, and company branding on your office walls. Acrylic prints can offer depth and vibrancy to your artwork. It enhances aesthetics and also acts as a source of pride for those who work around the art. Check it out at Bumblejax if you would like to learn more, and potentially get some prints for your premises. 
Natural colors such as green and blue are good at improving efficiency and focus, and enticing a heightened sense of calmness and wellbeing, making you innovative and more productive.
5. Keep Water and Refreshments On Your Desk
Ensure the bottle on your desk is always full of water. Increasing your water consumption will help to improve your energy levels as well as your clarity of thought. Staying hydrated is important for your overall health and productivity, and keeps you refreshed throughout your working day.
A hungry mind is a defocused mind! Your brain needs nourishment to keep going. Pack a few favorite snacks in your lunchbox to keep hunger at bay. Working on an empty stomach will cause your brain to shut down, literally!
6. Get some new Furniture for Your Office
If your chair or desk isn't comfortable, start looking into some different options available for ergonomic furniture. Having a proper desk and chair can seriously make a difference in your life at work. Back problems can be avoided and stifled with proper equipment at work.
If your back is hurting you all the time, how can you expect to get any work done? There are many sites for both new and used modular office furniture out there where you can find amazing deals.
Conclusion
Improving your work environment will allow you to be more attached to your work, have a sense of satisfaction and happiness, while also optimizing your productivity. The pressure to complete a large number of tasks within a short period of time can sometimes be overwhelming. Therefore, you need to have a comforting environment.
It can take very simple tasks such as keeping your office space clean and organized to optimize it for productivity. This will take very few minutes off your time, yet it has far-reaching benefits. 
Before leaving the office in the evening, make sure your desk is clean and tidy. Decorate the office and make it inspirational. Have adequate lighting, preferably natural lighting, and include some potted plants. You will be amazed at how much longer you would want to stay in your office.
You may also like: Affordable Ways to Create a Productive Office Space