Click here to get this post in PDF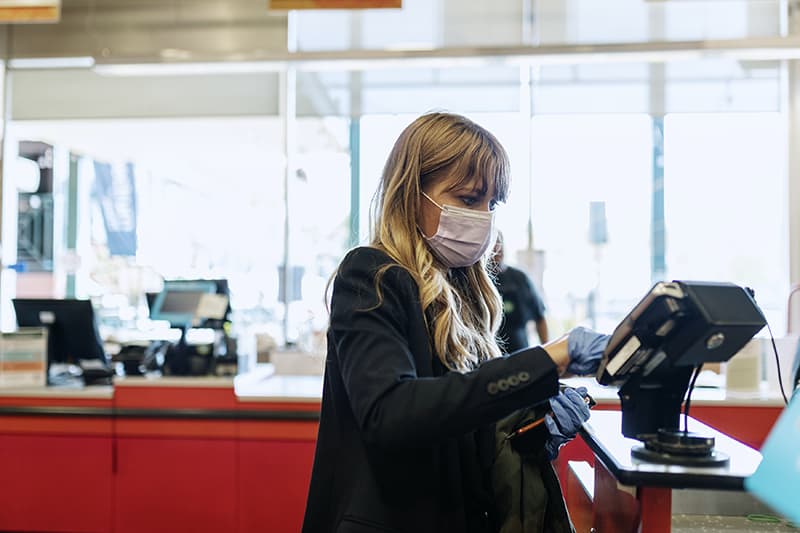 The retail industry has already seen the popularity of scan and go technology increasing steadily over the last few years, but in 2020 this convenient way of shopping skyrocketed. In fact, Sainsbury's revealed an increase from an average of 15% of shoppers using this checkout option to 37% (and as much as 50% in some stores) in the first quarter of this year. 
It's clear then that consumers are favouring these contactless solutions and that it is changing the way many of us choose to shop. As a result of the success of scan and go, some retailers have now begun putting mobile self-checkout options in place as well. 
In this guide, we'll take a look at how mobile self-checkout can help retailers in a post-Covid-19 world and whether this style of shopping could become the norm in the future. 
How does mobile self-checkout work?
Mobile self-checkout is a bit like 'scan and go' in that it allows users to scan their shopping as they walk around the store and put it straight in their bags. The key difference is that scan and go requires technology from the store (barcode scanners) and that customers must go the assigned tills or checkout points to pay for their shopping. With mobile self-checkout, customers can scan all their items into their digital basket on their smartphone and put them straight into their bag. They can then pay for their shopping from anywhere in the store, avoid the tills and walk straight out. 
So how can this way of shopping benefit retailers as well as customers? We'll look at the top four benefits of mobile self-checkout below. 
1. Reducing human contact at tills 
Think about it, even when shoppers are using self-checkout tills or scan and go, they are sharing a lot of the same spaces. Touch screens, card machines and barcode scanners are all ways of spreading germs and with people increasingly concerned about safety and sanitation, reducing the need to share devices is key. It also helps to keep employees safe as there is less face-to-face interactions with customers. 
This year has left people increasingly concerned about safety and sanitation and more aware of how easily germs can be spread. By giving shoppers the option to use mobile checkout, retailers can make them feel more comfortable as wells reducing the risk of dangerous germs spreading in store. 
2. Helping to cut queueing times 
During the height of the pandemic, queuing became the norm. With numbers limited in-store, consumers were made to queue outside the shop being let in on a one in, one out basis. Then once inside a strict queuing system was in place at the tills to try and reduce crowding. Now while most accepted that the queueing was necessary, it also put people off going shopping. 
Although things are returning to normal, numbers of shoppers are still limited and it looks like this is set to continue into the future. These queues can be off-putting for consumers and many who can't be bothered to wait in line will abandon their basket and leave. Say for example someone is just popping out to grab some sugar or a T-shirt for a night out, they're unlikely to want to wait in-line for that one item and they'll go somewhere else that's quieter. 
By offering mobile self-checkout, retailers can reduce queuing times drastically and encourage more people into their stores even just to buy one item. 
3. Giving customers more control over their shopping experience 
Before Covid-19 the reason that more contactless options were being created wasn't to avoid spreading germs but rather to improve the consumer experience and this is still true today.  By offering mobile self-checkout you can make the shopping experience more pleasant for consumers, particularly those who are feeling anxious about the current situation or perhaps can't wear a mask when out and about for medical reasons. 
It also gives shoppers back control, something which they might not feel they've had recently with the virus running rampage across the globe. This can help people to feel more comfortable and confident about shopping which is good news for retailers as this can drive more foot traffic into your stores. 
4. Providing an opportunity to reduce the number of tills in store
Now we're not suggesting that retailers get rid of all tills altogether, of course not! After all, there will always be people that don't want to use a mobile device, don't have a smartphone or perhaps just don't have any battery on their phone whilst out shopping that day. But by introducing mobile self-checkout in more shops, retailers can limit the number of tills they need in their store. 
This not only provides more room to enable social distancing, but it also creates more room for merchandise. It could also increase the number of consumers allowed in the store at any one time by freeing up more space. Which again, could reduce queuing time and will help to boost sales.  
Are you prepared for the post-Covid-19 world? 
The virus is still very much alive, but as we begin to get a grasp on it and things slowly start to calm down, we need to be prepared to embrace a new normal. Retailers need to move with the times and understand the changes that Covid-19 has had on the industry. 
Contactless solutions were a life-saver during the pandemic, reducing human contact and making the shopping experience feel much safer. As we move forward, these contactless solutions such as mobile self-checkout are becoming more integral to our safety and making consumers feel comfortable about shopping, as such, retailers can't afford to ignore them. 
---
Introducing Mobile Commerce during Coronavirus: a Yay or Nay?
---
Not only this but as these exciting new technologies become available to us, it is changing the consumer experience regardless of Covid-19. So it's important retailers embrace the change and offer their customers a better in-store experience that will make them want to pop in again and again. 
Written by Sarah McCann, Blog Editor at IrishParcels.ie courier comparison specialists based in Dublin.
Image Source: Rawpixel.com