Click here to get this post in PDF
This article contains affiliate links. For more info, see disclosure.
Because keyword research is one of the most important aspects of the SEO process, there are many questions surrounding it.
Search trends and user behavior are ever-changing. So, how do you establish a consistent process for keyword research? How can you organise everything in order to get the results that you want?
Keyword research identifies and evaluates search phrases that users enter into search engines when looking for products, services, or general information. And it's a fact that everybody benefits from keyword research! (There are some funny particular cases too).
You'll come across some strange inquiries that people ask Google if you spend a lot of time researching keyword research. About the example that I just gave, it is not surprising that cats can be evil at times; it is concerning that so many individuals believe their cat is plotting their murder. 🙂
Why Keywords Are Important For Your Social Media Strategy
Keywords are the foundations of social media marketing. They are helpful because:
They serve as the framework for the material on your website. By matching your keywords to the ones they used when searching on a search engine, visitors to your site may be sure they're in the right spot. This is why you should know how to do keyword research for SEO, and then you will get traffic.
Keywords can aid in the ranking of your page in search engines.
With link-building, proper keyword usage increases your site's SEO.
We can bring a lot of examples of why keywords are important, but here is one of them:
Consider saying something like, "Hey, I scheduled the work for Monday…" It would help if you said Monday.com verbatim for them to understand. The creators added ".com" to the end of the official name as a simple solution to help improve SEO backlinks.
We can go a little further now that we've mentioned a critical project management platform like Monday.com. The SEO performance of Asana and Trello is due to a traditional SEO strategy based on content marketing. They will send you resources such as ebooks, manuals, and webinars in exchange for your email address. If you're at a loss on how to begin your research, consider hiring SEO keyword research services.
On Instagram and other social media platforms, hashtags allow people to find the content they are looking for. They are social media tools distinguished by using the prefix symbol '#' before a word or words. 
Coca-Cola, for example, used the hashtag #Shareacoke to raise awareness of their Share a Coke campaign on Instagram, in which they began using people's names on the packaging of Coca-Cola bottles/cans. This was used to invite users to share their discoveries online or share a coke with someone virtually. 
How to Use SEO and Social Media Together?
Social media optimization aims to make everything we post on our social channels as engaging and fruitful as possible. After all, we want conversions from our Facebook, Twitter, Instagram, and LinkedIn posts. Social media resembles the classic image of a duck paddling beneath the sea. It should appear carefree and effortless, but what's going on beneath the surface is critical to the survival of our businesses.
So, how can you improve the performance of your social media platforms?
Check to see if all of your social media accounts are consistent with your company's message, culture, and goals. Perform content analyses on a regular basis to ensure that your brand image is consistent across all platforms: visuals, logos, voice tones, and marketing message must be consistent.
Make searchability your number one priority. The ability to search is an essential component of social networking. Prospects look for social pages on the networks themselves and search engines such as Google. Include appropriate search-friendly keywords and hashtags in your published material (but no keyword stuffing, please). Do extensive hashtag keyword research to understand what hashtags your key customers search for.
Last but not least, keep your approach as simple as possible. Start making a consistent posting schedule. It is more important than you might think how frequently and when you post. 
How Social Media Helps SEO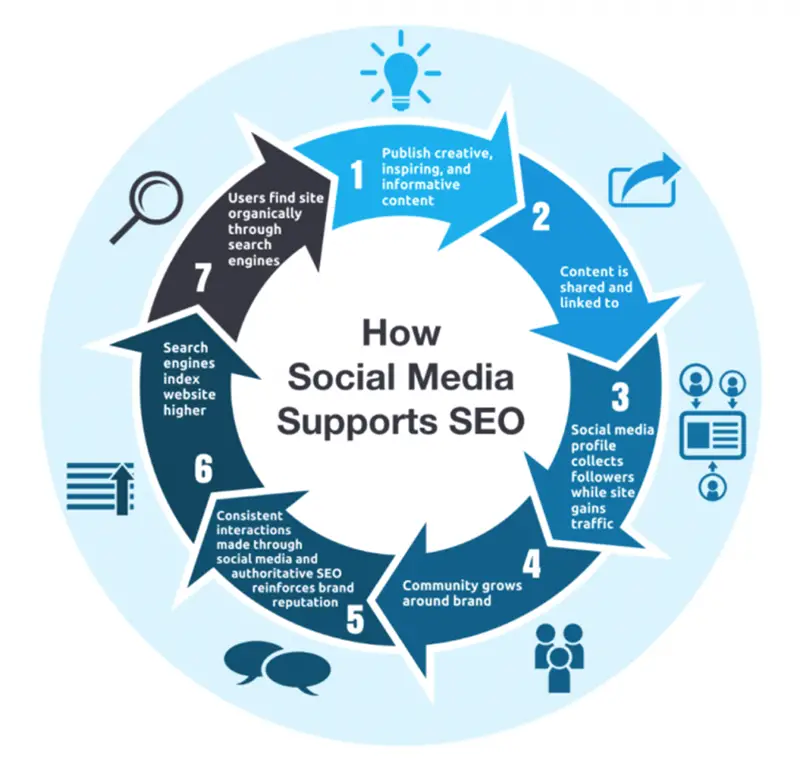 Because social media is not a ranking criterion, it will not directly assist you. While there is no direct link in terms of rankings, the benefits of social media do feed into SEO.
If you really want to improve your SEO, you must invest heavily in social media.
So how does Social Media help SEO? Here's how:
You Can Improve Your Content's Performance
If you don't use social media to share your work, you're passing up a huge opportunity.
Social media allows you to reach a much larger audience than your website alone.
Finally, the more people who visit your site and interact with its content, the more favorable user signals you'll receive, which will help your search rankings.
There Are More Opportunities to Gain Backlinks
Backlinks are an essential part of SEO. They show search engines that other people value the content on your website.
Even if you don't have many followers, your content can quickly spread through social media. It takes one person to link back to you for more people to see it, and social media is an excellent place to begin.
Social Profiles Can Rank for Search Terms
While most people searching for your company will go to your website, many will also want to see what you have to offer on social media. Your social media profiles can offer a different perspective on your business than your website alone and additional information for those who are interested.
You'll Bring More Traffic to Your Website or Account.
The ultimate goal of SEO is to raise your website's visibility and drive more traffic to it. However, increasing the rank of your website isn't the only way to drive more traffic to it.
You can get a lot more traffic to your website by staying active on social media and posting the content that your audience wants to see.
Conclusion
Everything you do to build your online business should complement one another. Both SEO and social media have their advantages for businesses, but they are even more effective when used in tandem.
Having social media profiles for your business may not automatically improve your SEO, but stick with it, and you'll see how they complement each other better.
You may also like: 6 Highly Effective SEO Trends for Your Small Business